Rush Limbaugh is Still Dead
The reflections on the departed right-wing talk host continue.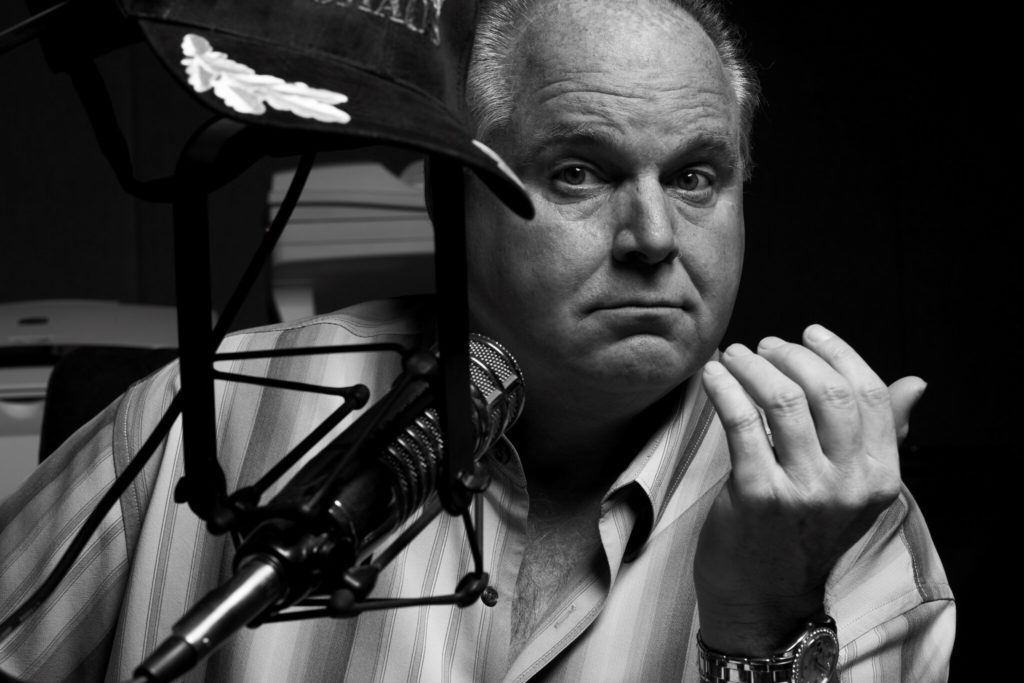 In my Thursday post "Reporting and Commentary Should Remain Separate," I argued against Dan Froomkin's critique that mainstream media obituaries of Rush Limbaugh didn't slam his divisiveness hard enough, contending that strong opinions are better suited to the op-ed pages. Sure enough, the New York Times, whose Limbaugh obituary struck me as perfectly consistent with journalistic practice, has today published four very strong op-eds seeking to put the conservative shock jock's legacy into context.
Frank Bruni's contribution, "Must We Dance on Rush Limbaugh's Grave?" is the least useful of these, rehashing the tired debate over speaking ill of the dead without adding much to the discussion. He does, however, offer a solid defense of his paper's Limbaugh obit as striking the right balance from a different frame than mine:
The headline: "Rush Limbaugh Dies at 70; Turned Talk Radio Into a Right-Wing Attack Machine." That nails his significance and signals his destructiveness without hurling slurs. Below those words, in a subhead, came these: "With a following of 15 million and a divisive style of mockery, grievance and denigrating language, he was a force in reshaping American conservatism." Again, no sugarcoating Limbaugh's behavior, no hedging about his tactics, but also no taunting, no seething, no celebrating. The paragraphs that followed that subhead also followed suit.

They certainly didn't pay homage to him. But the nastier stuff that I saw elsewhere did, in its way — by accidentally reifying his aspersions against liberals as merciless jurists and by inadvertently validating his own style. If imitation is the sincerest form of flattery, Limbaugh was just flattered to a fare thee well. He got posthumous company in the gutter, and I'm hard pressed to identify anyone who benefits from that.

[…]

I'm not saying that if we all just talked prettier, we'd find common ground, or that ugly language about bigots is nearly the problem that their bigotry is. I'm not saying that we owe Limbaugh and his listeners a gentle touch and, without it, are doing them some unwarranted disservice.

But our roughness certainly isn't going to lead anyone to the light, and it may well encourage its targets to hunker down in their resentment, double down on their rage and stray less frequently onto terrain where they might mingle with people who hold at least slightly divergent views.

Our crudeness only perpetuates a kind of discourse that tracks too closely with Twitter: all spleen, no soul. Paired with an information ecosystem in which people on different places of the political spectrum often curate — and ascribe to — wholly different facts, it doesn't leave us the room for reasoned and reasonable debate on which a healthy democracy thrives.
Jill Filipovic's "The Life and Death of a Woman-Hater" offers a strong argument that Limbaugh served as "the right wing's misogynist id" and thereby did strong damage to the movement. Because few OTB readers need convincing of that, I'll move on.
Ben Shapiro's "The House That Rush Built" is the least critical but offers to New York Times readers a solid assessment of what made Limbaugh popular to so many:
His joyous willingness to engage in battle was an inspiration to a college student feeling overwhelmed by a one-sided, progressive viewpoint preached in the classroom. Rush's fighting attitude was infectious. It infused the right.

Rush's gleeful, oppositional defiance is what so angered the left. Before Rush, the left's quasi-monopoly in media had granted it victory in political debate by default, and with it, a feeling of smug, unearned superiority. But Rush broke this monopoly. Unlike the "objective" elitists in liberal newsrooms, Rush never hid his politics, and his competition created conflict. He didn't appeal just to dyed-in-the-wool conservatives, either. He made fans of people who had never before been exposed to conservatism. So, from the point of view of the left, Rush's opposition was creating polarization where there had once been consensus.

But conservatives recognized that Rush hadn't started the fight. To the contrary: Rush was finally fighting back in an undeclared media war against half of the country.

By 1994, Rush's show was broadcast on some 650 stations, to an audience of 20 million.

By demonstrating the huge market for conservative content, Rush opened wide the door to a thriving alternative media infrastructure. Without Rush, there would be no Fox News, Drudge Report or Daily Wire. He leaves behind a thousand outlets doing what he once did: explicating conservatism, and fighting back against the predations of a left that seeks institutional and cultural hegemony.
To which Ross Douthat, one of the few old-style conservatives out there, says Exactly via his column "Rush Limbaugh and the Petrification of Conservatism."
[I]n the long arc of the Limbaugh era, you can see pretty clearly how success and self-marginalization can be effectively combined. Reaganite conservatism in '80s America was a 55 percent proposition, popular with younger voters, with only a mild version of today's yawning gender gap. But you don't need 55 percent of the country to build a huge talk-radio audience or an incredibly successful cable news network or a vast online ecosystem. You need a passionate audience, a committed audience, a church of Dittoheads.

[…]

But then everyone else on the right went in the same direction: First, Limbaugh's talk radio imitators, then Roger Ailes with Fox News, and then — disastrously — a great many Republican politicians, who realized that an intense ideological fan base was enough to win them elections in safe districts and might make them media celebrities in the bargain.

This pattern created problems that compounded one another. As Conservatism Inc. became more of a world unto itself, it sealed out bad news for conservative governance, contributing to debacles that doomed Republican presidents — Iraq for George W. Bush, Covid for Donald Trump. These debacles helped make conservatism less popular, closer to a 45 percent than a 55 percent proposition in presidential races, a blocking coalition but not a governing one. And this in turn made the right's passionate core feel more culturally besieged, more desperate for "safe spaces" where liberal perfidy was taken for granted and the most important reasons for conservative defeats were never entertained.

Such a system, predictably, was terrible at generating the kind of outward-facing, evangelistic conservatives who had made the Reagan revolution possible. There are threads linking Reagan to Donald Trump or William F. Buckley Jr. to Sean Hannity, as the right's liberal critics often note. But to go back and watch Reagan and Buckley is to see an entirely different approach to politics — missionary and confident, with a gentlemanly comportment that has altogether vanished.

In its place today is a fantasy politics, a dreampolitik, that's fed by a deep feeling of grievance and dispossession. Part of this feeling is justified, insofar as liberalism really has consolidated cultural power everywhere outside Conservatism Inc. But the right's infotainment complex is itself a major reason for that consolidation. Conservatives have lost real-world territory by building dream palaces, and ceded votes by talking primarily to themselves.
There's much to nitpick here. Certainly, one can point to actions and quotes from Reagan and Buckle that are less than "gentlemanly." But Douthat is right on the larger point: Limbaugh's schtick ultimately transformed the conservative movement in destructive ways because it showed how lucrative playing to the predudices of an aggrieved base can be.
Limbaugh was extremely good at what he did and I find it next to impossible to separate his schtick from his genuine beliefs. I do think, as do both Shapiro and Douthat, that his early "I am equal time" bit was real. That is, three hours a day of Limbaugh was a response to a media landscape dominated by a more liberal sensibility. To some extent, that was true even in the early days of Fox News in 1996. At least on the news side, they actually believed the "Fair and Balanced" label.
Regardless, a business model that depends on keeping people riled up and feeding their belief system will inevitably become mean-spirited and dishonest. Discussions of nuanced differences of emphasis—which is where politics in a democracy should naturally gravitate—aren't enough to get millions to tune in for three hours a day, every day. No, the opposition must be monsters out to destroy all that the Good People hold dear.