Russia Extends Edward Snowden's Asylum For Three More Years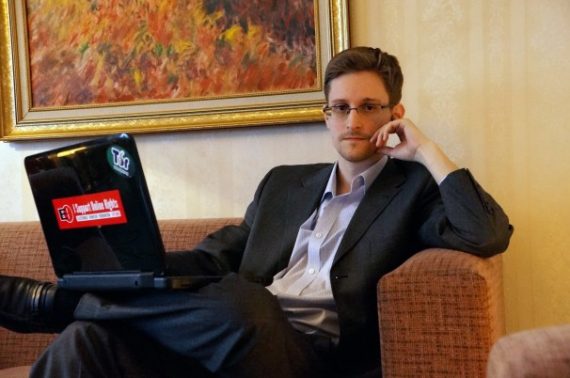 Edward Snowden will be allowed to stay in Russia for at least the next three years:
MOSCOW — Edward J. Snowden, the American intelligence contractor who published a raft of secret documents and then fled to Russia, has been granted a three-year residence permit, his lawyer announced Thursday.

Anatoly G. Kucherena, the lawyer, told a news conference that Mr. Snowden had not been given asylum in Russia, but rather had been granted permission to live here until 2017, Russian news media reported.

His new status includes the right to leave Russia for up to three months, Mr. Kucherena said. Mr. Snowden, 31, had originally planned to head to Latin America for asylum. Anger in Germany at American surveillance has also prompted some discussion there about whether Mr. Snowden should be allowed to live in Germany. But he has so far avoided setting foot outside Russia lest the United States find a way to arrest and prosecute him.

His previous, yearlong residence permit, granted last August, expired on July 31 and a new one had been expected. His lawyer filed the necessary paperwork earlier this summer.

Mr. Snowden is wanted by the United States government for exposing numerous secret intelligence documents, including a program by the National Security Agency to monitor millions of email messages.

Senior government officials have called him a traitor, while Mr. Snowden maintains that he is a whistle-blower who exposed an illegal government surveillance program.

Without going into too many details, Mr. Kucherena said that Mr. Snowden was living on a salary earned from an unspecified job in the information technology field, and on donations into an open fund from individuals and nongovernmental organizations. The lawyer said that his client was learning to speak Russian, and that he would be eligible to become a citizen after living here for five years, counted from his first residence permit granted in 2013.

Asked about Mr. Snowden's living arrangements in Moscow, Mr. Kucherena said that he could not comment in detail but indicated that Mr. Snowden was not on the Russian government dole.

"The government cannot provide him with housing, despite the fact that he was granted a residence permit," Mr. Kucherena said. "He leads a rather modest lifestyle."

Mr. Kucherena also denied that Mr. Snowden was protected by government bodyguards, saying that there would be all manner of "bureaucratic delays" for such protection to be organized. But Mr. Snowden did live with private security, the lawyer said, a priority given hostile American government statements about him.
This extension was widely expected. Leaving aside the questions about whether the Russians consider Snowden some kind of intelligence asset, which he has denied in interviews, he is somewhat of a propaganda tool for Vladimir Putin in that allowing him to stay in the country is something of a thumb in the eye of the United States. At the same time, though, I wouldn't necessarily be feeling secure in my position if I were Edward Snowden. Legalities aside, in the end he is staying in Russia at the discretion of the Russian President and if Putin determines that it is in his interests to turn Snowden over to the United States at some point then he could find himself with very few options very quickly.