Russia Recognizes Crimean Independence, Paving Way For Annexation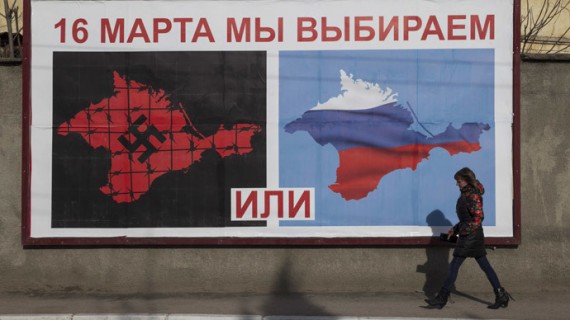 Responding to a secession referendum that most of the world rejects, Vlaidimir Putin's Russia has formally recognized Crimean independence, a move that sets in motion the regions eventual annexation into Russia:
MOSCOW — President Vladimir V. Putin of Russia signed a decree on Monday formally recognizing Crimea as a "sovereign and independent state," laying the groundwork for annexation and defying the United States and Europe just hours after they imposed their first financial sanctions against Moscow since the crisis in Ukraine began.

Mr. Putin issued his late-night decree after the region declared independence earlier in the day and asked Russia to annex it in keeping with the results of a referendum conducted Sunday under the watch of Russian troops. The Kremlin announced that Mr. Putin would address both houses of the Russian Parliament on Tuesday, when many expect him to endorse annexation.

The moves indicated that Moscow remained undaunted by Western pressure in a clash of wills that has created the most profound rift in East-West relations since the end of the Cold War, and that threatens the redrawn borders established by the breakup of the Soviet Union in 1991. Every time the United States and Europe have tried to draw a line in recent weeks, Mr. Putin has vaulted past it. The White House indicated that it had held back going after some in Mr. Putin's inner circle to have room for its next countermove.

The decree signed on Monday effectively raised the ante on President Obama after he froze assets and banned travel for 11 Russian and Ukrainian figures, including Vladislav Surkov, a longtime adviser to Mr. Putin; Dmitri O. Rogozin, a deputy prime minister of Russia; and Valentina I. Matviyenko, a Putin ally and the chairwoman of the Federation Council, the upper house of Russia's Parliament. The European Union followed with sanctions against 21 Russian and Ukrainian figures.

The sweep of the sanctions was viewed as relatively modest, but Mr. Obama signaled he may go further by signing an executive order authorizing future action against Russia's arms industry and the wealthy business figures who support Mr. Putin's governing clique.

"We're making it clear that there are consequences for their actions," Mr. Obama said as he announced the sanctions. "We'll continue to make clear to Russia that further provocations will achieve nothing except to further isolate Russia and diminish its place in the world."
The question for Obama and the West, of course, comes if and when we reach the point where it's clear that sanctions are not going to cause Putin to back down. Nobody seriously believes that the West is going to use military force, either directly or indirectly, to try to oust Russia from Crimea, so unless it turns out that Putin ends up biting off more than he can chew it seems hard to believe that the Russians are going to give up what they've won here. Like it or not, Crimea will soon once again be part of Russia. What happens next is, as I noted Sunday, up to the parties involved.