Russian Ambassador To Turkey Assassinated In Ankara
The situation in the Middle East just potentially became much more complicated.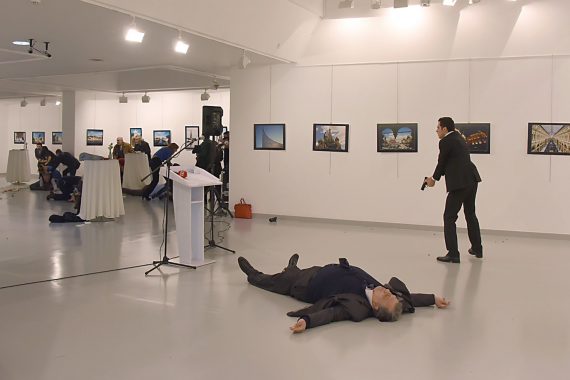 The Russian Ambassador to Turkey was shot and killed today:
ISTANBUL — Russia's ambassador to Turkey was assassinated at an Ankara art exhibit on Monday evening by a lone Turkish gunman shouting "God is great!" and "don't forget Aleppo, don't forget Syria!" in what Russia called a terrorist attack.

The gunman, who was described by Ankara's mayor as a policeman, also wounded at least three others in the assault, which was captured on Turkish video, before he was killed by other officers in a shootout.

The assassination instantly vaulted relations between Turkey and Russia to a new level of crisis over the protracted Syria conflict on Turkey's southern doorstep. It came after days of protests by Turks angry over Russia's support for Syria's government in the conflict and the Russian role in the killings and destruction in Aleppo, the northern Syrian city.

The envoy, Andrey G. Karlov, was shot from behind and immediately fell to the floor while speaking at an exhibition, according to multiple accounts from the scene, the Contemporary Arts Center in the Cankaya area of Ankara.

The gunman, wearing a dark suit and tie, was seen in video footage of the assault shouting in Arabic: "God is great! Those who pledged allegiance to Muhammad for jihad. God is great!"

Then he switched to Turkish and shouted: "Don't forget Aleppo, don't forget Syria! Step back! Step back! Only death can take me from here."

Turkish officials said that the gunman was killed after a shootout with Turkish Special Forces police. The assailant's identity was not immediately known.

Russia's Foreign Ministry spokeswoman, Maria Zakharova, told the Rossiya 24 news channel that Mr. Karlov had died of his wounds in what she described as a terrorist attack.

CNN Turk published images showing several people lying on the floor of the gallery.

Russia's Tass news agency initially quoted witnesses of the attack as saying that there had been an "assassination attempt" against Mr. Karlov, and that he had been shot from behind while finishing his opening remarks at the opening of the exhibition, called "Russia Through Turks' Eyes."

The attack was a rare instance of an assassination of any Russian envoy. Historians said it might have been the first since Pyotr Voykov, a Soviet ambassador to Poland, was shot to death in Warsaw in 1927.

While the Russian and Turkish governments back different sides in the Syria conflict, they had been collaborating in recent days in efforts to evacuate civilians from Aleppo.
More from CNN:
Russia's ambassador to Turkey was assassinated at an art exhibition in Ankara on Monday. The gunman shouted, "Do not forget Aleppo!" as he opened fire.

The shooting of Ambassador Andrey Karlov was captured on video. Russia's foreign ministry described it as a "terror attack."

"We are currently in contact with Turkish authorities, who are assuring us that a thorough, comprehensive investigation will be conducted," foreign ministry spokeswoman Maria Zakharova said in remarks broadcast on Russian television. "Murderers will be punished. Terrorism won't sustain. We'll fight it."

Here's what we know right now:

• Karlov was giving a speech at the opening ceremony of a photo exhibit when an assailant opened fire.

• Images of the scene showed a body on the ground as a man with a pistol stood nearby. In a caption, The Associated Press news agency described the man with the gun as the attacker. CNN has not independently confirmed the identities of the people in the photograph.

• In a video circulating on social media that shows the shooting, the gunman is heard shouting, "Allahu akbar (God is great). Do not forget Aleppo! Do not forget Syria! Do not forget Aleppo! Do not forget Syria!" "Get back! Get back!" the man can be heard shouting in Turkish as he waves a gun.
"Only death will remove me from here. Everyone who has taken part in this oppression will one by one pay for it," he said.

• The shooting occurred a day before diplomats from Turkey, Iran and Russia are scheduled to meet in Moscow to discuss the situation in Aleppo.

• Authorities haven't said who they believe was responsible for the attack.

• Anadolu reported that the gunman had been neutralized. But it was not immediately clear whether the attacker was killed or captured by police.

• The attack occurred at the Cagdas Sanat Merkezi modern arts center in Ankara.

• The foreign ministry described Karlov as an "outstanding diplomat."

"He's a diplomat who's contributed a lot in fighting terrorism during his career," Zakharova said.

The ambassador began his diplomatic career in 1976 and has been the envoy to Turkey since 2013, according to a profile on the website for the Russian Embassy in Ankara.

The shooting of the ambassador is the latest in a long string of attacks in Turkey this year, although it's the first in recent memory to be directed at a foreign dignitary. \

A car bomb exploded near a public bus in the central province of Kayserion Saturday, killing 13 soldiers and wounding 55 people, according to Turkish officials.

The attack came exactly a week after a pair of bombings in Istanbul killed 44 people, including 37 police officers, and injured 155 others. The explosions, which occurred after a heavily attended soccer game at Besiktas Vodafone Arena, were claimed by a Kurdish militant group called the Kurdish Freedom Hawks.
So far no outside organizations have claimed responsibility or taken credit for this attack, so it's unknown if the gunman was acting on his own or as part of a wider conspiracy that may be connected in some way to the other terror attacks that have gripped Turkey over the course of the past year. Just from the description of what happened, though, it seems clear that the gunman was at least likely inspired in some way by such groups in the same way that the attackers in Paris, Belgium, and San Bernardino were. Given how close Turkey is to the conflict in Syria, it's not hard to believe that ISIS or some other group involved in the Syrian civil war may be behind this, of course, but unless someone claims responsibility we may never know for sure whether this man acted alone, or whether he was part of a wider conspiracy that has been behind many of the attacks in Turkey over the past several months.
This attack comes at the same time that the Russians and Turkey have ostensibly been working together to assist in the evacuation of civilians from Aleppo, where tens of thousands of people have died mostly at the hands of Russia's allies in Syria, the government of Bashar Assad. Indeed, in recent months, Syrian Army and Air power has been relentlessly pounding alleged rebel strongholds in Aleppo and making an impossible situation for civilians even worse. It was only recently, through its cooperation regarding evacuation with the Turks that the Russians have shown any real concern for these civilian casualties. Before then, as well as in the past several weeks, they have instead been acting to seemingly make it harder for outside powers such as the United Nations to provide aid to people attempting to get out of the city and the region around it, and vetoing United Nations Security Council resolutions regarding the situation in Alleppo. Their sudden concern for civilians is, quite honestly, rather suspicious.
In any case, as with anything like this happens, the assassination of Ambassador Karlov is setting off a whole round of speculation about what might happen next. Not unexpectedly, many commentators online have quickly made analogies to the June 1914 assassination of Austro-Hungarian Duke Franz Ferdinand, the heir to the throne of Austria-Hungary, by a Serbian nationalist. That event, of course, set in course a series of events that led to World War One. It's far too early, of course, and far too simplistic to make such a simplistic analogy. For one thing, the assassination in Sarajevo may have been the spark that set off a war, but it was not the reason for war. Without going into a long-winded summary of the politics of Central Europe in the second decade of the 20th Century, the assassination was merely the straw the broke the camel's back, and it's highly likely that the continent would have been at war within a year or so in any case regardless of whether or not that assassination had succeeded. The Middle East is admittedly also a powder keg right now as well, but that doesn't mean that history will play itself out the same way it did a century ago. For one thing, much depends on how the Russians react to all this. There were fears of Russian retaliation, for example, when the Turks shot down Russian jets that had strayed into their territory for about 27 seconds, but other than economic sanctions nothing serious ever developed out of that.
Where we go from here is anyone's guess right now. It could be a one-off attack that has little future consequences, or it could be the spark of another decade of war. Too bad, we're about to get a U.S. President with absolutely no clue when it comes to foreign policy.
Photo via The New York Times