Russian University Removes Statue Honoring Steve Jobs Because Tim Cook Is Gay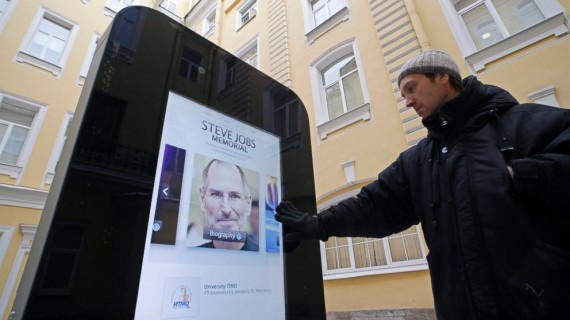 In the wake of the announcement by Apple CEO Tim Cook acknowledging that, as previous reports had hinted, he is indeed gay, a university in St. Petersburg, Russia has removed a statute that had been erected to honor Apple co-founder Steve Jobs:
A Russian monument to Apple co-founder Steve Jobs has been taken down, after Apple CEO Tim Cook's announcement last week that he is gay.

The monument, which is in the shape of an oversize iPhone, was located on a university campus in St. Petersburg, one of the more liberal cities in Russia, until its removal Friday.

It was put there in 2013 under the initiative of Maxim Dolgopolov, head of the holding company ZEFS, known in English as the Western European Financial Union, which cited Cook's revelations about his sexuality in a Bloomberg Businessweek article last Thursday as the reason the company decided to remove the statue.

"Russian legislation prohibits propaganda of homosexuality and other sexual perversions among minors," ZEFS wrote in a statement published on the Web site of Russian radio station Ekho Moskvy. "After Apple CEO Tim Cook publicly called for sodomy, the monument was dismantled pursuant to Russian federal law on the protection of children from information that promotes the denial of traditional family values."

Russian President Vladimir Putin signed a federal law in 2013 that bans "the propaganda of non-traditional sexual relations to minors," only a few months after the iPhone monument was installed. Putin has since argued that the law is not discriminatory and is intended only to keep children safe.

The monument was installed slightly more than a year after Jobs passed away. At the time, an organization called the "Communists of St. Petersburg and the Leningrad Region" complained that the monument looked too phallic, that its featured face of Jobs "will scare children and students," and that the structure inappropriately "symbolizes the superiority of the American way of life."

After Cook's revelation Thursday, ultraconservative St. Petersburg lawmaker Vitaly Milonov called for Cook to be banned from traveling to Russia, telling the Web site FlashNord that he, or other gay people, could bring "the Ebola virus, AIDS, gonorrhea" to Russia.
I'm sure this makes sense in the twisted logic of these people, but it's really quite odd to anyone who looks at these things rationally.