Russians Voting to Give Putin Another 6 Years
A contest with no serious challenger will make him the longest-serving Russian leader since Stalin.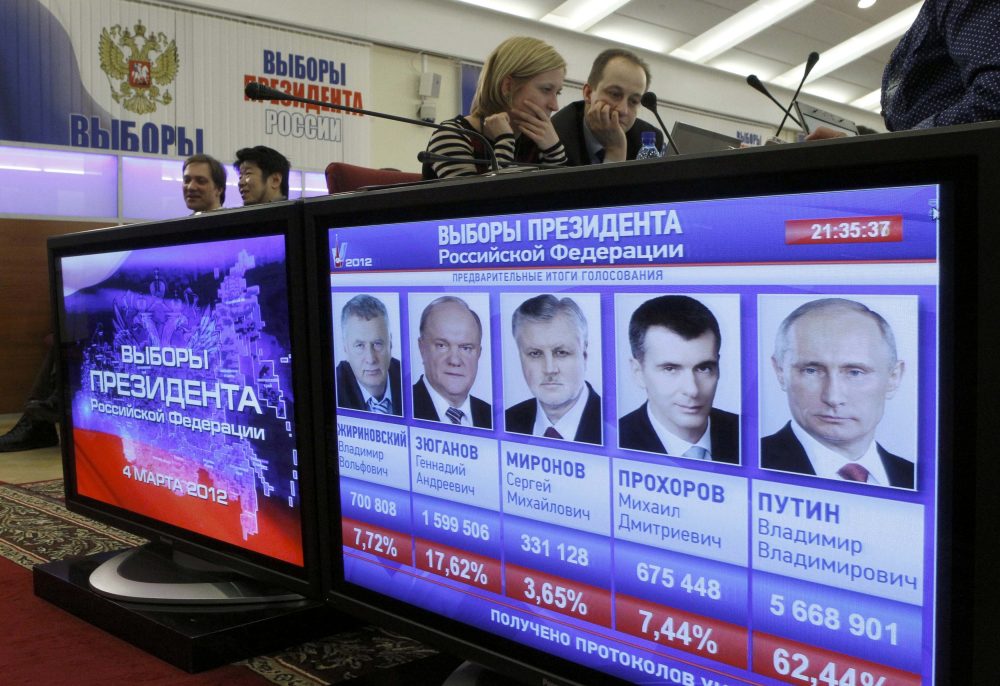 NYT ("Presidential Vote in Russia Sure to Give Putin 6 More Years"):
Russians went to the polls on Sunday to vote in what was more a referendum on giving President Vladimir V. Putin another six years in office than an actual competitive race.

With cold winter temperatures covering the vast, continental country, more than 110 million people were eligible to vote from the distant Kamchatka peninsula in the Far East to the European enclave of Kaliningrad, where the last polls were due to close at 8 p.m. on Sunday.

Gone were the Soviet days when there was just one name on the ballot and the winner habitually harvested 99 percent of the vote. The spirit was similar, however, with pictures of Mr. Putin and his campaign slogan, "Strong president, strong Russia," blanketing the country.

Mr. Putin is popular and expected to win big, the only question being how many voters will participate in a hollow exercise unlikely to bring any significant change. The size of the turnout will be interpreted as the strength Mr. Putin's mandate.

The government has tried to create a carnival atmosphere with music, food and prizes to convince more people to visit the polls.

After casting his ballot early in central Moscow, Mr. Putin was asked what turnout he sought. "Any that gives me the right to perform the duty of president," he said. "I am sure I am offering the right program to the country."

The president barely bothered to campaign, except to stress his constant theme that Russia was a besieged fortress and that he was the only man to keep it safe by rebuilding its arsenal and projecting power beyond its borders, especially in challenging the United States.

Election Day was moved to March 18, the fourth anniversary of Russia's seizure of Crimea, to emphasize that theme.

[…]

There is zero chance of his prospects taking any real damage, with the outcome preordained and the only serious competitor, Aleksei A. Navalny, barred from running.

"It is not a democracy but they have to go through the motions," said Konstantin von Eggert, a Russian television talk show host and veteran political analyst. "Real competition would make his win more significant, but he does not want to go that far."

Mr. Putin, 65, has been the most powerful man in Russia since he first became president in 2000, stepping aside once to serve as prime minister to get around term limits. The vote today will keep him in office until 2024, making him the longest-serving leader since Stalin.

In the absence of further constitutional changes, he cannot run again, so many analysts see the current vote as marking the start of the fight to choose his successor.
A Reuters report ("Putin on track for commanding win as Russians head to polls") sheds light on the nature of the voting:
Many voters credit Putin, a 65-year-old former KGB spy, with standing up for Russia's interests in what they view as a hostile outside world.

A row with Britain over allegations the Kremlin used a nerve toxin to poison a Russian double agent in a sleepy English town — denied by Moscow — has not dented his standing.

"I voted for our liberator, Putin," said Alexander Kiryukhin, a 79-year-old in the city of Simferopol, Crimea. Russia's annexation of the region from Ukraine in 2014 earned Putin condemnation from Western governments and admiration from many Russians.

"He sorted our lives out, he's irreplaceable for the state," said Kiryukhin.
International election monitors will be on hand and there's every reason to think that Putin will win, within the bounds of the contest, legitimately and overwhelmingly. He's quite popular. On the other hand, the only plausible opposition candidate (who would have been incredibly unlikely to win even in a truly open race) was barred from running. And then there's this:
Putin's opponents alleged officials were trying to inflate the turnout, by opening up stalls selling discounted goods at polling stations, and instructing state employees to report back to their bosses that they had voted.

Reuters reporters witnessed multiple people in different locations voting in groups, and then taking photos of themselves in front of the ballot boxes on their mobile phones.

In polling station 1515 in Zelenodolsk, 800 km (500 miles) east of Moscow, five people photographed themselves voting. Asked by a Reuters reporter why, one of the group, a young woman, said: "What do you mean why? It's a photographic report for our bosses."

At polling station number 216 in Ust-Djeguta, in the Karachayevo-Cherkessia region of southern Russia, Marina Kostina was marshalling groups of voters to be photographed. Asked why one woman was photographed, Kostina said: "Her work asked her to report in."
Stalin would be proud.
To the extent anything interesting is happening with the election, it's this: Reuters ("Kiev plans to prevent Russians in Ukraine from voting in Russian election"):
The Ukrainian Interior Ministry will not allow Russian citizens in Ukraine to vote in Russia's presidential election after Moscow decided that the vote would also be held in Crimea.

Russia seized the Black Sea peninsula from Ukraine in 2014 and has since treated it as Russian territory despite economic sanctions from the West. As a result, polls will open in Crimea on Sunday to allow residents to vote in the Russia-wide ballot.

As part of his campaign for re-election, President Vladimir Putin visited Crimea on Tuesday and addressed a crowd of cheering supporters with a speech that emphasized Russia's claim to the territory.

Interior Minister Arsen Avakov said Moscow had ignored a request from Kiev not to hold what the ministry described as an "illegal" election in Crimea, prompting the ban on Russians voting on Ukrainian territory.

"On Sunday March 18, 2018, the security regime for the Russian Federations's diplomatic missions on Ukrainian territory in Kiev, Kharkiv, Odessa and Lviv will not provide Russian citizens access to these buildings for voting," Avakov said.

Relations between Kiev and Moscow collapsed after the 2014 annexation and the eruption of a conflict with Russian-backed separatists in Ukraine's Donbass region, which has killed more than 10,000 people

The interior ministry's announcement may be welcomed by nationalist forces in Ukraine, some of which had planned to band together to block access to polling stations in Russian diplomatic buildings on Sunday.

[…]

"This is a blatant violation of international obligations, international law and particularly a violation of the rights of our citizens," the head of Russia's central election commission, Maya Grishina, was quoted as saying by Russian news agency RIA.
That's right: it's the Russians who are the victims here.