Ruth Bader Ginsburg: I Couldn't Get Confirmed Today
Supreme Court nominees were confirmed quite easily within recent memory. What's changed?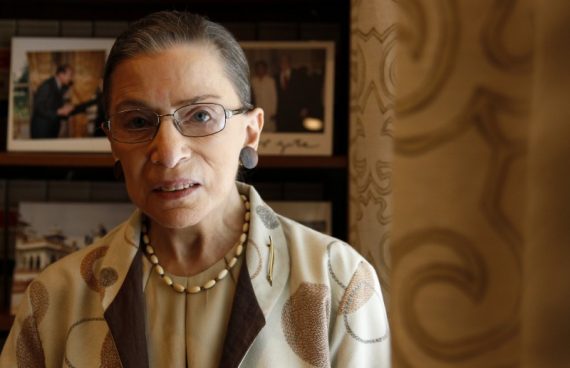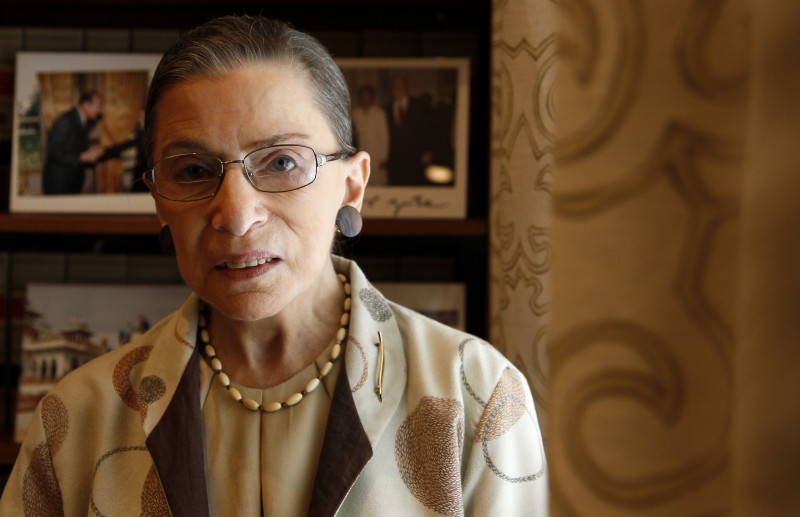 Ruth Bader Ginsburg was confirmed to the Supreme Court 96-3 back in 1993. She doesn't believe that could happen in today's climate.
U.S. Supreme Court Justice Ruth Bader Ginsburg said Monday that the confirmation process has become much more partisan and that she probably never would have made it to the high court under the current climate.

"I wish we could wave a magic wand and go back to the days when the process was bipartisan," Ginsburg told the crowd of about 2,000 as she spoke as part of a lecture series for Southern Methodist University's Dedman School of Law.

[…]

Before her appointment to the Supreme Court, she served as a judge on the U.S. Court of Appeals for the District of Columbia Circuit, a spot she was appointed to in 1980. She has also been a law school professor and served as general counsel for the American Civil Liberties Union in addition to helping launch its Women's Rights Project.

Ginsburg said that to practice for her Senate confirmation hearings, White House staffers in mock hearings grilled her on her work for the ACLU. During those mock hearings she told them: "There's nothing you can do to get me to bad mouth the ACLU."

Such grilling, though, did not happen, she said. She was confirmed 96-3.

"Today, my ACLU connection would probably disqualify me," she said.
She's almost certainly right. It's noteworthy, too, that Antonin Scalia was confirmed 98-0 in 1986. In his case, Republicans had a slim 53-47 majority–with an election two months away that would flip control to the Democrats 55-45. In her case, Democrats had a very strong 57-43 majority. Still, not only was neither filibustered but all or virtually all of the Senators from the opposition party voted to confirm. Stephen Breyer, nominated during the contentious 1994 cycle, was confirmed 87-9.
All the recent nominees, by contrast, have drawn significant opposition.  Elena Kagan got 37 No votes; Sonia Sotomayor 31; Sam Alito 42; and John Roberts 22. The climate has obviously changed radically. Especially since all of those nominees were, arguably, more centrist than Ginsburg or Scalia.
As Steve Benen points out, plenty of the same Senators who voted Yay on Ginsburg voted Nay on Kagan:
Note that plenty of Republican senators whose names will sound familiar — Chuck Grassley, Kay Bailey Hutchison, John McCain, Mitch McConnell — all voted for her nomination. (Then note that in 2010, Elena Kagan confirmed on a 63-to-37 vote — and Grassley, Hutchison, McCain, and McConnell all voted against her.)
Part of this is the advent of the Permanent Campaign. In an era of multiple 24/7/365 cable news outlets–two of which have actively become partisan venues–and blogs, Twitter, and the like, there is no breathing period between campaign cycles when Senators can be senatorial.
Additionally, there's a growing recognition that the judiciary, and the Supreme Court in particular, are the key decision-makers on a wide variety of the most controversial public policy issues combined with the illusion that the courts are non-partisan, non-ideological venues having evaporated. With each new opening having the potential to make a dramatic swing in the outcome of these cases for decades, it's hardly shocking that nominations are now as hard-fought as major pieces of legislation.
Now, like Scott Lemieux, I'm inclined to think Ginsburg would still get confirmed, especially with a 57-43 Democratic majority in the Senate. But she would certainly get more than 3 votes against.
On a different but somewhat related subject, when I saw the headline "Justice Ginsburg: If I Were Nominated Today, My Women's Rights Work For The ACLU Would Probably Disqualify Me" at memeorandum, I thought Ginsburg was going to make the point that she would be expected to recuse herself from any number of cases on women's issues and/or brought by the ACLU. That's becoming the norm, now, as testified to by the plethora of Obama administration cases Kagan has had to step aside from.