Santa Bin Laden
Santa Claus and Osama bin Laden both rely on the power of belief.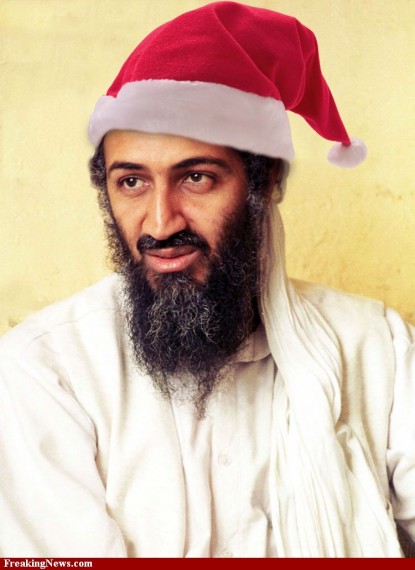 KOW's The Faceless Bureaucrat muses on the "great similarities between Osama Bin Laden and Santa Claus."
Some guy is credited with giving gifts to children.  In the beginning, he did this himself.  He gets found out and venerated.   Over time the real person fades from the forefront, but the tradition-the idea-lives on.  More than that, though, independent of any central organisation or instruction, millions of people each year give gifts in his name around the world.  There are lots of variations in the hows and wherefores, but the main idea continues without any direction.   While the idea started as a religiously motivated gesture, it is flexible enough to allow for almost anyone to join in.  Sure, there are lots of reinforcing messages, reminding people to play along, passed along from relatives, and other community members (like Coca Cola, Mattel, and Walmart).  If you look at it from one perspective (say, if you were an alien who had no idea of the historical context) and looked at the events of 6 January, 6, 24, or 25 December each year, you might think that Santa Claus had an army of millions of obedient followers, doing his bidding, while he controls it all from his secret lair at the North Pole.
Ho ho ho.