Sarah And Bristol Palin Seek To Trademark Their Names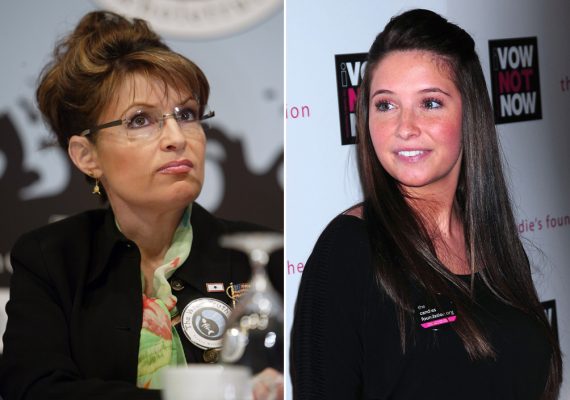 This is, well, a little unusual:
In the last several months, Politics Daily has learned that the Palin family lawyer, Alaska attorney Thomas Van Flein, has filed applications to the United States Patent and Trademark Office to trademark "Sarah Palin®" and "Bristol Palin®."

According to patent office application (serial # 85170226), Van Flein registered for a trademark of "Sarah Palin" on Nov. 5, 2010 — three days after the midterm elections. The government trademark examining attorney has "found no conflicting marks that would bar registration." In other words, nobody else had already taken the proposed trademark. A "Bristol Palin" application (serial #85130638) was filed on Sept. 15, 2010. Bristol Palin's stint with "Dancing With the Stars" premiered on Sept. 20.

Celebrities often trademark their names to protect their image or brand from others who might try to cash in on their likeness or use their name in an inappropriate way.
Okay that makes sense on some level, but here's where it gets weird:
For Sarah Palin's application, there are two classes of commercial service for which her name would be a registered trademark. One is for "information about political elections" and "providing a website featuring information about political issues." The second is for "educational and entertainment services … providing motivational speaking services in the field of politics, culture, business and values."

The "Bristol Palin" application is for "educational and entertainment services, namely, providing motivational speaking services in the field of life choices."

(…)

Politicians seldom trademark their name but they might do so to prevent others from using it, for example, to sell shoddy, unapproved merchandise or "official" candidate memorabilia. A search for other political figures such as President Barack Obama and potential 2012 GOP presidential candidates Mike Huckabee, Tim Pawlenty and Mitt Romney do not show any pending trademark applications. It is a rarity, say trademark attorneys, for political figures to file such forms.
For good reason.
I'll leave it for a Trademark Attorney to comment on this with expertise, but it seems to me that there are more than a few legal issues that would be raised by someone who is actually a politician (assuming that's what Palin sees in her future) trademarking their name. Of course, this may be a sign that Palin has decided that there's more money in being a political celebrity than in actually doing anything.