Sarah Huckabee Sanders To Continue Career Of Lying For Donald Trump
Sarah Huckabee Sanders has signed on with Fox News Channel to continue her career of lying on behalf of the President.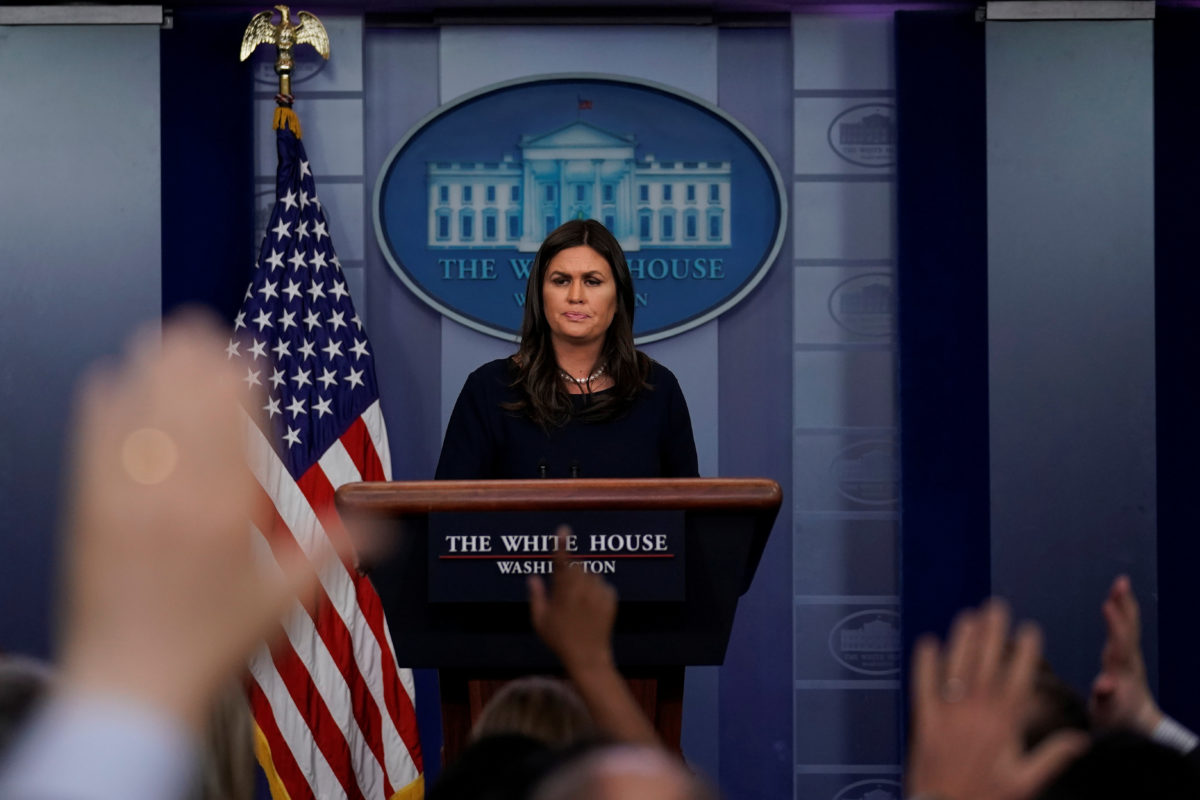 Surprising absolutely nobody, Fox News announced that former Trump Press Secretary Sarah Huckabee Sanders has signed on as a contributor at Fox News Channel:
Sarah Huckabee Sanders, the former White House press secretary, will join Fox News as a contributor next month, reinforcing the strong ties between the conservative cable network and the Trump administration.

Ms. Sanders, who left the administration less than two months ago, will make her debut on Sept. 6 on "Fox & Friends," the network said in a statement. In her new role, she will provide political commentary and analysis across Fox properties, including Fox News and Fox Business Network as well as digital and radio outlets.

Ms. Sanders is among nearly two dozen people who hold or have held positions both in the Trump administration and at Fox News. The others include Bill Shine, the former deputy White House chief of staff and former co-president of Fox News; Heather Nauert, a former Fox News anchor and former under secretary of state; and Hope Hicks, President Trump's former communications director, who is now the chief communications officer at Fox Corp.

The path from White House spokesperson to television news is well-worn. George Stephanopoulos joined ABC News after working in the administration of President Bill Clinton, for example, and Jay Carney joined CNN after leaving the Obama administration.

As press secretary, Ms. Sanders became one of the most recognizable faces of the administration. She was known for her confrontations with White House reporters, a style that endeared her to Mr. Trump.

"We've been through a lot together. She's tough and she's good," the president said after announcing her departure in June. "She's a warrior," he added, kissing her affectionately on the side of the head.

Ms. Sanders also effectively killed the daily briefing from the White House lectern, ending decades of tradition.

In April, it was revealed in the report of the special counsel Robert S. Mueller III that Ms. Sanders had acknowledged delivering a false statement from the White House podium when she said in 2017 that she had personally heard from "countless" F.B.I. officials who said they were happy with Mr. Trump's decision to fire James B. Comey, then the director of the agency. Ms. Sanders later described that false statement as a "slip of the tongue."
Washington Post media critic Erik Wemple comments:
It seems Sanders's propaganda skills haven't diminished one bit since her June departure from the White House. Though cable-news news releases are often empty vessels, the Fox News announcement says quite a bit via omission. The network was apparently unable to cite any accomplishments from Sanders's White House tenure. Here's the description: "From July 2017 through June 2019, Sanders served as the White House Press Secretary for President Donald Trump. As the third woman and first mom to ever hold the position, Sanders was the administration's chief spokesperson. She joined the administration as Deputy Press Secretary in January 2017 after previously working as a senior adviser for the president's election campaign."

The move makes clear that Fox News is bothered not at all by its incestuous relationship with Trump world. Sanders, Raj Shah, Hope Hicks, Thomas Homan, Bill Shine, Heather Nauert, Sebastian Gorka, John Bolton, Morgan Ortagus — among others — have all worked for Fox News or its parent company as well as for the Trump administration.

The inked deal merely extends a pipeline that was rushing during Sanders's time at the White House: According to Media Matters, Sanders appeared on Fox News 67 times from August 2017 until her departure, versus six on CNN and zero on MSNBC.

For her debut at Fox News, Sanders will appear on the Sept. 6 edition of "Fox & Friends." In other words, she'll still be briefing the president on a regular basis.
As does Mediaite's Tommy Christopher:
For critics of Fox News, this hiring might not seem like such a monumental outrage. Their opinion hosts are famous for their estrangement from the truthand/or reality, and the news side is also frequently guilty of bias and misreporting — even on their own network's polling data.

But Fox News prides itself on a stable of journalists who, at their best, practice excellent journalism, as well as others who sporadically call out the Trump administration — even on the opinion side.

Ironically, one of the most thorough and devastating destructions of Sarah Sanders came at the hands of Fox News anchor Chris Wallace when he grilled her about a longstanding Trump administration lie that terrorists were flooding over the southern border of the United States. Wallace's performance single-handedly succeeded in getting Trump to stop telling that lie, a miraculous feat.

An even more delicious irony is the fact that one of the reporters whose face Sanders lied right to was Fox News White House correspondent John Roberts, yet another Fox journalist with a reputation worth protecting.

So while Fox News critics like myself may have long ago written off the network's claim to credibility as a news organization — notwithstanding Wallace, Roberts, Shepard Smith, and the occasional outbursts of truth from others — the hiring of Sanders represents Fox's writing off of its own credibility.

It would be one thing if Fox were simply to hire Sanders as a talking head for panels on shows like Fox & Friends — where she will make her debut — or even to host her own opinion show. It would still be a lower-level outrage, but at least somewhat consistent with Fox's own internal logic about the separation of opinion and hard news.

But according to Fox News, Sanders "will provide political commentary and analysis across all of FOX News Media, including FOX News Channel, FOX Business Network, FOX News Digital, FOX Nation and the radio/podcast division," meaning she could end up providing news "analysis" across a table from Wallace or Smith, or Bret Baier, or any of the other news figures whose reputations the network prizes.

Such a circumstance would place a journalistic duty on these figures to disclose and examine Sanders' status as legally binding admitted liar during every such appearance. An "Admitted Under Oath to Lying" chyron would accomplish the same thing, but either would greatly — albeit deservedly — undercut the value of Sanders' analysis.

Saunders showing up on Fox News Channel is entirely unsurprising, of course. As noted above, there has been something of a revolving door between the Administration and the network since the days of the Trump campaign and into the Administration. Additionally, Sanders herself quite obviously showed favoritism toward the network during her time as Press Secretary, and would frequently ignore the morning gaggle of reporters in the White House driveway on her way to make an appearance on Fox & Friends or some other network show. Add into the fact that her family has a history with the network thanks to the weekend show that her father had for several years that was some bizarre mixture of music and political commentary and the fact that she ended up landing at the network rather inevitable.
Sanders's most notable "accomplishment" during the roughly two years that she held the position of White House Press Secretary is the fact that she effectively killed the White House Press Briefing. As of today, it has been 167 days since there was a formal briefing of the White House Press corps and, although there was some suggestion when Sanders's replacement Stephanie Grisham was named to her position that these briefings would return, that has yet to occur and there's little sign that it's going to return. As a result, reporters at the White House have been reduced to either shouting questions at the President at a photo op or doing so during one of the impromptu press talks he gives when he is departing for some destination on Marine One and can use the excuse of the loud engines of the helicopter to dodge questions or refuse to answer follow-up questions.
Of course, the frequency of Sanders's briefings was really a side issue to the fact that she regularly got up before the media and the American people and repeated what were obviously bald-faced lies in support of her boss and the Administration. As Wemple and Christopher both note, she also admitted under oath when she spoke with former Special Counsel Robert Mueller's team of investigators that she was lying when she said that the White House had heard from "countless" officials at the Federal Bureau of Investigation thanking the President for firing former F.B.I. Director James Comey. Sanders defended herself by saying it was a "slip of the tongue," but it was clearly a blatant lie that makes one wonder just how many other lies she had told during her tenure. Basically, though, she's gone from being paid by the taxpayers to lie for Donald Trump to being paid by Fox News Channel to lie for Donald Trump.