Sarah Palin Adds South Carolina To Itinerary, And The Press Continues To Follow
Sarah Palin will be heading to yet another important primary state while insisting she isn't running for President yet. And the press follows her like a lonely puppy.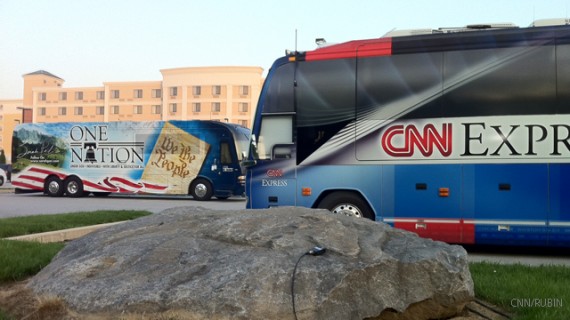 She was already heading to New Hampshire, then Iowa got added to the schedule, now it appears that Sarah Palin is making it an early primary state trifecta:
Former Alaska Gov. Sarah Palin will visit the first-in-the-South primary state of South Carolina later this month as part of her nationwide bus tour, RealClearPolitics has learned.

According to well-informed sources, Palin's trip is divided into three separate segments, in which visits to each of the first three voting states — New Hampshire, Iowa and South Carolina — will be the geographical centerpieces.

Though Palin may set up a meeting with Gov. Terry Branstad when she travels to Iowa in the coming days, RCP has learned that she is purposefully bypassing meetings with local party leadership as she works to cultivate her image as an "anti-politician," in anticipation of a wildly unconventional presidential run.

(…)

Following her current "One Nation" tour of the Northeast, Palin will next journey to the Midwest, where Iowa will be front and center. Plans are still being drawn up, but she may visit the World Pork Expo in Des Moines.

During the third leg of her tour, Palin will travel to South Carolina and may also appear at the Republican Leadership Conference in New Orleans, where several other current and potential GOP White House hopefuls are scheduled to speak.

Despite the obviously political nature of her travel agenda, Palin aides emphasize that her trip was primarily designed to test whether a months-long campaign could work logistically for the former governor's large family. If members of Palin's family are not completely on board with a campaign, sources say, she will not run.

"I honestly don't look at states according to when their primaries are," Palin said in the interview. "To me, an American is an American, no matter what their primary election dates are."
So, apparently, the fact that Palin is visiting the states that just so happen to host the first three primaries in 2012 is just a massive coincidence totally unconnected with any political ambitions she may have, or any illusions that she might be trying to create among her supporters that she is thinking about running for President. And, bizarrely, the press covers the whole thing, following her around like she's Paris Hilton or Lindsay Lohan and constantly on the lookout for her next move.
Then, somewhat absurdly, they complain when they are treated like paparazzi:
Sarah Palin and her advisers are refusing to tell members of the media where she is going on her current bus tour – and the former Alaska governor seems to be enjoying the cat and mouse game that's resulted.

"I don't think I owe anything to the mainstream media … I want them to have to do a little bit of work on a tour like this, and that would include not necessarily telling them beforehand where every stop's going to be," she told fellow Fox News employee Greta Van Susteren in an interview from the bus.

Yet the reemergence of the GOP's larger-than-life 2008 vice presidential candidate – who says she is strongly considering a run for president – is undeniably news. Which is why more than a dozen national news outlets have sent reporters and producers out to try and follow Palin.

Since Palin and her team won't share where the potential candidate is headed, reporters and producers have little choice but to simply stay close to Palin's bus. This has resulted in scenes of the Palin bus tooling down the highway followed by a caravan of 10 or 15 vehicles all trying to make sure they don't lose sight of the Palin bus.

It adds up to a dangerous situation, says CBS News Producer Ryan Corsaro.

"I just hope to God that one of these young producers with a camera whose bosses are making them follow Sarah Palin as a potential Republican candidate don't get in a car crash, because this is dangerous," he said.

Corsaro asked a member of Palin's team if he thought it was dangerous to have reporters forced to chase her from stop to stop. "You're the ones that are trailing us," he replied.
If you're going to act like paparazzi, you're going to get treated like paparazzi. As my colleague Steven Taylor noted yesterday, though, there is a weird symbiotic relationship between Palin and the press. She feeds off their attention, even the negative attention, and often spins it into the claims of victim-hood that we often hear from her and her supporters (think "Lamestream Media") This time around, she's using the press for the free coverage and using them for the foil that have played for her with her base ever since the closing days of the election when she made this absurd claim:
In a conservative radio interview that aired in Washington, D.C. Friday morning, Republican vice presidential nominee Gov. Sarah Palin said she fears her First Amendment rights may be threatened by "attacks" from reporters who suggest she is engaging in a negative campaign against Barack Obama.

Palin told WMAL-AM that her criticism of Obama's associations, like those with 1960s radical Bill Ayers and the Rev. Jeremiah Wright, should not be considered negative attacks.  Rather, for reporters or columnists to suggest that it is going negative may constitute an attack that threatens a candidate's free speech rights under the Constitution, Palin said.

"If [the media] convince enough voters that that is negative campaigning, for me to call Barack Obama out on his associations," Palin told host Chris Plante, "then I don't know what the future of our country would be in terms of First Amendment rights and our ability to ask questions without fear of attacks by the mainstream media."
Of course, there's nothing in the First Amendment that says that a politician like Palin can say what they want without having to be held accountable for it by an independent, even critical media. That's what the whole freedom of the press thing is all about. Freedom of speech doesn't mean that you get to say whatever you want without anyone criticizing you for it, but that is exactly how Sarah Palin treats the media, both since the 2008 campaign and during this bizarre bus tour.
Here's a thought: Perhaps the media should take Palin at her word that this bus tour of hers has nothing to do with Presidential ambitions, pack up the camera gear, and leave. Giving her all this free publicity, while allowing her to get away with the dodge that she isn't really a candidate for anything and therefore doesn't have to answer questions, is both insane and pretty much incompatible with what the political presses job is supposed to be. If they're going to be treated like paparazzi, then perhaps the press should go find a more interesting celebrity to follow around.
Like Elliott Gould.