Sarah Palin Continues To Tease Supporters In Largely Pointless Speech
Sarah Palin's much-anticipated Tea Party speech in Iowa was, in the end, much ado about nothing.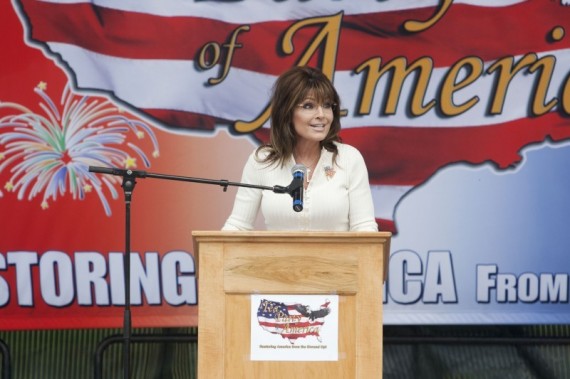 After all the hype that had been building up around it for the past several weeks, Sarah Palin's speech to a Tea Party event in Indianola, Iowa didn't really amount to much of anything, and continued to leave what's left of her rabid supporters hoping for a Presidential campaign that seems less and less likely:
The 2,000 people who came from across the country to see Sarah Palin address a tea party rally here Saturday wanted one thing: To hear her say she's running for president.

These are the Palin die-hards — the supporters who remain convinced she will run, no matter the mounting conventional wisdom that she won't.

They came on planes, in cars, on chartered buses. They wore "Palin 2012" T-shirts and buttons and hung a banner on a riser reading, "Run, Sarah … RUN!!! For Cubs, Country & Constitution." They waited out an intense Midwestern summer storm that drenched the field, a little south of Des Moines, where Palin's name had been mowed into the grass behind the stage.

Many say they haven't even considered supporting another candidate, and will wait as long as Palin takes to make up her mind. Without her to vote for, some said they'd sit out the primary. Others refused to even consider the question.
Given all the pre-speech hype, and the announcement that the entire event had been moved to a larger venue in Indianola to accommodate turnout, a crowd of 2,000 people strikes me as all that impressive, especially on a holiday weekend. In any case, instead of providing any hints, or even acknowledging the shouts of "Run Sarah Run" one could hear, albeit not very loudly, on the C-Span feed of the speech yesterday, Palin instead choose to deliver a fairly bland speech hitting on the same tired talking points she's been going over for three years:
Sarah Palin took sharp aim at President Barack Obama and at least one of her potential Republican rivals Saturday at a rain-soaked tea party rally in Iowa, the state that will open the GOP nomination fight early next year.

The former Alaska governor, speaking on the third anniversary of the Republican National Convention speech that transformed her into a conservative darling and global celebrity, did not announce a presidential campaign of her own.

But with a flurry of named and unnamed attacks against the president and Texas Gov. Rick Perry, the GOP front-runner, Palin aggressively sought to define herself as a populist tea party outsider who would run against "the permanent political class" and "good ole boy politics as usual."

"The status quo is no longer an option," she declared to roughly 2,000 admiring supporters, some of whom traveled from as far as San Diego, Dallas and New Orleans for the rally.

Palin urged tea party activists to fight against President Obama and the "special interests" in Washington until "the permanent political class" is thrown out of power.

And for the first time, Palin outlined the makings of a five-point recovery plan for the nation's flagging economy, albeit in very broad strokes.

Calling it a "pro-working man's plan," Palin rattled off a series of familiar and somewhat vague free-market proposals, such as repealing the Obama health care law, rolling back federal regulations, boosting domestic energy production and transferring more spending authority to state capitals.
Having actually watched the speech, I've got to say that I really don't see the attacks on Rick Perry that many in the media read into it. She certainly didn't mention him by name, and while the phrase "crony capitalism" can rightly be ascribed to many of the policies that Perry has implemented during his time as Texas Governor, it's pretty clear that Palin was referring exclusively to the Obama Administration in this critique, and that's how the crowd interpreted it. As for the "plan" it was really little more than a repetition of a bunch of conservative talk radio talking points, not the serious platform for a political campaign that some seem to think that it is.
As for her 2012 plans or ambitions, Palin continues to tease her supporters:
At a rope line after her 40-minute speech at the Tea Party of America rally here, she shrugged when asked whether late September is still her timeline for deciding whether to make a presidential bid.

"I'm still not ready to make any kind of an announcement," Palin told The Des Moines Register as she signed autographs, including a handgun a tea party advocate told her was for an NRA benefit. "I'm still trying to figure it out, if it's the right thing to do."
This despite the fact that her unfavorable rating remains at an historic high, that three-quarters of Republicans don't want her to run, and that even a pro-Republican polling firm shows her losing decisively in a head-to-head match up with the President.
Is Palin really crazy enough to run in such conditions? On some level, it's beginning to look like many on the right don't even care anymore. The immediate reaction to her speech from conservatives on Twitter was pretty negative, much of it reflecting the sentiments of this post from Ace Of Spades:
After the encouragement of interest, and the cultivation of speculation about what that "major announcement" might be, it was a very standard-issue and not-particularly-important or novel stump speech.

Some might find this sort of coyness and games-playing "brilliant" or the like. I don't.

Some may claim she "played a trick on the media." Yes, the media. And everyone else too.

(…)

Palin got lots of attention for a speech that turned out to be extremely bullet-point and frankly trivial.

I don't consider this an achievement. I just consider it manipulative, and I don't just laugh it off as playing a prank on the stupid media.

A lot of people traveled a very long way and sat out in the rain for something that was suggested just might be The Big Announcement. A lot of people watched on TV.

And what they saw was a no-brainer stump speech.
But it got people's attention. And that, in the end, is all that Palin has been about for the two years that have elapsed since she quit her job to pursue a career as a political and media celebrity (think Kim Kardashian, but with a few one liners about economics thrown in). What Palin has noticed lately, though, is that with people actually running for President the intention is starting to slip away from here, hence she pulls stunts like this. It's really all she's got, though, because as Lexington Green notes, if she runs all of the good things about being a political celebrity go away:
Once she declares, she is ordinary, she is just another candidate. She has to debate and get in the cage with the rest of them. She would have to be prepared for that, and despite media claims, none of the other serious contenders are stupid, and beating them in debates will be hard. And then when she runs, and if she loses, as she probably will, then she's done. The Palin phenomenon is over. I can see why she might want to put off that day. But if it is all about her ego, she should not be president anyway.
There are many reasons she should never be President, but that is certainly one of them.
There will be more speculation, of course, and more teasing of a possible announcement. But unless she actually throws her Caribou-hunting hat in the ring at some point, there's going to be a point where Sarah Palin wakes up and notices that people aren't really paying attention anymore.
If you're inclined to watch it, here's the speech: