Sarah Palin: I Am Engaged In Deliberations About Running For President
Yet another sign that the GOP's biggest nightmare may actually end up coming true.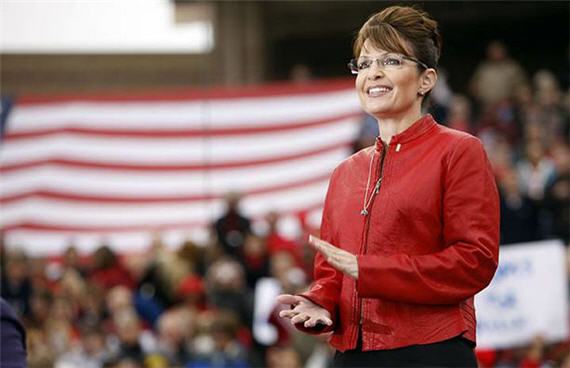 There's much to say about Robert Draper's 7800-world piece about Sarah Palin that will appear in Sunday's New York Times Magazine, but the part that will have everyone talking, no doubt, deals with Palin's statements about the 2012 Presidential race:
"I am," Sarah Palin told me the next day when I asked her if she was already weighing a run for president. "I'm engaged in the internal deliberations candidly, and having that discussion with my family, because my family is the most important consideration here." Palin went on to say that there weren't meaningful differences in policy among the field of G.O.P. hopefuls "but that in fact there's more to the presidency than that" and that her decision would involve evaluating whether she could bring unique qualities to the table
And one of the central messages of her campaign, it seems will be same war-on-the-media victimhood card that she's played so well since the 2008 campaign, and which 2010 candidates like Sharron Angle and Christine O'Donnell used in their campaigns as well:
She went on: "I know that a hurdle I would have to cross, that some other potential candidates wouldn't have to cross right out of the chute, is proving my record. That's the most frustrating thing for me — the warped and perverted description of my record and what I've accomplished over the last two decades. It's been much more perplexing to me than where the lamestream media has wanted to go about my personal life. And other candidates haven't faced these criticisms the way I have."

I asked her if by avoiding the national press, she didn't bear at least some responsibility for the way the public viewed her. "I'm on television nearly every single day with reporters," she shot back. "Now granted, that's mainly through my job at Fox News, and I'm very proud to be associated with them, but I'm not avoiding anything or anybody. I'm on Facebook and Twitter. I'm out there. I want to talk about my record, though." Palin was referring to "getting in there and cleaning up corruption, taking on the oil companies and the good old boys in the party, things like the natural-gas pipeline" and "getting things out of the government's hands, like the state-owned dairy creamery in Alaska." Asked if she believed in 2008 that these accomplishments made her at least as qualified as Barack Obama to be president, her response was immediate: "Absolutely. If I had any doubt in my ability or administrative experience that would've been put to good use in a McCain administration, then I never would have accepted the nomination."

Palin told me that because of the media's unfairness toward her, "I fear for our democracy."
This isn't a new theme for Palin, of course, but one that she's keeps going back to ever since she burst on the national scene. During the 2008 campaign,  she complained that journalists who were asking questions about her and her record were violating her First Amendment rights and that such journalists were "a threat to democracy." During the Carrie Prejean beauty pageant/gay marriage kerfuffle, she accused the media and pageant officials of violating Prejean's First Amendment rights. Back in May she essentially said that journalists who printed stories she didn't like were a threat to freedom of the press. Most recently, she's raised this same freedom of speech arguments in her bizarre defenses of Dr. Laura Schlessinger and Juan Williams. Meanwhile, while she criticizes the media for its "unfairness," she sits safely behind the protective shield of Fox News, Facebook, and Twitter where the probability of ever having to answer a serious question is pretty low.
In a separate part of the interview, Palin makes clear that she didn't care much about the polls showing that she isn't very popular outside of the Republican Party, or the concerns of Republican insiders that nominating her in 2012 would be a disaster for the party:
I reiterated, didn't she believe that the Republican establishment's predominant worry was that she would lose to Obama? "Then perhaps they should vent some of their paranoia toward all of the potential G.O.P. candidates," she said. "Because obviously there's no guarantee that any one of us would win. But I do believe that much of this is a threat to their hierarchy, because I've never shied away from a battle and because I'll put principle before politics."
In that regard, though, one wonders where Palin's principles really lie when you consider something she recently said about her 2012 ambitions on Fox:
I'm certainly going to take a good lay-of-the-land look, and see if there are others out there, who are electable, who are willing to make the tough decisions, won't care what the heck the media says about them, but will do the right things and shrink the government so the private sector can thrive.

If there are others out there, willing to do that and make the sacrifices, then I'll support them. If there's nobody else, I would do it.
So, Governor Palin, does that mean that if a candidate isn't electable, they shouldn't run for President?
Perhaps you should think about that for a second.