Sarah Palin On Iran: Speak Loudly And That's About It
Sarah Palin waded into the foreign policy pool today with a piece about Iran, and it was about as empty as most of the other ideas on Iran that we've heard over the last six years or so from everyone else.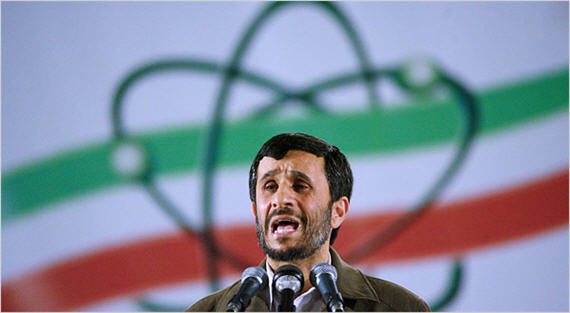 Sarah Palin's latest foray into the world of substantive policy comes in the pages of USA Today where she talks about Iran, and that's really about it:
Iran continues to defy the international community in its drive to acquire nuclear weapons. Arab leaders in the region rightly fear a nuclear-armed Iran. We suspected this before, but now we know for sure because of leaked diplomatic cables. King Abdullah of Saudi Arabia "frequently exhorted the U. S. to attack Iran to put an end to its nuclear weapons program," according to these communications. Officials from Jordan said the Iranian nuclear program should be stopped by any means necessary. Officials from the United Arab Emirates and Egypt saw Iran as evil, an "existential threat" and a sponsor of terrorism. If Iran isn't stopped from obtaining nuclear weapons, it could trigger a regional nuclear arms race in which these countries would seek their own nuclear weapons to protect themselves.
Alright that's relatively non-controversial. We can all agree that the leaders of the Islamic Republic are bad guys, that they provide aid to bad guys, and that it probably wouldn't be a good thing for anyone if they got nuclear weapons. That's why most of Iran's neighbors are more concerned with the Islamic Republic at this point than they are with Israel. It's why someone, and we still don't know who, has infiltrated the Iranian nuclear research facilities with a computer virus that has set the program back at least two years. Most importantly, it's why stopping the Iranian nuclear weapons program has been a central part of American foreign policy in the Middle East for two Presidencies now, with very limited success.
So, yes, we can all agree that the Iranian Mullahs are bad, bad guys. The question is what to do about it, and in that area Palin's first foray into this complex area of foreign policy falls as short as most of the other ideas we've heard over the past six years.
First, Palin proposes pretty much what we're already doing, just more of it:
President Obama once said a nuclear-armed Iran would be "unacceptable." Yet, Iran's nuclear progress still continues unchecked. Russia continues to support Iran's Bushehr nuclear reactors. It also continues to sell arms to Iran — despite the Obama administration's much-touted "reset" policy with Russia. The administration trumpets the United Nations sanctions passed earlier this year, but those sanctions are not the " crippling" ones we were promised. Much more can be done, such as banning insurance for shipments to Iran, banning all military sales to Iran, ending all trade credits, banning all financial dealings with Iranian banks, limiting Iran's access to international capital markets and banking services, closing air space and waters to Iran's national air and shipping lines, and, especially, ending Iran's ability to import refined petroleum. These would be truly "crippling" sanctions. They would work if implemented.
Actually, they would only really work if the rest of the world went along with them. Unilateral sanctions against Iran, or any nation, aren't going to accomplish much of anything unless we get the rest of the major world power to go along with them. One need only look 90 miles off the coast of Florida to see that; while the U.S. continues an embargo that began before our current President was even born, the rest of the world is trading with Cuba. Similarly, an economic embargo of Iran would be worthless if the rest of the world didn't participate in it and, in that respect there's one nation that's going to be a problem getting on board:
Iran's main trading partners have a number of economic incentives that have driven the international thinking on sanctions and security. While the United States, which has maintained an embargo on trade with Iran since the 1979-1981 hostage situation, remains relatively insulated from Iran economically (though globalized trade and multinational companies mean that this is only partially true), many major European and Asian nations are tightly intertwined.

Figures from January to May 2009 indicate that China, the remaining major adversary to sanctions, relies on Iran for more than a half a million barrels of oil per day – about 15 percent of their portfolio.

China has a diversified portfoliohttps://www.outsidethebeltway.com/wp-admin/post.php?post=73235&action=edit&message=10, with sources that range from central Asia, east and west Africa, and traditional OPEC sources in the Middle East. However, both volatile Iran and stable Saudi Arabia represent significant portions of the imports. With demand rapidly growing in China, Iran's portion is 15 percent they cannot afford to lose.
In addition, Japan, India, and South Korea are all major purchasers of Iranian oil. Without them on board, these kind of economic sanctions are not going to work at all. Now perhaps Palin has some secret way to convince these nations to send their economies into the tank for an undetermined period of tie while we wait for the Iranian regime to collapse, hopefully in a peaceful manner, but she certainly hasn't laid it out here.
Even if the rest of the world is on board, though, we shouldn't kid ourselves — these sanctions would be an act of war. Which brings us to Palin's next policy idea:
Some have said the Israelis should undertake military action on their own if they are convinced the Iranian program is approaching the point of no return. But Iran's nuclear weapons program is not just Israel's problem; it is the world's problem. I agree with the former British prime minister Tony Blair, who said recently that the West must be willing to use force "if necessary" if that is the only alternative.
I've written about this scenario, which seems to be the one that pundits on the right favor the most with a "bomb first, and ask questions later" attitude here and here, and while the prospects of regional war aren't quite what they were a few months ago given the Wikileaks revelations, the probability that an attack on Iran could unleash a wave of terrorists attacks against the U.S. and Israel, along with Hezbollah attacks against Israel from Southern Lebanon. In addition, there's the added prospect that an attack on Iran's nuclear facilities would only serve to set the program back a few years at most, or that it would fail entirely if the facilities are so heavily shielded that bombing won't really do sufficient damage. Military action should never be taken off the table, of course, but neither should it be the first resort as Palin seems to suggest, especially when there's a a good possibility it might not work.
Palin's final suggestion strikes me as little more than pointless symbolism:
We also need to encourage a positive vision for Iran. Iran is not condemned to live under the totalitarian inheritance of the Ayatollah Khomeini forever. There is an alternative — an Iran where human rights are respected, where women are not subjugated, where terrorist groups are not supported and neighbors are not threatened. A peaceful, democratic Iran should be everyone's goal. There are many hopeful signs inside Iran that reveal the Iranian people's desire for this peaceful, democratic future. We must encourage their voices.

When the brave people of Iran take to the streets in defiance of their unelected dictatorship, they must know that we in the free world stand with them. When the women of Iran rise up to demand their rights, they must know that we women of the free world who enjoy the rights won for us by our suffragist foremothers stand with our sisters there. When Iranians demand freedom of religion, freedom of conscience and freedom to simply live their lives as they choose without persecution, we in the free world must stand with them.

We can start by supporting them with diplomacy and things such as radio broadcasting, just as we did with those who suffered under the former Soviet Empire. Most of all, we should support them with confidence in the rightness of the ideals of liberty and justice.
While this is ia nice idea, I'm not sure that it's going to accomplish anything of substance because the truth of the matter is that we don't "stand with the people." At least not all the way. We're not going to invade Iran to stop human rights abuses, or liberate the people, and on some level it strikes me as dishonest to let them think we might. Perhaps a Radio Free Tehran wouldn't be a bad idea but it's not going to stop Iran from developing nuclear weapons.
So there we have Sarah Palin's first foray into the fun world of Middle East foreign policy. It's not exactly a sled dog race, Sarah, you're gonna have to do better.