Sarah Palin Unfavorables Reach Critical Mass
Sarah Palin's unfavorability ratings continue to climb. And there's very little room for her recovery.
Public Policy Polling's Tom Jensen says "Sarah Palin might have really squandered an opportunity to improve her image last week."  While 64 percent of Americans say Palin had no culpability for the Tucson shootings and 45 percent think the press treated her unfairly, 40 percent thought her video response was inappropriate.   And she now trails President Obama by 17 points in the latest PPP matchup, "the largest deficit we've found for her since May of 2009."
Similarly, a new CNN poll shows "56 percent of all Americans have an unfavorable view of Sarah Palin, an all-time high."
Ditto Gallup, which reports "Palin's 38% favorable rating is her lowest (by two percentage points) since she became a well-known political figure after the 2008 Republican national convention, and her 53% unfavorable rating is her worst by a point. "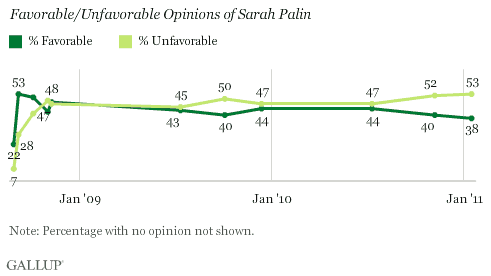 While it's still very early in terms of the 2012 presidential cycle, giving Palin plenty of time to change people's minds, she's unusual among potential Obama challengers in not only name recognition but depth of public sentiment.  As Nate Silver notes,  "an unusually large number of Americans — and possibly a majority — have a strong view of Ms. Palin."
He points to a December Politico poll: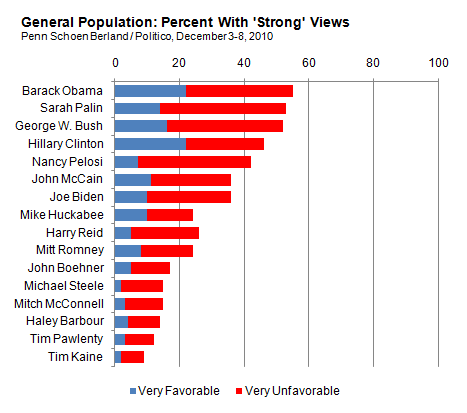 If this poll is anywhere near accurate, the results are astounding:  People have stronger opinions on Palin than they do George W. Bush, Hillary Clinton, and John McCain!  Bush was president for eight years, having left office less than two years ago.  Clinton has been a national figure the past eighteen years.  And McCain was the Republican nominee just two years ago.   By contrast, few Americans outside Alaska had heard of Sarah Palin until August 29, 2008 when McCain nominated her as his running mate.
Silver concludes:
All of this, needless to say, makes Ms. Palin's task very challenging. In delivering comments like the ones she did on the Tucson tragedy last week, she must consider their effect on at least four different audiences: Republican base voters who will vote in next year's primaries; independent and moderate voters who will vote in next year's general election; Republican elites — in Washington and elsewhere — who are growing more skeptical about her electoral viability; and the news media itself, which will scrutinize, amplify, and analyze her words, in different ways and in greater volumes than they would for any other politician.
Thus far, her every action seems to be simultaneously strengthening the adoration of her core supporters and confirming negative suspicions and driving down her support amongst everyone else.   Of course, it's possible that she's already topped the "strong views" scale at this point, since it's hard to imagine topping the sitting president and his immediate predecessor with a Facebook page as one's chief platform.
In the meantime, Obama's favorability is at 53 percent in the latest Gallup poll.
None of this, incidentally, matters if Palin isn't a candidate for president.   If her goal is simply to enhance her Q rating and to be a television star, she's making all the right moves.