Saturday Night Live Closes Season With Hits At Trump And Abortion Bans
Thanks to Donald Trump and the GOP, there's plenty of material out there for Saturday Night Live.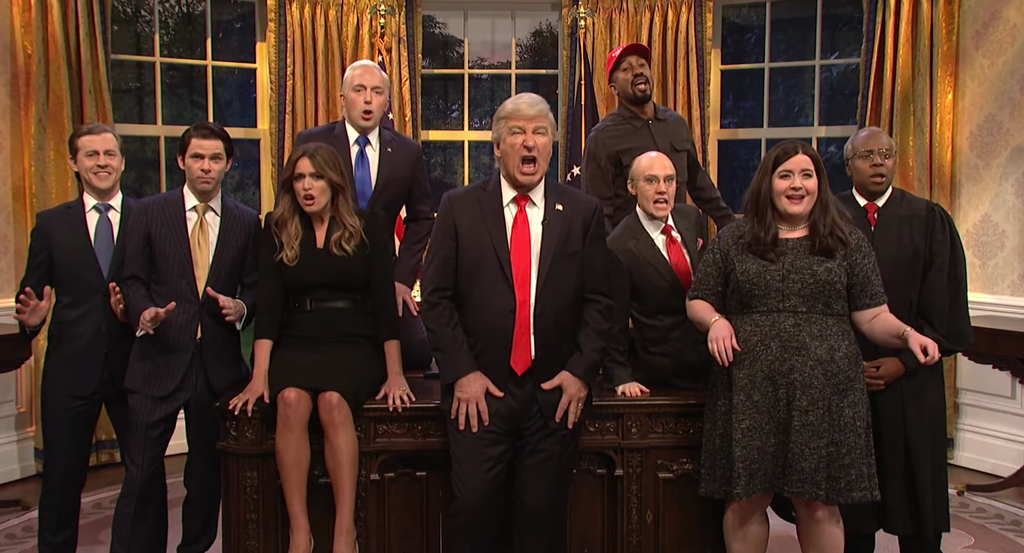 As it ended its 44th season Saturday Night Live took hits at President Trump and the plethora of abortion laws that have been sweeping the country:
A "Saturday Night Live" season finale is traditionally an occasion for the show to pull out all the stops, leave everything on the stage, tear it all down and figure out how to put it back together in the fall. In this weekend's conclusion to "S.N.L." Season 44 (which was hosted by Paul Rudd), the musical guest DJ Khaled certainly brought it, performing with a pantheon of surprise performers including Lil Wayne, Big Sean, Meek Mill, SZA and John Legend, while also paying tribute to the rapper Nipsey Hussle, who was fatally shot in March.

And, well, Alec Baldwin and the "S.N.L." cast tried their hand at a musical number of their own.

The show's opening sketch began with Baldwin (who has been a more infrequent presence this past season) as President Trump in the Oval Office. He explained that he was excited for the summer and said that the "American economy is on fire — I'm not going to tell you if it's a fire that keeps you warm or burns your house to the ground, but it's some kind of fire."

Baldwin added, "I'm on cruise control to a second term and there's nothing the Democrats in Congress can do about it. So sit back and enjoy the ride, America, because tonight, well — "

This kicked off a music parody of Queen's glam-rock classic "Don't Stop Me Now" that also featured Beck Bennett as Vice President Mike Pence, Cecily Strong as Melania Trump and Aidy Bryant as Sarah Huckabee Sanders.

(…)

There were further cameos from Chris Redd as Kanye West, Kenan Thompson as Justice Clarence Thomas, Kate McKinnon as Commerce Secretary Wilbur Ross, Mikey Day as Donald Trump Jr. and Alex Moffat as Eric Trump. (When he was told that he was allowed to sing as well, Moffat performed a verse of the "Muppet Show" theme song.)
Revisiting his role as the special counsel Robert S. Mueller III, Robert De Niro attempted to halt the performance, declaring that he had "something very important to say to the American people — something they need to hear." But Baldwin simply talked over him — "No collusion, no obstruction," he said — and resumed the number.


At the conclusion of the sketch, Baldwin told the audience, "I don't know what's next for me, but I wouldn't be Donald Trump if I didn't say tune in next season to see who lives and who dies."
The abortion bans, meanwhile became a topic during the Weekend Update segment:
Though the "Saturday Night Live" season finale opened with members of the Trump administration singing a corruption-themed parody of Queen's "Don't Stop Me Now," the episode's most heated political moment arrived during the "Weekend Update" segment.

Cast member Leslie Jones rolled in wearing a red cloak and white bonnet recognizable to most by now as the attire of handmaids, or fertile women forced into childbearing enslavement from Margaret Atwood's 1985 novel "The Handmaid's Tale" and its Hulu adaptation. The garment has become a symbol of resistance in recent years, employed in this specific instance to target Alabama's near-total abortion ban, signed by the governor earlier this week.

"Well, basically, we're all handmaids now," Jones said, adding: "This is how it starts. I'm out living my life, and then I see on the news [that] a bunch of states are trying to ban abortion and tell me what I can and can't do with my body.

"Next thing you know, I'm in Starbucks and they won't take my credit card because I'm a woman — instead of the regular reason, which is, I don't have no money on there." (In "The Handmaid's Tale," women are also stripped of their financial independence.)

Only male Alabama senators voted on Tuesday to pass the country's most restrictive abortion bill, which criminalizes the procedure in nearly all circumstances, including rape and incest. The audience booed as Jones, who had taken off her cloak to reveal a black T-shirt with the word "MINE" pointing toward her uterus, called attention to the senators's gender after a grid of their faces appeared on screen.


"This look like the casting call of a Lipitor commercial," she said. "This look like the mug shots of everyone arrested at a massage parlor . . . You can't control women because I don't know if y'all heard, but women are the same as humans."
Here's the Cold Open:
IF nothing else, I suppose we can thank the Trump Presidency for making SNL great again.