Scary Economic Chart Of The Day: Europe Edition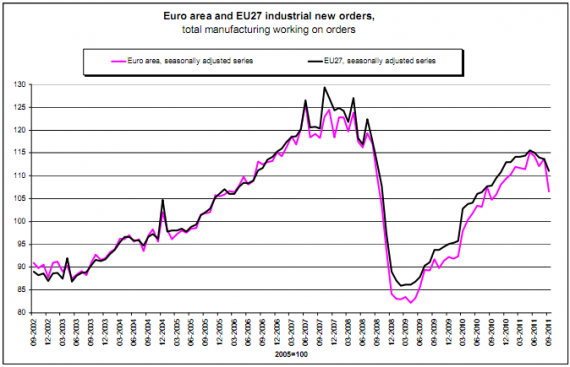 Stuart Staniford passes along this chart of industrial output in the Eurozone, and the broader EU as a whole:
Eurostat just released figures for industrial new orders for September.  The summary graph is above both for the Eurozone specifically (pink) and the whole EU (black).

In September 2011 compared with August 2011, the euro area (EA17) industrial new orders index fell by 6.4%. In August the index rose by 1.4%. In the EU27 new orders decreased by 2.3% in September 2011, after a fall of 0.3% in August. Excluding ships, railway & aerospace equipment, for which changes tend to be more volatile, industrial new orders dropped by 4.3% in the euro area and by 2.1% in the EU27.

Clearly the September number is a very weak reading and suggests that Europe may now be entering a sharp contraction in the real economy.
If, as this indicates, Europe is already in, or headed into a recession, then the consequences for financial markets, and the United States, could be quite severe.
H/T: Kevin Drum