Science: Men Act Differently Around Women
Scientists have discovered that heterosexual men alter their behavior around women.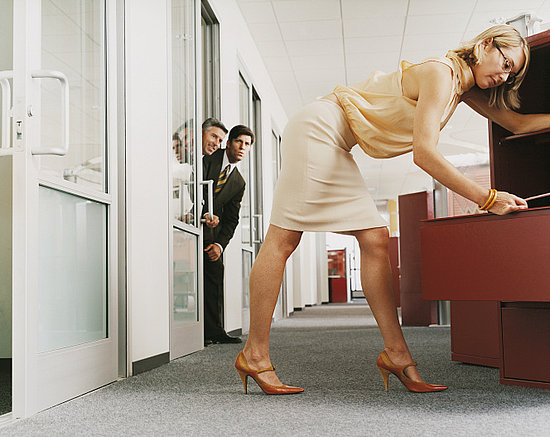 Scientists have discovered that heterosexual men alter their behavior around women.
WSJ ("The Cheerleader Effect: What Men Do to Impress"):
When women are present or when men are prompted to think about women, they act differently, research shows. Well, duh. But in unexpected ways. A 2008 study in the journal Evolutionary Psychology showed that in the mere presence of women as witnesses, men become more likely to jaywalk and to wait until the last second to dash on to a bus. This reflects, no doubt, the well-known belief among men that jaywalking means you're a Roman gladiator of irrepressible virility. As I said, pathetic.

Over the past several years, the pattern has been found repeatedly in studies of male behavior published in the Journal of Personality and Social Psychology, the British Journal of Psychology and elsewhere. In some cases, a woman is present; in others, men look at pictures of a woman's face or her legs; in still others, men list what they find to be sexually arousing (versus things that make them happy). In a 2011 paper in Personality and Social Psychology Bulletin, this last technique is called, with a straight face, "inducing mating goals."

Sex-related cues like these have been found to make men more prone to take risks while playing blackjack, to discount the future when making economic decisions and to spend on conspicuous luxury items (but not on mundane expenses). Typically, the effects are strongest in single men. By contrast, these studies uniformly report that cues about males have no such effects on women.

There is also a darker side to the tendency of men to show off in the presence of women. As a 2012 study by Sarah Ainsworth and Jon Maner of Florida State University found, "inducing mating goals" in men made them more likely in a competitive game to punish the opposing guy with loud blasts of noise. The effect was strongest in men with an "unrestricted sociosexual orientation"—that is, men who are perpetually on the prowl with a propensity to indiscriminate one-night stands. In another study, men who were primed by the presence of women were found to be more likely to endorse aggressive stances about war (with no change in their stances about the more humdrum issue of trade tariffs).

[…]

But now comes research carried out by Mark van Vugt and Wendy Iredale and reported last year in the British Journal of Psychology. In the presence of women (but not other men), men became more generous in an economic game: They made more contributions to public goods and volunteered more time for charitable causes. In fact, the size of their charitable contributions increased in the presence of women they rated as more attractive. As usual, the presence of men had no such effects on women. As summarized in the title of the paper, this seems a case of "Men Behaving Nicely: Public Goods as Peacock Tails."

There's an important point here. The allure of the opposite sex makes men more violent, but only, it seems, in circumstances where violence is rewarded with higher status. When status can be achieved in a more socially desirable way, things work differently. In short, with the right social arrangements, this ludicrous tendency of men can be harnessed not only to encourage a ferocious goal-line stand but to make the world a kinder place.
Presumably, these studies are of heterosexual men; otherwise, they'd understate the impact.  Similarly, one imagines the effects are stronger with younger men and when they find the women in question sexually desirable; the write-up only indicates that obvious control in one case. And, indeed, the "Peacock" study involved "65 men and 65 women, all of an average age of 21."
The only mildly surprising finding here is the increase in jaywalking—which would seem opposite the peacock effect. For that matter, it's not obvious why men would think madly dashing for a bus would impress a woman; maybe it's a function of being distracted?