Scott Brown Moving Closer To New Hampshire Senate Run?
No person has been elected Senator in a second state after serving as Senator in another, but Scott Brown seems set to give it a try.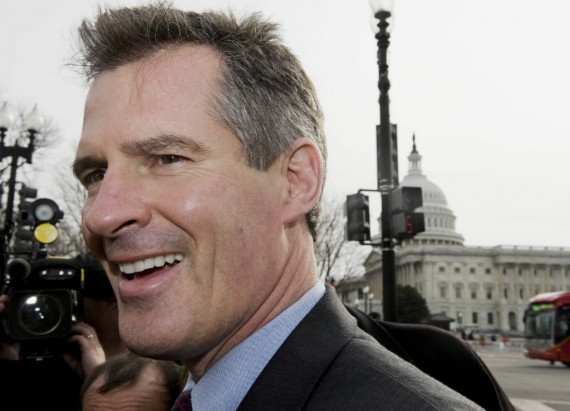 There are more signs that former Massachusetts Senator Scott Brown may be moving closer to a run for the Senate in neighboring Massachusetts:
Former Massachusetts Senator Scott Brown plans to move to New Hampshire, the latest sign that he's considering a U.S. Senate bid there, which would complicate Democrats' effort to hold their majority in the chamber.

Brown, 54, has found a buyer for his Wrentham home and is set to close on that deal this week, Andrew I. Glincher, managing partner and chief executive officer at Brown's employer Nixon Peabody LLP, said in an interview. Brown will continue to work out of the law firm's Boston office because he isn't licensed to practice law in New Hampshire, Glincher said.

Brown didn't respond to an e-mail inquiry.

The move will fuel speculation that Brown intends to challenge New Hampshire's Democratic U.S. Senator Jeanne Shaheen, who is seeking re-election next year. Brown lost his Massachusetts Senate seat to Democrat Elizabeth Warren in 2012.
It would be an unusual move to say the least. For one thing, there does not to appear to be any example in modern history of a Senator who once represented one state being successfully elected to the Senate in another state. The closest anyone appears to have come was Bill Brock, who had represented the Tennessee for a single term in the early 1970s, succeeding Albert Gore Sr., and then lost a bid to become a Senator from Maryland. However, those two Senate bids came nearly 20 years apart and, during that time, Brock had served as Chairman of the Republican National Committee in the late 1970s as well as U.S. Trade Representative and Secretary of Labor under Ronald Reagan, during which time he had become a long-time resident of Maryland. Brown would be running for Senate some two years after representing Massachusetts in the Senate. For another, there are significant differences between Massachusetts Republicans and New Hampshire Republicans that could make Brown obtaining the nomination more difficult than he might realize. Primary among these would be issues like gun control where New Hampshire residents tend to be far more libertarian than their neighbors to the south. Brown's record in favor of gun control is on the top of the list of issues that could be potential primary problems for him. Add into this the entire carpetbagger issue, and the entire idea of Brown running for the Senate in the Granite State just doesn't make sense objectively.
As I've noted before, it always seemed to me that a good political path for Brown would have been running for Governor of Massachusetts. Politically, he is certainly palatable to Massachusetts voters, and he'd be running in a state that has had a Republican Governor in office for 16 of the last 22 years. For reasons known only to him, though, Brown let that opportunity, as well as a chance to run for John Kerry's seat earlier this year, pass him by. Perhaps he'll have better luck in New Hampshire than the evidence suggests, in which case those decisions may prove wise in hindsight, but that isn't going to be easy either at the Primary or, if he wins there, the General Election stage.