Scott Walker Equivocates On Previous Opposition To Same-Sex Marriage
Wisconsin's Republican Governor isn't very eager to talk about same-sex marriage these days.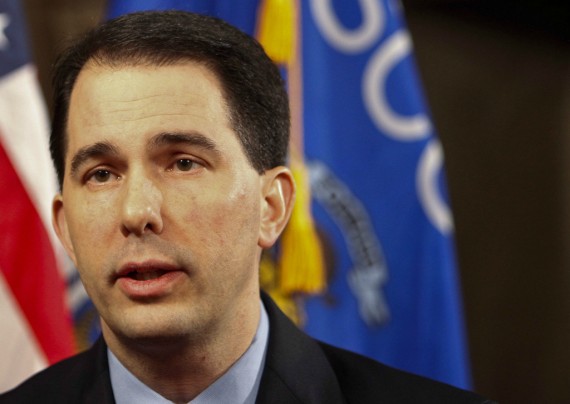 Wisconsin Governor Scott Walker doesn't want to take a definite position on same-sex marriage:
For years, Gov. Scott Walker has been a rock-solid proponent of traditional marriage between one man and one woman.

As Milwaukee County executive, he opposed efforts to provide health care benefits to the gay partners of county employees. He also spoke out in favor of a 2006 constitutional amendment banning same-sex marriage.

In 2010, he campaigned for governor as a supporter of traditional marriage. He also opposed a law that allowed gay couples to register with counties to get certain benefits, such as hospital visitation rights.

"My position has been clear," Walker said Thursday.

Indeed, it was.

But that is no longer the case.

During a 12-minute news conference at a muddy and messy groundbreaking event in Oak Creek, the first-term Republican governor argued that his position on same-sex marriage is no longer relevant.

"It really doesn't matter what I think now," Walker said at one point. "It's in the constitution."

And it's out of his hands, he suggested.

U.S. District Court Judge Barbara Crabb has overturned the state's constitutional amendment, but Attorney General J.B. Van Hollen is appealing that decision. Van Hollen is also raising the possibility of prosecutors charging county clerks who permit gay marriages.

"If the people voted to change something in the state's constitution, I think it is right for the state's attorney general to uphold the constitution," Walker said, without explicitly stating whether he agreed with the idea of prosecuting county clerks.

Ultimately, he argued, the matter could be decided by the U.S. Supreme Court, and the state will follow that ruling.

But where is Walker on the issue now? He is up for re-election in just five months and he is considering a presidential bid in 2016.

"I don't comment on everything out there," he responded.
Except, of course, he has commented on this issue in the past. Like nearly every other Republican politicians, and until very recently many Democrats, Walker was a proponent of so-called "traditional marriage," and opposed to efforts to legalize same-sex marriage in his state. At the time, of course, taking such a position was the politically smart thing to do not only inside the Republican Party, but with the electorate as a whole. That's changed significantly in recent years, though, as poll after poll has shown majority support for marriage equality. The results are similar inside Wisconsin, with a recent Marquette University Law School poll showing that 55% of those polled support marriage equality and only 37% oppose it. Most recently, of course, a Federal Judge in Madison has declared the state's marriage law unconstitutional and, in the time that has passed, couples throughout the state have been getting married.
Walker is deserving of criticism for refusing to take a stand on this issue now, of course, but it strikes me that there's also something significant about the fact that he is refusing to stand by his previous opposition to marriage equality. It is a reflection that, even among Republican politicians, it is becoming politically risky to stand in opposition to something that increasing majorities support and countless numbers of courts have found to be a Constitutional right. Obviously, you're not going to see the same kind of equivocation from Republicans in deeply red states where there's less political risk, but Walker is in a very different situation. Recent polling has shown the race between him and Democratic nominee Mary Burke to be essentially a dead heat. In such a situation, and given the polling I've noted above, Walker obviously fears that sticking his neck out on this issue will hurt him in the polls. At the same time, though, he can't come out and say he supports marriage equality without risking upsetting the Republican base. So, he equivocates. It's not exactly a profile in courage, but it certainly seems to be a sign that the political momentum on this issue has shifted to such a degree that even Republicans are beginning to rethink their position on the issue.