Scott Walker 'Gutting' Organized Labor?
Wisconsin has become the 25th "right to work" state.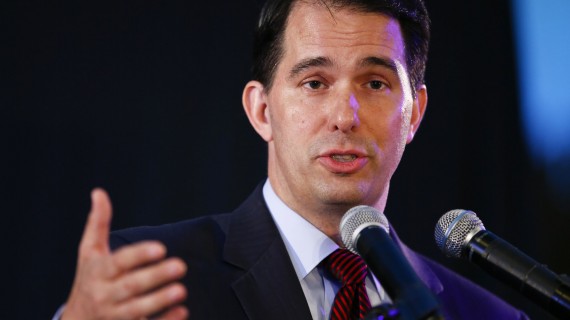 The CSM report "Wisconsin Governor Walker signs bill gutting organized labor" caught my eye this morning, which indicates that the headline writer did their job. The headline is nonetheless vastly overblown. The lede:
Wisconsin Governor Scott Walker, a Republican presidential hopeful, signed a bill into law on Monday that stops private sector workers from being required to join a union or pay dues as a condition of employment.

The law takes effect immediately, making Wisconsin the 25th state to approve a so-called right-to-work law and marking the latest victory for Republicans targeting labor unions, following adoption of similar laws in Michigan and Indiana in 2012.
So . . . Wisconsin is a "right to work" state now. Like half the states in the Union. Does that really constitute "gutting" organized labor?
Supporters said the law would attract businesses and jobs, while opponents said it was a thinly disguised assault on organized labor that will drive down wages and leave workers vulnerable.

Thousands of workers demonstrated at the capitol in Madison as lawmakers debated the bill, but crowds were far thinner than four years ago, when tens of thousands of people protested the push for changes to public sector collective bargaining rights.
So . . . it's at least mildly controversial. But here's the kicker:
About 8 percent of private-sector workers in Wisconsin are union members, down from about 22 percent three decades ago, according to the Unionstats.com website that tracks membership.
Emphasis mine. Organized labor, then, is a tiny fraction of Wisconsin's work force. Even thirty years ago, when Walker was a mere high school student, it barely constituted a fifth of Wisconsin's work force. In what sense, then, can a law that allows people to opt out of union membership "gut" union membership when so few people are union members to begin with?
UPDATE: Less than an hour after posting this, CSM has changed the headline to the post, including the URL at which it resides. Scrolling over my link above, you'll see that the original headline was reflected in the URL at the time. So, they've not only changed the headline but gone through the trouble of redirecting to a new URL.