Scott Walker In Dead Heat For Re-Election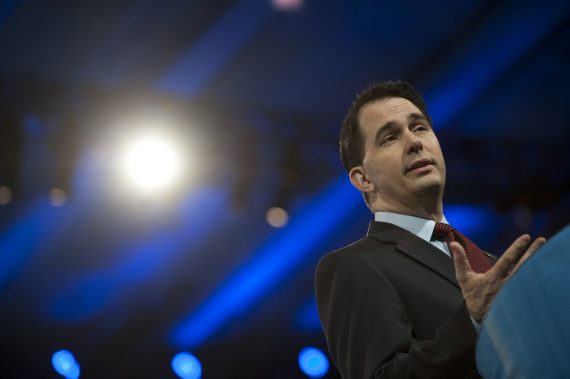 A new poll shows that Wisconsin Governor Scott Walker is looking to have a tough re-election bid on his hands after a spring and summer in which he was in the headlines over an investigation involving campaign finance improprieties:
Dead heat.

That's what Wisconsin is staring at in the race for governor, with Gov. Scott Walker and Democratic challenger Mary Burke neck-and-neck heading into the November election, according to the latest Marquette University Law School poll released Wednesday.

Among registered voters, Walker led Burke, 46% to 45%. Among likely voters, Burke led Walker, 47% to 46%.

"The bottom line is that nothing has statistically changed from May to July," said Charles Franklin, the poll director. "We're seeing a dead heat in the race, well within the margin of error."

"As the race really heats up with advertising and back and forth, I'd expect to see interesting developments over the next months," he added.

In the May sample, the race took shape as the Republican incumbent was first deadlocked with Burke, a member of the Madison School Board. The two candidates recorded 46% each, with 6% undecided. Back then, Walker led Burke among likely voters by 48% to 45%.

The new numbers suggest a long hot summer on the campaign trail, with more television advertising and even more intensive get-out-the-vote efforts by the campaigns.
Both RealClearPolitics and PollTracker show the race as basically a dead heat, which possibly suggests that the material that was released earlier this summer may have had some impact on the race, even though prosecutors have made clear that Walker is not a target of the the investigation, and investigation which has since been shut down.
Given the fact that Walker is someone frequently mentioned as a potential Presidential candidate on the Republican side, this race will likely get a lot of attention from the media and both political parties between now and November. Obviously, if Walker loses then the prospect of his being a viable candidate for President is basically finished. As I've said before, though, Walker has been down in the polls before and he's come back and won. Twice since 2010. It would be foolish to count him out now, especially in a year when the electorate is likely to be favorable to the GOP.