Scott Walker's Approval Rating Takes A Hit In Wake Of Protests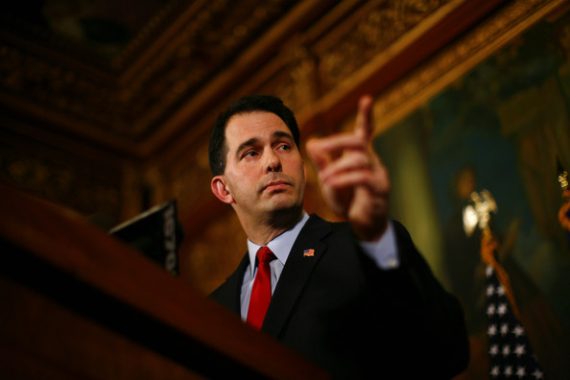 Rasmussen is out with a poll showing that Wisconsin Governor Scott Walker has apparently suffered politically in the wake of the union protests in Madison over the past several weeks:
Wisconsin Governor Scott Walker won his job last November with 52% of the vote, but his popularity has slipped since then.

A new Rasmussen Reports telephone survey of Likely Wisconsin Voters finds that just 34% Strongly Approve of the job he is doing, while 48% Strongly Disapprove. Overall, including those who somewhat approve or disapprove, the new Republican governor earns positive reviews from 43% and negative reviews from 57% of voters statewide.

In addition to the usual partisan and demographic breakdowns, it's interesting to note that Walker, now engaged in a budget battle with unionized state workers, receives a total approval rating of 46% from households with private sector union members. However, among households with a public sector union member, only 19% offer their approval. Among all other households in the state, opinion is nearly evenly divided—49% favorable and 51% unfavorable.

It's also interesting to note that among households with children in the public school system, only 32% approve of the governor's performance. Sixty-seven percent (67%) disapprove, including 54% who Strongly Disapprove.

This may be partly due to the fact that 77% of Wisconsin voters have a favorable opinion of the state's public school teachers. However, only 50% have a favorable opinion of the teachers' union.
And this is from Rasmussen, which is typically biased toward Republicans in its sampling.