SCOTUS Could Overturn Roe
Oral arguments on the biggest abortion case in decades will be heard today.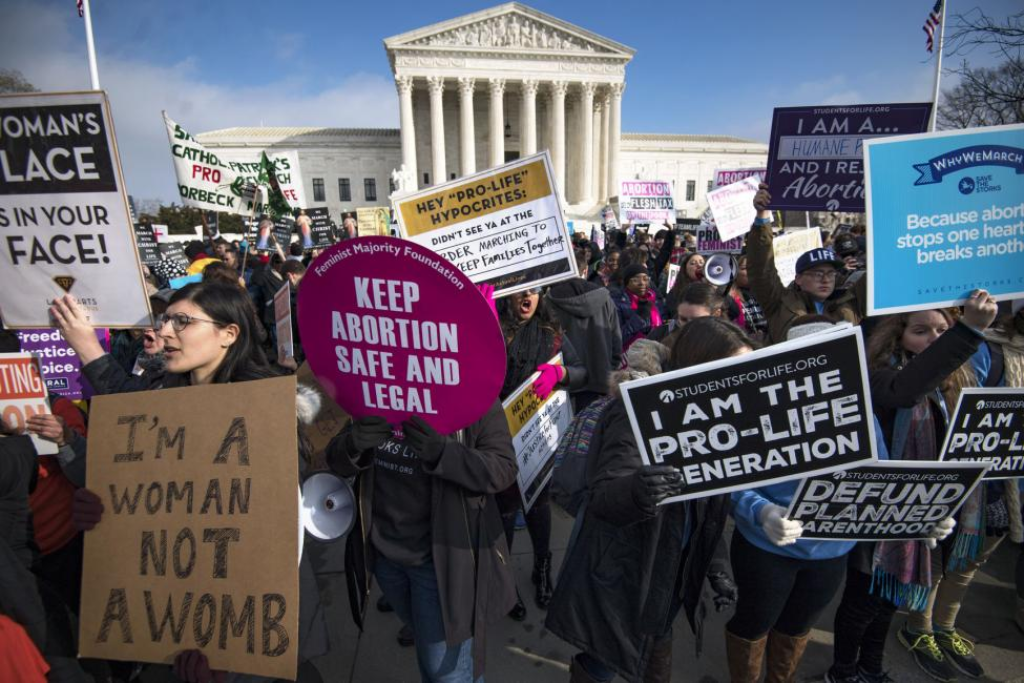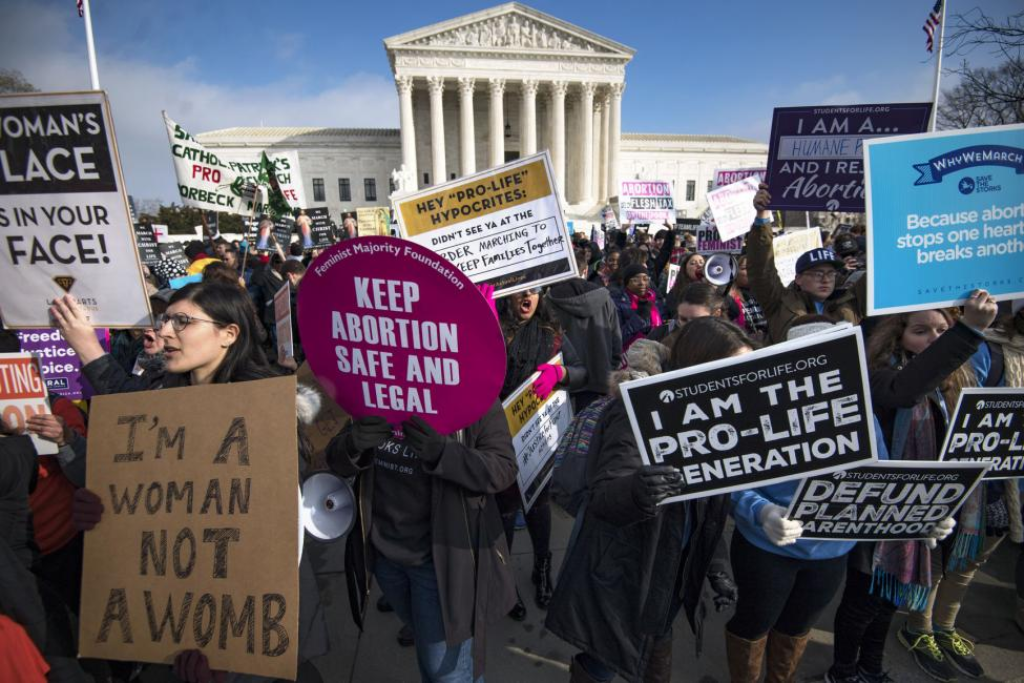 NPR's Nina Totenberg ("Supreme Court considers whether to reverse Roe v. Wade in historic arguments"):
An epic argument at the U.S. Supreme Court on Wednesday: At issue is whether to reverse the court's nearly half-century-old Roe v. Wade decision and subsequent decisions declaring that women have a constitutional right to terminate a pregnancy.

Until now, all the court's abortion decisions have upheld Roe's central framework — that women have a constitutional right to an abortion in the first two trimesters of pregnancy when a fetus is unable to survive outside the womb, until roughly between 22 and 24 weeks.

But Mississippi's law bans abortion after 15 weeks. A separate law enacted a year later would ban abortions after six weeks, and while the six-week ban is not at stake in this case, the state is now asking the Supreme Court to reverse all of its prior abortion decisions and to return the abortion question to the states.

This is not the first time the court has been asked to reverse Roe. The last major challenge to abortion rights was in 1992 in a case called Planned Parenthood v. Casey. So it's worth listening to what three justices said back then in reaffirming what they called "the central holding of Roe."

Justice Sandra Day O'Connor spoke first from the bench: "Our obligation is to define liberty of all, not to mandate our own moral code."

Justice Anthony Kennedy was next: "Our cases recognize the right of the individual, married or single, to be free from unwarranted governmental intrusion into matters so fundamentally affecting a person as the decision whether to bear or beget a child."

And last was Justice David Souter: "The factual premises on which it rests are no different today from those on which the ruling rested initially … so to overrule in the absence of the most compelling reason … would subvert the court's legitimacy beyond any serious question."

Those justices, all appointed by Republican presidents, were centrist conservatives, but today's Supreme Court supermajority of six justices, without exception, are all dramatically more conservative, and all have records opposing abortion rights.
CNN's Joan Biskupic ("Roe and Casey: The two abortion precedents the Supreme Court may overturn") adds:
At the heart of the Roe decision was protection for the woman's abortion decision before viability (when a fetus can survive outside the womb), which the justices estimated in 1973 at about 28 weeks. The court in 1992 said advances in neonatal care had brought that down to about 23 weeks of pregnancy, which is roughly where physicians draw the line today. The disputed Mississippi ban would prohibit abortion after 15 weeks — plainly shattering the viability line.

The Casey decision affirmed the core abortion right and underscored adherence to precedent, the concept known as "stare decisis."

The court said in 1992 that retaining precedent was especially important for cases that, despite being politically divisive, had not been altered by new facts or changes in law. In Planned Parenthood v. Casey, the justices held fast to Roe's cutoff line of viability, saying that "viability marks the earliest point at which the State's interest in fetal life is constitutionally adequate to justify a legislative ban on nontherapeutic abortions."As the remade Supreme Court, with three new appointees of former President Donald Trump, considers the fate of Roe v. Wade, it will inevitably weigh the principles of Casey, when the justices highlighted institutional integrity and legitimacy.
She notes the party breakdowns of the Roe and Casey courts:
Roe v. Wade was decided on January 22, 1973, by a 7-2 vote. It was a product of a time when justices defied partisan lineups. Justice Harry Blackmun (an appointee of President Richard Nixon) wrote the opinion. The only dissenters were Justices Byron White (an appointee of President John F. Kennedy) and William Rehnquist (a Nixon appointee).

[…]

Planned Parenthood of Southeastern Pennsylvania v. Casey was decided on June 29, 1992, by a 5-4 vote to affirm the central holding of Roe v. Wade giving women a right to end pregnancies before viability.

Justices Sandra Day O'Connor, Anthony Kennedy, and David Souter joined forces to write the opinion. Rehnquist, White and Justices Antonin Scalia, and Clarence Thomas dissented. A part of the decision, upholding specific Pennsylvania abortion restrictions, came down to a separate 7-2 vote, from which Blackmun and Justice John Paul Stevens dissented. (The only remaining member of that 1992 court is Thomas.)As in 1973, the bench was less defined by party politics. The only one of the nine who had not been appointed by a Republican president was White.
As has been discussed here ad nauseam, our parties have sorted and polarized over the past few decades. Indeed, the "Casey" in the latter case was Pennsylvania Governor Bob Casey, a moderate Democrat who opposed abortion. While those folks still exist, they're incredibly rare, as primary electorates simply reject outliers.
There are no more Sandra Day O'Connors or David Souters on the Supreme Court and, absent some radical reform in the way we select Justices, there won't be again. On the Republican side, in particular, decades of bitter disappointment in Justices who "turned" while on the bench, becoming relatively liberal in their voting patterns, led to the creation of the Federalist Society, which now grooms and vets potential appointees. One of the few ways in which Donald Trump was a "typical Republican President" was that he nominated highly qualified folks to the Supreme Court, all of whom had the Federalist Society stamp of approval.
Still, while there is genuine reason to fear for the future of abortion rights in much of the country, overturning the broad framework of Roe and Casey—that women have a fundamental right to control their bodies but that the states have rights to protect the lives of unborn children at the point of viability and that a careful balance must be struck between the two—is by no means a foregone conclusion.
SCOTUSBlog's Amy Howe ("Roe v. Wade hangs in balance as reshaped court prepares to hear biggest abortion case in decades"):
The justices are likely to be divided in their ruling, and even the decision to take up the case was a significant one that apparently generated internal debate. Mississippi's petition for review was first distributed for the justices to consider at their conference on Sept. 29, 2020, but the justices did not grant review until May 2021.

The posture in which the case reached the Supreme Court is also noteworthy. Unlike other abortion cases in recent terms, in which abortion providers came to the Supreme Court after lower courts had upheld laws making it more difficult for doctors to perform abortions, in this case the state came to the Supreme Court after lower courts struck down the ban on abortions after the 15th week of pregnancy. The justices could have turned the case down, perhaps over a dissent by one or more of the conservative justices, but the decision to hear the case on the merits means that there were at least four votes to hear the case; it also suggests that those justices feel confident that there are at least five to uphold the law.

One of those key votes is likely to be Justice Brett Kavanaugh, who in his 2018 confirmation hearing described Roe as "settled as precedent" and noted that it had been "reaffirmed many times," while he characterized Casey as "precedent on precedent." Last year, in Ramos v. Louisiana, the court ruled that the Sixth Amendment establishes a right to a unanimous jury that applies in both federal and state courts, overturning a prior ruling from 1972. Kavanaugh wrote a concurring opinion in which he outlined how, in his view, stare decisis applied to the case. He stressed that, "to overrule a constitutional precedent, the Court requires something 'over and above the belief that the precedent was wrongly decided.'" He focused on what he described as three "broad considerations": whether the prior decision is "egregiously wrong"; whether it has caused negative consequences, either in the law or in the real world; and whether people have relied on the prior decision, so that overruling it would upset their expectations. Although Kavanaugh's opinion focused on the unanimous-jury question, it was no doubt written with future cases, particularly abortion cases, in mind.
Her colleague Ellena Erskine "read all the amicus briefs in Dobbs so you don't have to" and provides a fine synopsis with links.
The site also presents an opinion piece by George Mason law professor Helen Alvaré titled "A 'right' without constitutional foundation" that both roughly parallels my own view of the reasoning in the cases but whose preferred outcome I disagree with. (One suspects SCOTUSBlog will also publish a defense of the Roe precedent but it's not up as I write this.)
Roe is perhaps the best case of "judicial activism" or "legislating from the bench." While these terms are mostly used to mean "opinions I disagree with," the fact of the matter, as Alvaré articulates, is that the reasoning essentially made up a Constitutional right out of whole cloth, with little regard to a hundred-plus years of history. And the trimester framework, which was abandoned in Casey for a more defensible "fetal viability" standard, simply had no Constitutional basis whatsoever.
But, contra Alvaré, I believe that overturning the broad principle behind Roe at this juncture would be more harmful than restorative. First, as a matter of public policy, it would mark the only occasion I can think of where something that has been viewed, for almost half a century now, as a fundamental right was suddenly taken away. While the practical impact of this would be modest for those of means, who could simply travel to the nearest state where abortion is legal, it would be devastating for those for whom that's not a viable option. Second, and likely more importantly in terms of the decision itself, it would further politicize the Court and delegitimate it as the arbiter of the Constitution.
The Casey court was already much more politicized than the Roe Court. Still, a number of conservative Justices who not only personally opposed abortion but thought Roe was improperly decided nonetheless declined to overturn it, citing stare decisis. Our entire common law system, they reasoned, is based on judges adhering to precedent and that, absent some change in the facts or the law, overturning such an important decision less than two decades later would undermine the system.
We're now almost thirty years past Casey and fifty past Roe. While that's less than the time that elapsed between the odious decision in Plessy v Ferguson (1896) and its overturn in Brown v BOE (1954), that's the very definition of "settled law." And, unlike the made-up-out-of-whole-cloth "separate but equal" doctrine, overruling this precedent would diminish, rather than enhance, freedom. Further, the facts, in terms of the broader culture and associated public attitudes, had radically shifted between Plessy and Brown in favor of change whereas there's more support for abortion rights now than there was in 1973.
The only Justice who avowedly doesn't care about stare decisis is Thomas, who argues that the only thing that matters is getting the Constitutional interpretation right. Chief Justice Roberts will be its fiercest defender in the deliberations. We'll see who, other than the three* Democratic appointees (Breyer, Sotomayor, and Kagan) he can bring along. He only needs one.
_____________________
*I originally forgot Breyer for some reason.