SCOTUS Upholds High School Coach's 50-Yard-Line Prayers
The Supreme Court has reversed decades of precedent on church-state separation.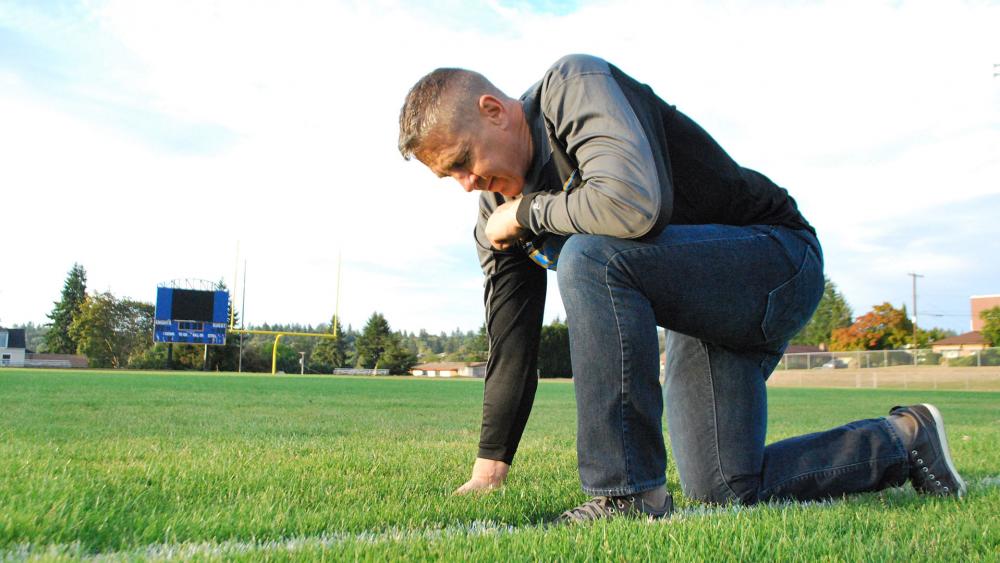 Nina Totenberg, NPR ("Supreme Court backs a high school coach's right to pray on the 50-yard line"):
The U.S. Supreme Court on Monday sided with a high school football coach who claimed the right to pray on the 50-yard line after each game, joined by those players who wanted to participate. The 6-to-3 decision was the latest example of the court's conservative supermajority requiring more accommodation for religion in public schools and less separation between church and state.

The decision was based largely on the lower courts' finding that that the school told the coach to stop his midfield praying because it would be perceived as a school endorsement of religion.

Writing for the court majority, Justice Neil Gorsuch said that the school relied exclusively and improperly on concerns that the prayers would be viewed as a religious endorsement by the school. Without evidence that students had been coerced, the majority said, barring coach Joseph Kennedy from praying on the 50-yard line at the end of each game was a form of hostility to religion, in violation of the Constitution.

"Respect for religious expressions is indispensable to life in a free and diverse Republic. Here, a government entity sought to punish an individual for engaging in a personal religious observance, based on a mistaken view that it has a duty to suppress religious observances even as it allows comparable secular speech. The Constitution neither mandates nor tolerates that kind of discrimination. Mr. Kennedy is entitled to summary judgment on his religious exercise and free speech claims," Gorsuch wrote.

The three dissenters said that account of the facts blinkered reality. Writing for the three liberals, Justice Sonia Sotomayor said that Kennedy's prayer was neither private speech, nor benign. She pointed to the fact that the coach conducted a media blitz leading ultimately to the field being stormed and students being knocked down. And she said "schools face a higher risk of unconstitutionally 'coerc[ing] … support or participat[ion] in religion or its exercise' than other government entities."
The background makes it rather clear that this was more than just a simple prayer; it was clearly performative:
The case began in 2015 when school administrators in Bremerton, Wash., instructed Kennedy to stop his praying on the field at the end of the game. But Kennedy, a former Marine, refused. "I fought and defended the Constitution and the thought of leaving the field of battle where the guys just played and having to go and hide my faith because it was uncomfortable to somebody, that's just not America," he said.

By the time of the homecoming game, Kennedy's media appearances had made him something of a celebrity, and things in Bremerton had gotten so tense that despite extra police at the game, the mainly pro-prayer crowd mobbed the field, knocking over some of the band members and cheerleaders. Kennedy, surrounded by TV cameras and some players, knelt to pray on the field while a state legislator placed his hand on Kennedy's shoulder in support. That wasn't all. There were Satan worshippers there, too, from Seattle. It was, recalled the school principal, "a zoo."

The school continued to tell Kennedy and his lawyers that it wanted to accommodate his wish to pray, but it wanted a less public demonstration of faith because it said the post game prayers would be seen as the school endorsing religion.

Near the end of the season, after Kennedy repeatedly refused to stop his public praying, the superintendent placed Kennedy on paid administrative leave. Kennedy did not apply for a new contract the following year. Instead, he sued the school district, contending it had violated his right to free speech and the free exercise of religion.
Robert Barnes, WaPo ("Supreme Court rules for high school football coach who prayed at midfield") adds:
Gorsuch said lower courts should no longer follow the "Lemon test" criticized by religious conservatives, which called on judges to decide whether the government's action might look to a reasonable observer as government endorsement of religion.

His opinion did not specifically overrule the test that grew out of the court's decision in Lemon v. Kurtzman. But dissenting liberal Justices Stephen G. Breyer, Sonia Sotomayor and Elena Kagan said that was the effect.

[…]

Those supporting the school district say that Kennedy has radically recast the events that led to his dismissal and that his actions during the 2015 football season were hardly private acts of faith. His Facebook post — "I think I just might have been fired for praying" — drew national attention and elicited support from prominent advocates, includingformer president Donald Trump and Fox News pundits.

[…]

For years, Kennedy took a knee and bowed after games, and nothing came of it. From the stands, it might have looked like nothing more than someone tying a shoe. But then some of the Knights decided they would pray, as well. And they invited players from opposing teams. There were prayers in the locker room and photos of what looked like Kennedy praying while holding helmets of both teams.

The school district decided it had a problem in the 2015 season, when an opposing coach told Bremerton's principal that he " 'thought it was pretty cool how [the District] would allow' Kennedy's religious activity," the district said in its court brief.
There's also this bizarre angle:
As the legal battle dragged on, Kennedy and his wife retired, sold their house and moved to Pensacola, Fla. The Bremerton school district, represented by Americans United for Separation of Church and State, said that should make the case moot, since it is unlikely Kennedy would move back to Bremerton for a job that provides an annual stipend of just over $5,000.

But Kennedy told the Supreme Court in a sworn statement that if he were allowed to return to his old job, "I can do so within 24 hours of reinstatement."
Adam Liptak, NYT ("Supreme Court Sides With Coach Over Prayers on 50-Yard Line") adds:
Justice Neil M. Gorsuch, writing for the majority, said the prayers of the coach, Joseph Kennedy, were protected by the First Amendment.

"Respect for religious expressions is indispensable to life in a free and diverse republic — whether those expressions take place in a sanctuary or on a field, and whether they manifest through the spoken word or a bowed head," he wrote. "Here, a government entity sought to punish an individual for engaging in a brief, quiet, personal religious observance."

[…]

The majority and dissenting opinions offered starkly different accounts of what had happened in Mr. Kennedy's final months.

Justice Gorsuch wrote that Mr. Kennedy had sought only to offer a brief, silent and solitary prayer. Justice Sotomayor responded that the public nature of his prayers and his stature as a leader and role model meant that students felt forced to participate, whatever their religion and whether they wanted to or not.

Justice Gorsuch wrote that the coach, at least after the games at issue in the case, "offered his prayers quietly while his students were otherwise occupied."

Justice Sotomayor gave a different account of the facts, taking account of a longer time period.

"Kennedy consistently invited others to join his prayers and for years led student-athletes in prayer," she wrote. In an unusual move, the dissent included photographs showing Mr. Kennedy kneeling with players and others.

Justice Gorsuch wrote that Mr. Kennedy was not speaking for the school when he prayed.

"He was not instructing players, discussing strategy, encouraging better on-field performance or engaged in any other speech the district paid him to produce as a coach," Justice Gorsuch wrote.

Instead, he wrote, Mr. Kennedy merely took a moment to pray while others checked their text messages or greeted friends.

Not everything school employees do during work hours is official conduct, Justice Gorsuch wrote. If it were, he said, "a school could fire a Muslim teacher for wearing a head scarf in the classroom or prohibit a Christian aide from praying quietly over her lunch in the cafeteria."
The NYT podcast The Daily did an excellent treatment of the case back in April ("The Supreme Court Considers a Football Coach's Prayers") just after oral arguments. It was actually surprisingly sympathetic to Kennedy, who seems like an earnest and decent guy if a bit of a zealot. He was abandoned by his mom at the age of 8, put into foster care, and was something of a mess. The Marines got him on the right path and he stayed the 20 years needed for a pension. And then he found religion in retirement and got asked out of the blue to become an assistant coach, which he saw as a means to give back—instilling both the discipline he'd learned in the Marines and his faith in young kids.
While I'm irreligious and generally hostile to religion being foisted on the public in government venues (which, incidentally, is routine in military circles, with denominational prayer led by a uniformed chaplain practically de rigueur at many events) Kennedy's initial actions strike me as speech that should be protected. There's no reason an adjunct football coach shouldn't be able to say a quiet prayer after a game. I'd likely be okay with it even if it took place—quickly and without ostentation—on the 50-yard-line.
Rather clearly, though, it became much more than that and Gorsuch is willfully misrepresenting the facts of the case by pretending otherwise. Had Kennedy said a quiet prayer over lunch (assuming he even eats lunch at the school) I can't imagine anyone would have objected. Ditto a quick private prayer or crossing himself before or after the game.
Not only did Kennedy draw attention to himself, but his actions became a spectacle that actually put people in danger. Frankly, school officials could have simply relied on that rather than the associational issue. Still, by allowing him to continue performing, the school would absolutely have been seen as endorsing his actions. And various other groups were well in their rights to demand equal access.
Aside from the spectacle, with politicians preening alongside Kennedy to further their own ends, Kennedy's players were also dragged into the mess. To be clear, there's no evidence I'm aware of that anyone was punished or ostracized for failing to pray with him. Indeed, after the school expressed their concern to him, he expressly forbade team members from joining him on the field. But, after he goes public, the thing goes viral and opposing players start joining in.
This exchange from the podcast is interesting:
Sabrina Tavernise: [Y]ou've described this guy as very much motivated by his faith, right? This is a central part of his life. And it's a central part of his coaching. So that also suggests that, in fact, this is not a purely private act.

Adam Liptak: That's right. And I think the coach would candidly say that he would like to help and mentor these kids any way he can, including by drawing on his faith. But he's willing to, he would say, at least on the job, conform to whatever the law requires. And in his view, the law does not permit praying in the locker room. But it does permit praying on the 50-yard line, and not encouraging, but not discouraging, students from praying with him.

But the coach's lawyers also say that listen, nobody thinks he was speaking on behalf of the school. The school was very explicit that they didn't want him to do this. That's what led to the fight. So whatever might be said about his praying in the early years, by the time this becomes an issue, the school has effectively, he would say, issued a disclaimer. We have nothing to do with this guy. He's on his own.

Sabrina Tavernise: Right, I mean, and point of fact, they refused to renew his contract. And there's a huge fight with them precisely because he's raising this prayer issue. So it certainly doesn't look like his prayer is backed by the school or in any way representing it.

Adam Liptak: That's right, and I think that's how many of the justices thought about it. And that made you think that this first argument, this first way of thinking about the case, as about endorsement, is likely to favor the coach's side. But there was a second issue in the case of coercion. And that may favor the other side. […] — because he is such a popular figure, students may well feel compelled to join him in prayer, particularly after a game on the 50-yard line, which is when coaches often say important things.

Sabrina Tavernise: OK, so the argument here, it sounds like, Adam, is that it doesn't really matter if the coach himself thinks it's just a private thing. That what matters is how the players, the kids, are perceiving it. If they feel pressure to participate in this prayer because this is their coach, he's an important guy, he holds power over them, that pressure violates the player's freedom. Kind of like if your boss asks you out on a date, doesn't say it's a requirement, but you kind of feel pressured to go.
Indeed, Justice Kavanaugh, himself a part-time coach, expressed sympathy for that line of inquiry during oral argument:
What about the player who thinks, if I don't participate in this, I won't start next week, or the player thinks, if I do participate in this, I will start next week, and the players wants to start?

[…]

How would you ferret that out? Because every player is trying to get on the good side of the coach. And every parent is worried about the coach exercising favoritism in terms of the starting lineup, playing time, recommendations for colleges, et cetera.

[…]

I guess the problem at the heart of it is you're not going to know because the coach is probably not going to say anything. Like, the reason I'm starting you is that you knelt at the 50-yard line. You're never going to know. And that leads to the suspicions by parents — I think. I'm just playing out what the other side is saying here.
Obviously, Kavanaugh ultimately joined Gorsuch's opinion, as widely expected. But he's right: there's just no way a kid would know. And it seems clear to me that he shouldn't be put in that quandary by a government employee.
I don't think this case was a slam dunk. Cases that reach the Supreme Court rarely are. The school could probably have handled this better at multiple steps. Then again, so could Kennedy.
Still, this is another instance where this Court is thumbing its nose at decades of precedent. Even as a nonreligious person, I think some of the previous rulings went a bit too far in erecting the wall between church and state. But the school acted appropriately in telling Kennedy to knock off the proselytizing and he made a national case out of it, magnifying the problem. It was perfectly reasonable for them not to renew a part-time coach under those circumstances—indeed, I can't imagine bringing him back.