Sealed Indictment Issued In Connection With Benghazi Attack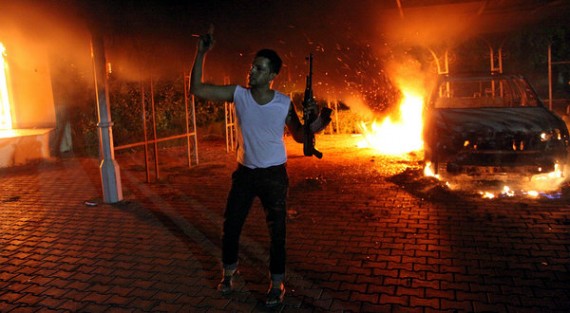 CNN is reporting this afternoon that the first criminal charges have been filed in connection with the attack last September 11th on he U.S. diplomatic outpost in Benghazi:
Washington (CNN) – Federal authorities investigating the deadly attack on the U.S. diplomatic compound in Benghazi have filed charges against Ahmed Abu Khattalah, leader of a Libyan militia that officials believe was involved in the assault, people briefed on the investigation said. The charges under seal are the first criminal counts to emerge from the probe.

The investigation of the attack last September 11 that killed Ambassador Christopher Stevens and three others continues, these people said, as investigators try to build their case against Khattalah and others who authorities believe were involved.

Attorney General Eric Holder had earlier this year promised congressional lawmakers the Justice Department would soon make public what actions it would take.

(…)

[P]eople close to the case said the investigation has moved significantly in recent months.

The initial charges are filed in a complaint in New York, according to the people briefed on the matter.

The Justice Department and the FBI declined to comment. The agencies are prohibited from discussing matters that are under seal.

It couldn't be learned when the United States plans to announce the charges or whether there are any plans to try to detain Khattalah.

None of the sources would discuss the precise counts against Khattalah in the sealed complaint.
It's somewhat interesting that someone chose to leak  the news of this sealed indictment at this time. Last week's we learned about the heavy CIA presence on the ground in Benghazi, which wasn't really news given that it had been reported months previously, combined with the news that CIA officials were engaging in unusually frequent polygraphing of employees to ensure that news of the CIA's involvement in the Benghazi affair. Is this an effort to deflect attention from that story, or simply an effort on the part of the Justice Department to push back against criticism that they haven't done very much in their investigation? Without knowing the identity of the leaker, that's hard to say, but it seems pretty clear that there's some motive behind making this public at this time.