Sean Spicer Finally Booted From Dancing With The Stars
We won't have Sean Spicer to ikick around anymore.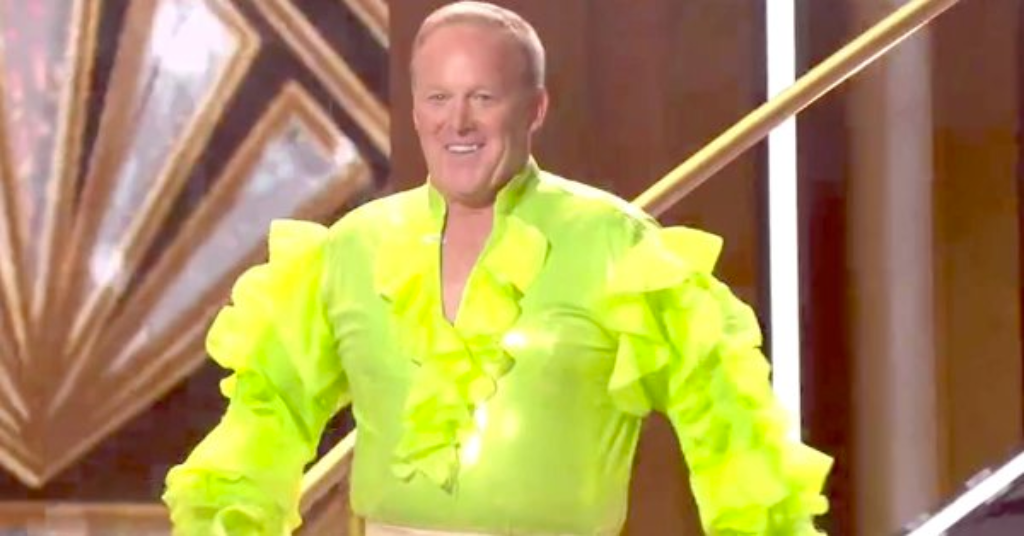 After surviving far longer than he should have thanks to the apparent support of supporters of President Trump who were keeping him alive, former White House Press Secretary Sean Spicer has finally been voted off Dancing With The Stars:
After eight weeks of low scores, frustrated judges, furious viewers and one instantly infamous neon ruffled shirt, Sean Spicer was eliminated from "Dancing With the Stars."

Although President Trump's former press secretary was demonstrably lacking in dance skills, he made it into the Top 6 of ABC's competition series, thanks to determined viewers' votes. That is, until Monday night, when Spicer performed an Argentine tango to Destiny's Child's "Bills, Bills, Bills" and a fox trot to One Direction's "Story of My Life." (The episode had a "boy band and girl group" theme.)

Spicer, along with dance partner Jenna Johnson, was voted in the bottom two alongside country music star Lauren Alaina and her partner, Gleb Savchenko. Thanks to new rules this season, the judges — Carrie Ann Inaba, Bruno Tonioli and Len Goodman — choose which couple survives for another week.

"It's never easy to send anyone home, because I know that both couples have given your heart and soul to every moment of this competition," said Inaba, only prolonging the obvious. "But for me, there is one couple that stands out. The couple I want to save is Lauren and Gleb."

Tonioli didn't even pretend to mull over the decision: "Sean, I really thank you. You've been such a good sport, you've been so entertaining," he said. "I've been hard on you. But I have to say, Lauren and Gleb."

(…)

Spicer's increasingly long tenure on the show has been controversial since the beginning. But it hit a boiling point last week, when the judges were visibly frustrated that much more talented celebrity dancers were being sent home because Spicer, who received consistently low scores, was never in the bottom two. In addition to tweets from Trump, many on social media — including Donald Trump Jr. — urged fans to vote for Spicer to anger "Hollywood" and "liberals" and "leftist elites." (Even though some of the most dedicated "DWTS" viewership comes from states that voted for Trump.)

When Spicer's casting was announced August, it sparked an immediate backlash, as many were furious that the falsehood-prone former White House official was receiving a national television platform to try to mend his reputation. During the past two months, Spicer's video packages that preceded each performance were right out of the show's "redemption" playbook: He told emotional family stories. He joked around. He talked about how much he loved his wife. On Monday, he boasted about his weight loss, which is a frequent side effect of "DWTS": "It's the most amazing cardio workout ever. … I'm down close to 20 pounds already."
Bizarrely, Spicer's appearance o the show had become something of a political/culture issue over the past six weeks, with many Trump supporters organizing online efforts to manipulate the show's audience voting system to keep the former Press Secretary on the show, with even the President himself getting involved:
There have been at least two occasions when President Trump has deleted tweets encouraging his supporters to vote for a candidate who went on to lose. The first was Luther Strange, who lost a Republican Senate primary in Alabama to Roy Moore, who went on to have electoral problems of his own. The other occasion was Monday night, when Trump's exhorted his supporters to back former White House press secretary Sean Spicer on "Dancing With the Stars."

Trump had invested more capital than you might expect in advancing Spicer in the competition. It had become something of a proxy war for Trump and his base: A Trump loyalist facing off against Hollywood on its own turf, and, despite the judges and their fake-news terrible scores for Spicer's dancing, the guy hung in there. On Monday, his run ended.

Donald Trump Jr. encapsulated the reason that Spicer got as far as he did.

That effort, supported openly by Trump, was aided by the fact that Spicer never really faced any effort to oust him from the show. It's not like this was Trumpworld vs. the Never Trumpers. It was mostly Trumpworld against the People Who Normally Watch Dancing With the Stars.

The only people who seemed to be actively trying to get Spicer off the show, really, were the increasingly flustered judges who threw up their hands at his dancing and scratched their heads at his longevity. Week after week, they offered Spicer some of the lowest dancing scores in the competition.

How low? We pulled every score from each season of the American version of the show and compared weekly scores to the overall average. Spicer's cumulative score for his duration on the show was lower than any other competitor in the show's 28 seasons.
Spicer isn't the first political figure to appear on the show. Other disgraced political figures who have shown up as contestants include former Congressman Tom DeLay, current Fox News Channel host Tucker Carlson, and former Texas Governor and current Secretary of Energy Rick Perry. Much like Spicer, all of them were, well, utterly horrible. The difference is that Spicer lasted much longer than any of these others, something means, among other things that he made a pretty decent amount of money for playing the fool for people's amusement:
According to multiple sources, contestants on the ABC competition series make $125,000 for the show's rehearsal period and their first two weeks on the air. If they make it to week three and beyond, they begin to earn additional fees each week. Sources say that the maximum contestants can earn is $295,000. By comparison, Spicer was making just under $180,000 during his time with the Trump administration, per a White House report released in 2017.

Contestants on previous seasons could, according to reports at the time, make as much as $345,000, but potential earnings this season will fall short of that number. Of course, the potential benefits of being on "Dancing with the Stars" go beyond the fee earned from the production. Many have used their time on the show to jumpstart their careers and landed lucrative new positions.
Nice work if you can get it, I suppose.