Second Dem Debate Becomes Bernie Show
The bizarre format meant an angry old man got the lion's share of air time.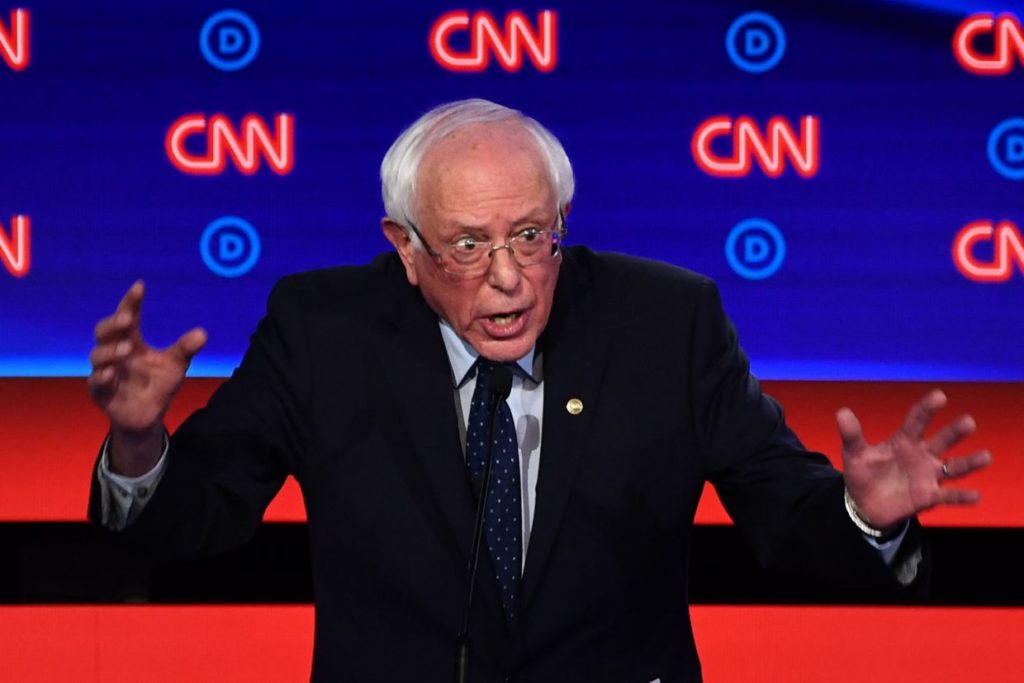 Thirty-nine minutes into the first night of the second round of the Democratic debates, I tweeted in disgust, "None of these people are going to be able to beat Donald Trump." While that may be right, it's colored by my later observation, "This is the stupidest debate format of all time."
Because there were ten candidates on the stage, the vast majority of whom simply have no business running for President, much less given equal footing with the serious candidates, everyone had to talk in incredibly short sound bytes.
Except, it seems, for Bernie Sanders.
For reasons I don't completely understand, the moderators kept interrupting other candidates to give Sanders a chance to respond. And his rants always seemed much, much longer than the cut-off snippets to which he was responding.
While I can see the appeal of his brand of populism, I don't see the appeal of him. He just comes off as an angry crank yelling at kids to get off his lawn.
Still, he sucked all the oxygen out of the room. I finally gave up an hour or so in, depressed that one of these people may be the alternative to Donald Trump.
The candidates who I barely knew before the debate I still didn't know. But none of them gave me the slightest reason to think I was wrong that they shouldn't have been invited.
I came away even less impressed with Beto than before.
I still like Pete Buttigieg but there's no way he's going to become the nominee.
Elizabeth Warren is by far the most impressive of the seasoned candidates on the stage. I'm not a huge fan of her policy prescriptions but, lordy, she has them in detail. She's a much better representative of the progressive wing of the party than Sanders. Still, she hasn't made the transition from policy wonk to executive.
Joe Biden seems much more inevitable after last night. He's competent, calm, and decent. I think he can go toe-to-toe with President Trump better than any of other candidates. But a contest between two men in their 70s for control of America's nuclear arsenal is rather depressing.
UPDATE: When all was said and done, Warren actually slightly edged Sanders for total speaking time.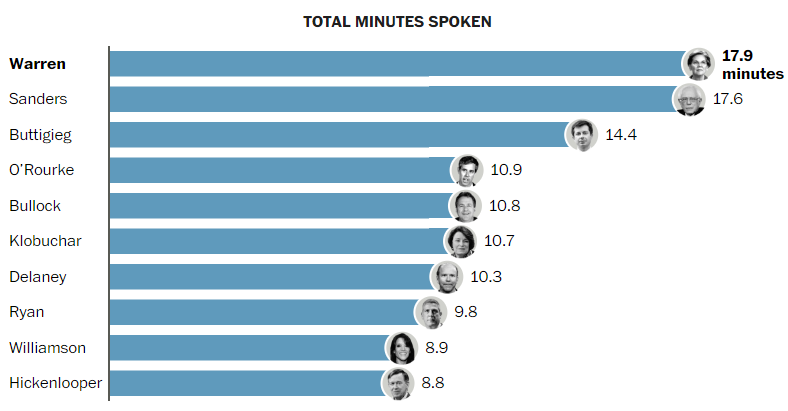 Still, this points to the weirdness of the format. While the lesser candidates were appropriately given less air time, there was little rhyme or reason to the breakdown. I'm not sure what this was but I'm certain it wasn't a debate.