Second Federal Judge Places Hold On Trump Administration Decision To End DACA
Another Federal Judge has placed a hold on President Trump's order to end DACA.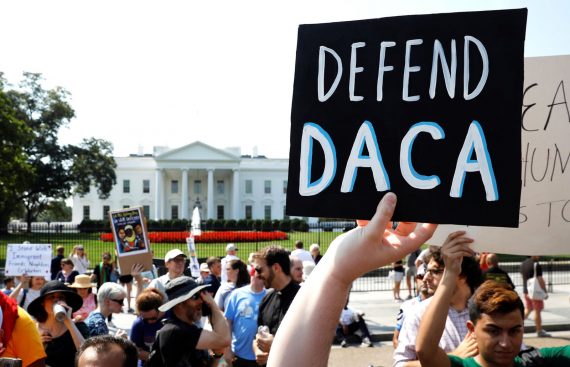 Late yesterday, a Federal District Court Judge in New York City placed an injunction on the enforcement of the Trump Administration's order that would bring an end to the Deferred Action For Childhood Arrivals program, ruling in part that the Administration had failed to provide a legally adequate explanation for why the program must be ended:
For the second time in two months, a federal judge has stepped into an intense political fight over immigration policy, issuing an injunction that orders the Trump administration to keep in place the embattled program known as DACA, which protects young undocumented immigrants from deportation.

The nationwide injunction, issued on Tuesday afternoon by Judge Nicholas G. Garaufis of Federal District Court in Brooklyn, came one month after a court in California also ruled that the administration needed to spare DACA, or Deferred Action for Childhood Arrivals. Judge Garaufis's ruling in many ways echoed the one issued in January by Judge William Alsup of Federal District Court in San Francisco. But it also offered additional reasons the government's rollback of DACA was illegal, and it detailed the harms that its repeal would cause to young immigrants who are its intended beneficiaries.

On Sept. 5, the attorney general, Jeff Sessions, announced that the Trump administration planned to end DACA gradually, saying that the program had been unconstitutionally established by President Barack Obama in 2012. As part of the rollback, the Department of Homeland Security will still consider pending DACA applications and renewal requests from recipients whose benefits expire by March. But the department plans to reject all applications after that.

After Mr. Sessions's announcement, a coalition of immigration lawyers and a group of 16 state attorneys general filed suit in separate but linked complaints in Brooklyn, claiming that the repeal of DACA was an "arbitrary and capricious" decision largely motivated by a "racial animus" against Latinos. In his ruling, Judge Garaufis agreed with the lawyers that the rollback was arbitrary and capricious; but while he has vociferously criticized Mr. Trump from the bench for his anti-immigrant tweets and public statements, he made no mention of racial animus in his findings.

(…)

Since the Trump administration's decision to end the program, Judge Garaufis wrote, more than 100 DACA recipients a day have been losing their protected status — a number, he noted, that could rise to as many as 1,400 a day once the program officially ends on March 5. All of them could face deportation, he said; some may face the loss of health care, imposing burdens not only on the immigrants themselves, but also on public hospitals. Employers will be hurt as DACA recipients lose their jobs, Judge Garaufis added, "resulting in staggering adverse economic impacts" that could include up to $800 million in lost tax revenue.

Ending DACA would also have "profound and irreversible" social costs, Judge Garaufis said, as hundreds of thousands of recipients are separated from their families. "It is impossible to understand the full consequences of a decision of this magnitude," he wrote.

Though he has repeatedly said that he would prefer Congress, not the courts, fix DACA, Judge Garaufis has from the start of the case had tough words for the government in general and for Mr. Trump specifically. At a hearing in January, he slammed Mr. Trump for his "recurring redundant drumbeat of anti-Latino commentary."

"This isn't ordinary," Judge Garaufis said. "In this country, in over 250 years, it's extreme, it's recurrent and it's vicious."

At the same hearing, Judge Garaufis also took a shot at Mr. Sessions, who had rebuked him at a speech in October for an earlier remark the judge had made calling the repeal of DACA "heartless." Citing the speech, Judge Garaufis said in open court that Mr. Sessions "seems to think that courts don't get to have their own opinions."

In his ruling on Tuesday, Judge Garaufis based his decision to keep DACA in place for now on the Administrative Procedure Act, which forbids the government from acting arbitrarily or capriciously in changing federal policy. He noted that lawyers for the government had initially claimed that DACA was ended out a fear that the program would be struck down as illegal, much as a federal court in Texas had done in 2015 with a similar program known as DAPA, which protected the parents of young immigrants.
Lyle Denniston comments:
Judge Garaufis' new ruling Tuesday amounted to a sharp critique of the decision last September by top Trump Administration officials – including the heads of the Departments of Justice and of Homeland Security – to end DACA, after a "wind-down" period that would close program altogether on March 5.

The judge strongly disagreed with the Administration argument that it decided to end the program because officials had concluded that DACA was not only unconstitutional but also violated federal immigration law.   The judge concluded that officials had not justified their claim that the program would be struck down if tested in court.

While the judge stressed that he was not ruling, at this point, that DACA was, in fact, a fully constitutional and legal program, he left no doubt that he had come to believe that the Administration simply had not made an adequate study of the program's legality before they decided to stop it.

Judge Garaufis also rejected a back-up argument made by Administration lawyers, that they chose to put an end to the program to avoid the "litigation risk" – that is, the risk that, if the program were challenged in court, it would be struck down.  That was an argument, the judge found, that federal lawyers had made up just for the purpose of defending in court their decision to end DACA.

The judge also concluded that the program had to be continued beyond the scheduled end date next month, because it would have a deep negative impact on the lives of hundreds of thousands of younger immigrants who had been brought to the United States as children by their parents, and had lived productive and useful lives as they grew up.   He also said that ending the program would have a deep impact on the nation's economy, and on the state governments that depend for financial support upon the money that "Dreamers" pay in taxes.
The judge's order to keep the program going was also based on his conclusion that there is not time enough for him and for higher courts to make a final decision on the constitutionality or legality of DACA prior to the scheduled shutdown.   His order, like the one issued by Judge Alsup last month, simply bars the Administration from ending DACA while the court cases over its validity continue.
This decision joins another one issued by a Federal District Court Judge in San Francisco last month that also put an injunction in place against enforcement of the Trump Administration's order, finding in part that the action had violated provisions of the Administrative Procedure Act governing the issuance or repeal of regulations by Executive Branch agencies. In that case, the Judge also found that the manner in which the policy was adopted did not adequately protect the rights of DACA beneficiaries. As in that case, Judge Garafuos found a similar failure to comply with the provisions of the APA as well as finding that the action by the Administration failed to adequately protect the due process rights of DACA beneficiaries.
As with the California case, the Trump Administration has the right to appeal this case to the Second Circuit Court of Appeals and, beyond that, to the Supreme Court, however it's likely that they will decide to attempt to do what they are already doing in the San Francisco case and seek review by the Supreme Court without going through the Court of Appeals.This is possible under Supreme Court rules, but it is also highly unusual and the Court typically denies such cases and forces parties to go through the Circuit Court before seeking Supreme Court review. Whether the Court will do that with respect to these cases remains unresolved. Even on the limited issue of the injunction issued yesterday, that is a process that is likely to take several months to play out. In the meantime, as long as these twin injunctions remain in place, the Administration will be barred from seeking to deport or take other punitive action against DACA beneficiaries even after the end of the six-month period that implementation of the order was given before it could be enforced.
As it stands, the issuance of this second injunction does change the terms of the debate on Capitol Hill at least to some extent. Since before the shutdown in January, Democrats and others on Capitol Hill who support a DACA bill have argued that it is urgent for Congress to act due to the fact that the order issued by the Trump Administration would go into effect on March 5th, meaning that every person currently benefiting from DACA would be potentially subject to arrest and deportation after that date. As long as these injunctions remain in place, though, that date is technically on hold since the Administration would be prevented from deporting anyone while the injunctions remain in place.
Here's the opinion:
Batalla-Vidal Baran Et Al v. Nielsen et al Order by Doug Mataconis on Scribd