Second Presidential Debate Instant Reaction
President Obama stopped the bleeding from the first debate.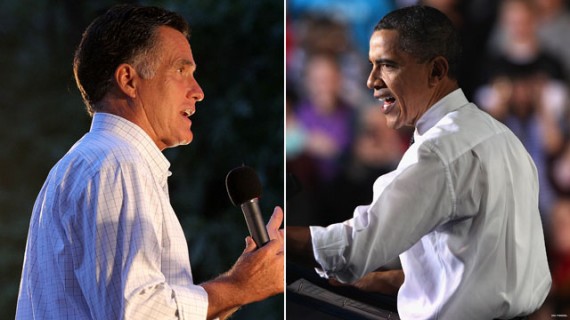 My Twitter stream seems to think Obama won this one, so I'm inclined to believe them.
My own reaction was, much like the vice presidential debate, frustration with the questions and the format. I hate the faux town hall "undecided voter" format when, in reality, the questions are pre-selected by the moderator. And, once again, I think the moderator was awful. Candy Crowley not only ignored the agreed-to rules by constantly asking her own questions–which was simply not her role tonight–but didn't do much to facilitate an intelligent discussion.
Obama, as I fully expected, did not repeat his lethargic, distracted performance of the last debate. If anything, he overcompensated by coming across as a little too aggressive.
Romney was well prepared but clearly frustrated by both the format and the moderator, letting his pique at the rules not being followed show a bit too often.
In terms of substance, those of us who've been paying attention for a while didn't learn anything new. But we seldom do. Both candidates scrupulously followed Rule 1 of these debates: answer the question you want to answer, regardless of what was actually asked. Obama did it a bit more fluidly than Romney but neither went too far astray.
Obama deftly didn't answer the Libya question but simultaneously appeared to be taking full responsibility for everything bad that happened while not admitting any fault whatsoever. Romney flubbed this one a bit, correctly pointing out that Obama took way too long to acknowledge that the attacks were a coordinated terror plot, not a spontaneous response to a YouTube video, but seemed blindsided by the fact that, in his Day 1 statement, Obama did call the murder of our ambassador "an act of terror." That he meant something completely different didn't matter, since Romney flubbed his presentation, and Crowley was all to happy to side with Obama on that one.
On the immigration question, Obama was simply dishonest in suggesting that Romney was a full-throated supporter of the Arizona plan when, in fact, Romney's policy is milquetoast moderate. "Self-deportation" is in fact the only sane policy on illegal Mexican immigration: if you don't want a flood of immigrants coming in illegally, you have to make it hard to hire them. There's simply no law enforcement solution that's feasible and humane.
Overall, even if the debate is a draw, it's a minor win for Obama simply because it stops the bleeding from Round 1. I don't imagine it'll result in much of a bounce in the polls, though.