Second Quarter Growth Revised Slightly Upward, Still Below 2%
Economic growth is the key to fixing many of our problems. Unfortunately, we're not likely to see the kind of growth we need any time soon.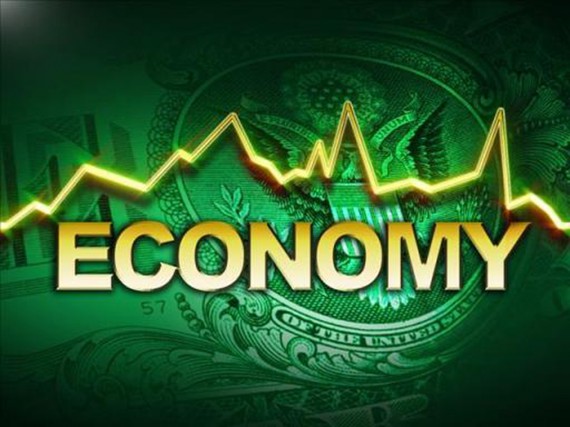 The Commerce Department reported its first revision to the Gross Domestic Product numbers for the Second Quarter, first released last month, and while the revision was upward it still isn't a very encouraging sign:
 The economy grew at a slightly faster pace in the second quarter than initially estimated, according to Commerce Department data released Wednesday, increasing at an annual rate of 1.7 percent.

  The revision was driven by stronger export growth, along with fewer imports than originally estimated and a slight uptick in personal consumer spending. Inventory growth cooled, underscoring continued caution by businesses about the economic outlook.

And in another sign that the housing market has regained its footing, pending home sales in July rose to their highest level in more than two years, according to data released Wednesday by the National Association of Realtors. The Pending Home Sales Index, which reflects contracts but not closings, rose 2.4 percent from the prior month.

On Tuesday, the latest figures from the Standard & Poor's Case Shiller Home Price Index showed that home prices rose 1.2 percent nationally in June from the same period a year ago. Home prices remain down almost a third from their peak in 2006, but a firming housing sector is one small bright spot in an otherwise cloudy economic outlook.

Indeed, while analysts had been expecting the small upward revision for quarterly economic growth in the second quarter, up from the initial estimate of 1.5 percent, the latest figures still represent a deceleration in gross domestic product growth from the first quarter, when the economy grew at a 2 percent rate. The anemic pace of the recovery is a critical issue in the presidential election race, and few economists expect the economy to speed up anytime soon. In fact, despite the upward revision on Wednesday, many economists see the economy actually slowing in the second half of the year.

   Julia Lynn Coronado, chief economist for North America at BNP Paribas, said she expected economic growth to slow to 1.3 percent in the third quarter, improving only slightly to 1.8 percent in the fourth quarter.

   "It's not disastrous, but it is one reason the Federal Reserve is on high alert," she said, referring to widespread speculation that the American central bank could soon embark on a third round of monetary easing.
Sluggish growth is a problem that impacts all the other economic and fiscal problems that we're having today. It means slower, or nearly non-existent job growth in a labor market that is suffering through its longer downturn since the end of World War 2. The unemployment problem feeds into consumer spending, as families cut back on spending either because someone has lost a job or had hours cut back, or because they are concerned that such a thing could happen in the near future. Lower consumer spending impacts the business environment and businesses become less willing to invest in expansions that lead to new investment and new employment. Lower growth also leads to lower tax revenues and, in a classic Catch-22, higher government spending as the bad economy leads to increases in unemployment benefits and other elements of the safety net. That leads to higher deficits at the Federal level and the need to cut spending in order to balance budgets at the state and local level, if not the need for some localities to file for Chapter 9 Bankruptcy protection as three cities in California, and one in Pennsylvania, have done in the past year. It's all very lovely little vicious circle. If economic growth were just a few points here, many of these fiscal problems would either be non-existent or, at the very least, easier to deal with.
To make it all worse, we have been in the worst economic recovery since World War II:
In terms of economic output, the current recovery is the weakest of any since 1945: Total output is only 6.8 percent higher than when the recession ended in 2009, which was about 12 quarters ago. Compare that to the other really big post-war recession: 1981. After 12 quarters, economic output stood 18.5 percent higher than the end of that recession. Even the really slow recovery from the 2001 recession outdoes the current one: By 12 quarters following the end of the 2001 recession, economic output was 8.9 percent higher.

The weak spots in the current recovery stand out in today's economic growth report. The Bureau of Economic Analysis traces the sluggish growth rate to slowdowns in the spending of households and businesses and shrinking inventories.

While the media will highlight the weak household spending numbers, the real focus of concern should be on business investment. When businesses hold back on improving and growing their productive capacity, that inaction directly affects hiring decisions and, thus, household incomes. And that's what businesses appear to be doing this year: They are sitting this economy out.
One of the reasons businesses are sitting on the sidelines, of course, is because of uncertainly over what's going to happen in Washington. This isn't so much about the election as it is about what, if anything Congress and whoever gets elected President is going to do about the so-called fiscal cliff. As I noted earlier this month, business owners are expressing an increasing amount of frustration over Washington's failure to deal with this issue, or even give the business community a signal as to what's likely to happen at the end of the year. More importantly, though, the most likely outcome is one that doesn't really deal with the uncertainty that is causing business owners to sit on the sidelines:
 The other problem with the "kick the can down the road" idea, of course, is that it really doesn't solve the uncertainty problems that the business owners and officers quoted in the article above are concerned about, it only puts the day of reckoning off for several months. Absent a prospect that a real deal will be made at some point before the new expiration date, there's really not going to be any reason for businesses to make the kind of long-term planning that they need to do. That's really the problem with the way our political system operations anymore. Kicking the can down the road and only dealing with serious problems when a crisis is imminent (i.e., the debt ceiling debacle) have become a regular part of how Washington operates. We've known about the "fiscal cliff" for a year now and rather than making an effort to deal with it, both sides in Washington have used the underlying issues of taxes and spending to score political points against their opponents.  Business doesn't operate like that, though, they need to be able to plan things out for the long term, and you can't do that if you don't even know where things like taxes and government spending are going to be in six months time. It's no wonder they're nervous and not willing to plan for the future when they don't even know what that future is going to look like when it comes to government policy.
Until our leaders find a way to stop doing that and actually make policy in a rational manner, business is likely to continue playing it safe and staying on the sidelines, an as long as that happens the prospect of seeing that 3-4% growth rate that we really need is going to be pretty bleak.