Secret Service Threatened To Kill Mets Mascot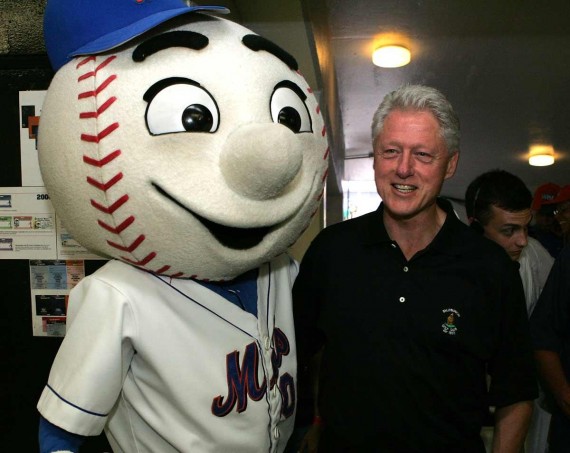 One of the men who played the role of Mr. Met, the baseball-headed mascot of the New York Mets, relates that he was once told by a Secret Service Agent that getting close to President Clinton would be a big mistake:
John Wilkes Booth. Lee Harvey Oswald. Mr. Met?

A Secret Service agent threatened to put some high heat in the Mets mascot's oversized dome if he ventured too close to former President Bill Clinton during a 1997 game at Shea Stadium.

"We have snipers all around the stadium, just in case something were to happen," the agent warned. "Like I said, do whatever it is you normally do. But approach the President, and we go for the kill shot. Are we clear?"

AJ Mass, the man inside the Mr. Met outfit from 1994-97, recounted his brush with mortality (and perhaps immortality) in his new memoir "Yes, It's Hot in Here — Adventures in the Weird, Wooly World of Sports Mascots."

"He pauses for a moment to let the words sink in, and it feels like he isn't only looking into my eyes, but also into my very soul with his blank, unblinking stare," Mass wrote.

He recalled the agent staring directly into the mouth of his huge faux leather head to deliver the warning that sent chills through all eight of Mr. Met's fingers.

"'Approach the President, and we go for the kill shot,' he repeated. 'ARE — WE — CLEAR?'"
Well, to be honest, the Mets did kind of stink from 1994 to 1997.
Note: The photo above as taken in 2005, after President Clinton left office and, presumably, on a day with the agent in question was off duty.