Secret to Wealth Discovered!
Americans who earn a lot of money disproportionately live in a tiny number of states and are married to other high-earners.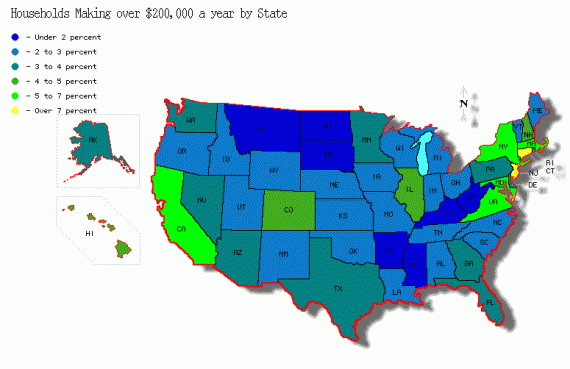 Dylan Matthews pulls these data from the Census Bureau:
About 3.96 percent of American households make over $200,000 a year. Thirty-eight states have lower percentages than that, and twelve and the District of Columbia have higher ones. Seven states have a percentage of less than 2 percent (West Virginia is lowest with 1.36 percent), 21 have a percentage between 2 and 3 percent, 11 have one between 3 and 4 percent, and four have one between 4 and 5 percent. New York and Virginia are both at about 5.6 percent, and California and Massachusetts are around 6.2 percent. Maryland is at 6.8 percent, New Jersey at 7.46 percent, Connecticut at 7.95 percent, and D.C. tops the list with 8.37 percent.
The map atop the post illustrates this graphically.
My first instinct was to notice that, not only was the tiny city that houses the seat of government easily the place with the highest concentration of high earners but that its suburbs and exurbs managed to bring Virginia and Maryland up nicely as well.
But Reihan Salam notes that looking at "households" obscures some important demographic trends.  He cites a three-year-old piece from Scott Hodge at the Tax Foundation:
(1) There are vastly more single taxpayers than ever before and they comprise the majority of the populations of the first three quintiles.

(2) Because of the rise in dual-earner families, married couples are mostly found in the two highest quintiles.

(3) A greater percentage of taxpayers in the top two quintiles are married couples without dependents; no doubt many are "empty-nest" Baby Boomers nearing their peak earning years.

Today, the composition of taxpayers in the statistical "middle class" is completely reversed from what it was in 1960. More than two-thirds of modern middle-income taxpayers are single, or single-headed households, while just 36 percent are married. More dramatically, while half of the middle-income taxpayers in 1960 were couples with children, today only 18 percent of these taxpayers are couples with children. The majority of couples with children are now clustered in the top two quintiles.

These demographic shifts have no doubt contributed to the perception of rising income inequality. When the so-called rich are increasingly couples with two incomes, they will naturally look wealthier than the vast number of single taxpayers who now populate the statistical middle.
Putting two and two together, Reihan observes,
The $200,000 plus set is disproportionately composed of dual-earner families living in high cost metropolitan areas. Assortative mating plays a crucial role as well: in the age of consumption complementarity, high-earners are more likely to marry other high-earners.
That's doubtless correct.   The bulk of the highest paying jobs are in a handful of metropolitan areas, those who have them are likely to be married, and they're likely to be be partnered with other high-earners.
Alas, he points to a posting by Gothamist's Jen Carlson ("Think You're Making $250K In Manhattan? Think Again") which notes that a "lifestyle that would cost $250,000 in Salt Lake City would cost $545,000 in Manhattan, $261,750 in Miami-Dade, and $405,250 in San Francisco."  That's true if by "lifestyle" you mean "house size and model of car."  Otherwise, I'd posit that a Manhattan, San Francisco, or even DC "lifestyle" isn't available in Salt Lake City at any price.
Regardless, all of this shows how complicated gauging relative wealth is when dealing with a diverse, continental country.  We have not only very different costs of living and rates of taxation but also very different economies and cultures.   And compounding this by looking at "households," and thus comparing dual earners with single earners, only further obscures the issue.