Selectively Disobeying Trump's Orders
Just how far should White House staffers and civil servants go in protecting the public from an erratic president?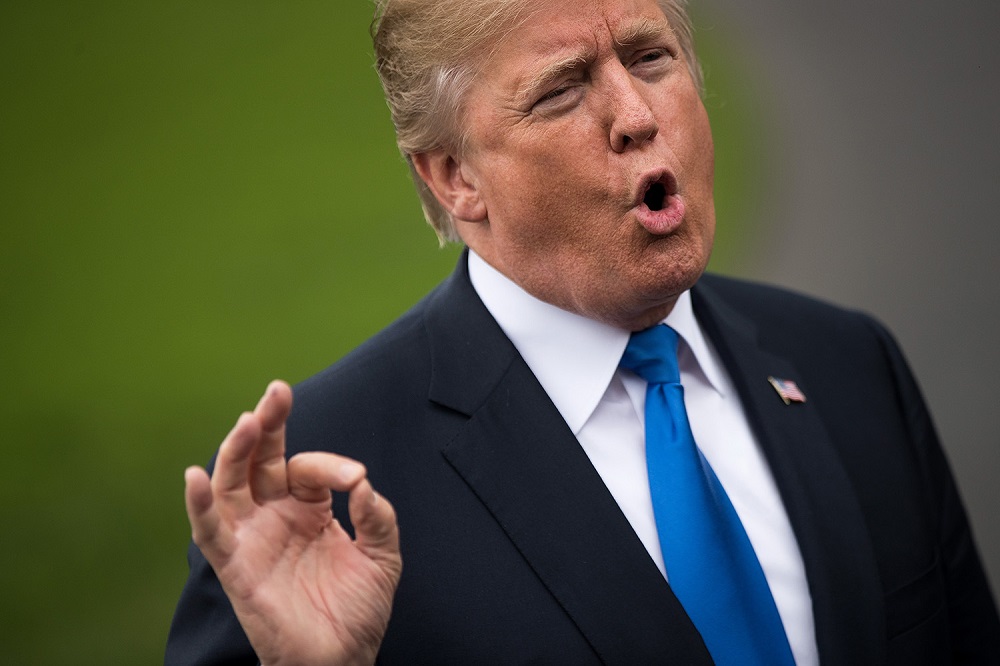 Two pieces out over the weekend point to the problems with hoping that people who work for President Trump will protect us from him.
First, Isaac Chotiner's book review in Slate ("Nobody's Heroes: Bob Woodward's new book presents Trump staffers as our last line of defense. We're doomed.")
Nearly 300 pages into Bob Woodward's new book, Fear: Trump in the White House, a West Wing aide named Zach Fuentes cautions fellow staffers. With depressingly familiar words, Fuentes informs his colleagues, "He's not a detail guy. Never put more than one page in front of him. Even if he'll glance at it, he's not going to read the whole thing. Make sure you underline or put in bold the main points … you'll have 30 seconds to talk to him. If you haven't grabbed his attention, he won't focus." Some subjects, such as the military, do engage him, but the overwhelming picture is worrying and dire. Still, one could finish this passage and feel at least slightly relieved that people like Fuentes are aware of the reigning deficiencies in the White House, and doing their best to mitigate them.

Fuentes is merely an assistant to John Kelly, the White House chief of staff, but Kelly and James Mattis, the secretary of defense, are presented throughout Woodward's book as being cognizant of the president's extreme limitations and authoritarian instincts, and rather boldly willing to push back against their boss. This is why it's probably worth mentioning that Fuentes wasn't talking about Donald Trump; no, he was talking about John Kelly. And Woodward's book—which arrived at around the same time as the already infamous, still-currently anonymous New York Times op-ed about the men and women in the executive branch supposedly working to protect America from Donald Trump—is as much a portrait of the craven, ineffective, and counterproductive group of "adults" surrounding Trump as it is a more predictable look into the president's shortcomings.

[…]

Fear is a book full of stories about Trump being contained; his instincts being thwarted; his worst qualities being slightly minimized by people who claim to be afraid of what would happen if they weren't there. "It's not what we did for the country," former Trump economic adviser Gary Cohn says early on. "It's what we saved him from doing." Quotes like this aim to settle the ethical debate—which has been going on from the start of the Trump presidency—over whether anyone should be working for a bigoted and corrupt president with no respect for democracy, even if they are planning to, in that most tiresome phrase, contain his worst impulses. But that conversation has obscured the more pressing question of what those supposedly well-intentioned individuals can actually accomplish from the inside. Even allowing for the self-serving nature of the accounts that Woodward offers here, the answer appears to be: not much.

Indeed, the near-misses Woodward writes about feel particularly insubstantial, in part because very few of these aides and appointees seem to really grasp the nature of the man they are serving (no matter how much they talk about his stupidity and recklessness), and in part because Trump himself is so clueless and aimless that he rarely seems to follow through on his worst ideas anyway. (The terrible things he has followed through on, such as various immigration policies, are not really discussed at length, and on these matters a good chunk of his staff appear to agree with him.) Moreover, many of these aides are tasked with—or see their roles as—not preventing policy decisions, but instead as putting the nicest, non-Trumpy face on Trumpism; the ethics of this deserves its own debate.
Loren DeJonge Schulman tackles precisely that in her WaPo Sunday Outlook piece "Civil servants can't stop Trump. Stop asking them to."
Public servants in national security have managed an uncomfortable balancing act since President Trump took office. They were labeled adversaries by members of Trump's inner circle from the beginning. Opponents of the new administration, meanwhile, hoped the "deep state" would form a silent resistance inside the government to check the president's authority. Predecessors flooded them with advice about how to serve, how to subvert, how to resign.

Now that Trump has been in office for a year and a half, the hypotheticals are no longer so hypothetical. White House Chief of Staff John F. Kelly reportedly has told colleagues that working for "an idiot" is "the worst job I've ever had." A senior adviser, according to Bob Woodward's new book, has snatched documents off Trump's desk to prevent him from signing things the aide disagreed with. Long-admired public servants have broken their political silence to call the president an embarrassment and a threat to free speech , shattering norms that previously distinguished the national security community. A senior administration official has even written an anonymous op-ed in the New York Times claiming there's a "quiet resistance" working from within to foil Trump. I hear from friends and former colleagues still at the Pentagon, the State Department and other executive offices in career and military positions who wonder if they should remain. Can anyone, in good conscience, work for the United States government right now?

Yes. And the rest of us should stop insisting otherwise. The most profound form of protest against the Trump administration may be for these men and women to serve, professionally. A bureaucracy — or military — that openly fights the White House plays into Trumpists' wildest fantasies. And to an administration sledgehammering its own institutions, a mass exit of men and women of principle and patriotism would be a gift, not an act of resistance. If they left, they would rob the government of irreplaceable knowledge; if they became dedicated adversaries of the president, they would further erode trust in civil servants' ability to execute their duties faithfully. We placed an enormous burden on the national security state by electing this president along with a Congress that checks him weakly, if at all. The least we can do now is not demand that public servants act as a moral proxy in our stead.
She spends the next several paragraphs discussing the personal dilemmas of civil servants wrestling with policies they believe bad for the country and, especially, dealing with a president who treats them as the enemy. They're worth a read. But I want to focus on this:
For those quick to burn it all down for the sake of democracy, hold your torches. There is no good outcome if the civil service rises up against the president — nor if the people tasked with implementing Trump's version of foreign policy simply walk away from their jobs. If we hope that an empowered deep state moves to stop the president's excesses, how do we define when unelected civil servants should step in, and in what way? Such lines would be hard to draw in the chaos. And pitting the bureaucracy against the commander in chief is not a simple habit to unlearn. But what good would quitting do? Has there ever been a president who seemed less likely to be swayed by a resignation on principle? Either tactic would irrevocably weaken the institutions charged with the use and means of projection of force, with relief in crisis, and with strengthening the very norms we find under threat in our country.

Too much of the outrage against Trump forgets that there will be a world after him, one where the new president will need these institutions to be greater and stronger than they were before to repair the damage his term has wreaked.
Three decades ago, my senior year ROTC instructor, Major Sid Kooyman, made a statement that has stuck with me all these years: "It's an officer's duty to selectively disobey orders." I don't recall the context in which he said it or whether he attributed it to General Edward "Shy" Meyer, who had been Army Chief of Staff a few years earlier.
Meyer's admonition, controversial at the time, was for leaders to protect their subordinates from the deluge of taskers that come down the chain of command. Trying to accomplish all of them would exhaust your soldiers and be to the ultimate detriment of the nation, to boot. So judgment was required in figuring out which orders to prioritize and which to ignore.
I think I did that, both as an officer and in subsequent civilian postings. But I took the advice in a different direction: that I owed it to not only my subordinates but also my bosses to push back on or even disobey directions that were stupid and counterproductive. Thankfully, I've had few bosses who were incompetent. But I've had otherwise great bosses whose enthusiasm was their own worst enemy. They had too many "good ideas" that were beyond the ability of the organization to successfully execute.
The quote came back to me almost immediately when the NYT op-ed and Woodward excerpts appeared. My initial thought was that, given Trump's known impulsiveness, it was not only laudable but imperative for his staffers to protect him—and the country—by not following stupid and dangerous diktats.
But Schulman is right: it's not at all clear where one draws the line.
Like it or not, Donald Trump is the duly elected President of the United States. He's entitled to have his lawful orders followed by his subordinates in the Executive Branch of our government. It's not up to GS-12s or majors to substitute their judgment for his. The same is ultimately true of "senior administration officials," however one defines that term. While one gets the impression that a goodly number of his top advisors think he's temperamentally unfit for the office, if not mentally unsound, we apparently do not the overwhelming quorum required by the 25th Amendment to remove him from office.
In principle, I not only don't object to but endorse the Chief of Staff or other very high ranking officials thwarting Trump's petulantly issued orders if they're reasonably sure he won't follow up on them in the morning. But his sustained, lawful policy preferences ought to be vigorously executed by his team. If they can't do that in good conscience, they ought either resign or work harder to convince the Vice President that it's time to invoke the 25th.