Senate Blocks Boehner Bill, Focus Shifts To Reid Plan, McConnell Won't Negotiate
The Senate killed the Boehner Plan but the debt ceiling crisis is still unresolved and the way out is murky.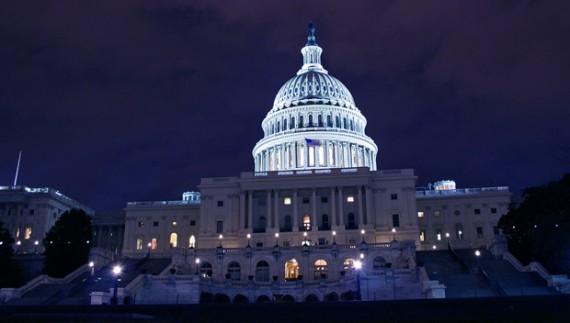 It took only a matter of hours for the United States Senate to block the bill that the House of Representatives had passed earlier today:
The United States Senate quickly dispatched the debt ceiling bill passed by the House Friday evening, tabling the Republican bill indefinitely and moving quickly to start consideration of a Democratic plan that would avoid default on Tuesday.

Less than two hours after House Speaker John A. Boehner pushed his bill through the House over the strenuous objections of nearly two dozen of his own Republican members, the Democratic leadership in the Senate followed through on their promise to kill his legislation.

But the move now sets up an uncertain 72 hours as the Congress moves ever closer to the Tuesday deadline when the Treasury Department says the country will default on its financial obligations without an increase in the debt ceiling.
Immediately after the Motion to Table (which was also supported by six Republican Senators) passed, Harry Reid began the parliamentary maneuvers required to get his bill considered by the Senate. At the earliest, it looks like we won't see a vote on that until Sunday night at the earliest. Meanwhile, the House is supposed to vote on its own version of the Reid Bill tomorrow. This is purely a political maneuver by the GOP designed to send a message to the Senate.
Logically, it would be in the Senate where negotiation would take place and we'd get to a deal that could pass both the House and the Senate. However, this tweet from Senator Claire McCaskill just before the vote on the Motion to Table, seems to indicate there will be no negotiation: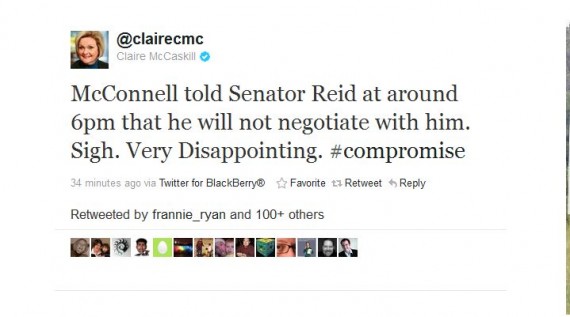 If this is truly McConnell's position and it doesn't change in the next 72 hours then I don't see how this get resolved before Tuesday.
If