Senate Fails To Pass Its Own Border Crisis Bill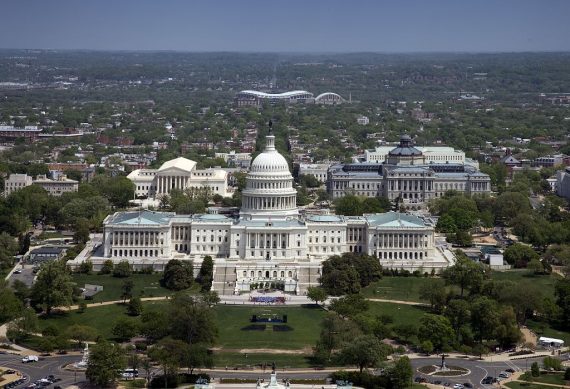 While the House GOP Leadership found itself embarrassed yet again by Tea Party opposition to its own version of a border crisis bill, the Senate didn't have any more luck getting a bill passed, thus ensuring that nothing will done by Congress until the recess ends after Labor Day:
The Senate on Thursday blocked an emergency funding measure to respond to the border crisis, killing the chances of legislation reaching President Barack Obama's desk before the August recess.

The $2.7 billion funding measure died on a procedural vote, 50-44. The Senate Democrats' border-crisis legislation was always a long shot to secure the 60 votes needed to clear the chamber, due to Republican opposition and lack of support from some moderate Democrats.

"It's very regretful that we're not able to move forward on it," Senate Majority Leader Harry Reid (D-Nev.) said after the vote.

The failed vote came the same day as a competing funding measure in the Republican-led House collapsed after GOP leaders could not secure enough votes to pass its $659 million bill on the House floor. Republican leaders plan to keep its members in town until some border-funding measure is passed, and GOP lawmakers plan to meet Friday morning to sketch out their next move.

The Democratic-led Senate will leave town on Thursday after finishing their final round of votes — a fact that caused some consternation among some lawmakers.

"I'm not going home to South Carolina until the House acts," said Sen. Lindsey Graham (R-S.C.). "And I'm going to ask my Senate colleagues — whether you like it or not — just vote on the damn thing. Just vote on it, whether you like it or not."
The Senate is scheduled to be in session today, so I suppose they could theoretically take up a bill from the House if the House actually manages to pass anything today, as unlikely as that seems. However, given the fact that there is a vast cavern of difference between what the House is proposing and what the Senate bill proposed, and that the modifications that will be made to the House bill to get it through the House will likely make it less acceptable to the Senate, I wouldn't hold out much hope for a border bill actually being voted on and passed into law by Congress today.