Senate GOP Releases Revised Version Of Obamacare 'Repeal And Replace' Bill
Senate Republicans have introduced their latest version of a plan to repeal and replace the Affordable Care Act.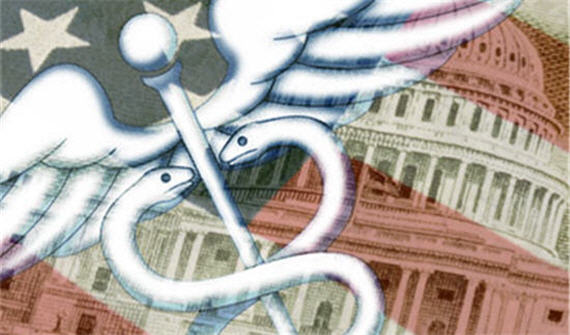 As expected, the Senate GOP leadership unveiled their revised version of the Better Care Reconciliation Act, the proposed plan to 'repeal and replace' the Affordable Care Act, but initial reviews don't seem to provide them much hope that this bill will do much better than the first version:
WASHINGTON — Senate Republican leaders on Thursday unveiled a fresh proposal to repeal and replace the Affordable Care Act, revising their bill to help hold down insurance costs for consumers while keeping a pair of taxes on high-income people that they had planned to eliminate.

With the revised bill, the majority leader, Mitch McConnell, Republican of Kentucky, is trying to keep alive his party's seven-year quest to dismantle the health law that is a pillar of former President Barack Obama's legacy.

Republicans said the revised bill would provide roughly $70 billion in additional funds that states could use to help reduce premiums, hold down out-of-pocket costs and otherwise make health care more affordable. The bill already included more than $100 billion for such purposes.

The new bill, like earlier versions, would convert Medicaid from an open-ended entitlement to a system of fixed payments to states. But in the event of a public health emergency, state Medicaid spending in a particular part of a state would not be counted toward the spending limits, known as per capita caps.

In a departure from current law, the bill would allow insurers, under certain conditions, to offer health plans that did not comply with standards in the Affordable Care Act. Under that law, insurers sell regulated health plans through a public insurance exchange in each state.

A summary of Mr. McConnell's bill, circulating on Capitol Hill, describes his proposal this way: If an insurer offered "sufficient minimum coverage" on the exchange that remains subject to federal mandates in the Affordable Care Act, it could also offer coverage outside the exchange that would be exempt from many of those mandates.

Policies that comply with the Affordable Care Act would provide more extensive coverage but would also attract sicker people with higher medical costs. To address this concern, the Republican bill would create a fund to make payments to insurers for the costs of covering high-risk people enrolled in health plans on the exchanges.

Senator Ted Cruz, Republican of Texas, has pushed to allow stripped-down plans, and he called the inclusion of the provision "very encouraging."

"I think we're making serious progress towards coming together and unifying our conference and getting a bill that can command the support of at least 50 senators and pass into law," Mr. Cruz said on the radio station KFYI.

"I think failing to get this done would be really catastrophic," he added, "and I don't think any of the Republican senators want to see failure come out of this."

People who enroll in catastrophic health insurance plans would be eligible for federal tax credits to help pay premiums. Such plans typically have lower premiums and high deductibles. But under the Affordable Care Act, consumers generally cannot use the tax credits for such plans.

The bill would, for the first time, allow people to use tax-favored health savings accounts to pay insurance premiums. Republicans said this policy change would increase health care coverage.

The bill also provides $45 billion to help combat the opioid abuse crisis — a provision that is particularly important to two Republican senators who opposed the previous version of the bill, Rob Portman of Ohio and Shelley Moore Capito of West Virginia.

The new draft bill would not include any changes from current law to the net investment income tax or the additional Medicare payroll tax paid by certain high-income people. Nor would it change the limits on the tax deductions that insurers can take for salaries and other remuneration paid to top executives.

The Senate is, in effect, trying to catch up with the House, which on May 4 narrowly approved a bill to repeal and replace much of the Affordable Care Act.

To succeed, Mr. McConnell must win over almost all the holdouts in his caucus, a daunting and delicate task given the litany of complaints he faces and the sharp policy differences that he must find a way to bridge.

But the revised bill is broadly similar to the earlier measure that Senate leaders hoped to vote on before the Fourth of July recess, though the new version includes some additional provisions meant to entice reluctant Republican senators with varying policy concerns.

"It appears that little has changed at the core of the bill," the Senate Democratic leader, Chuck Schumer of New York, said on the Senate floor. "The Republican Trumpcare bill still slashes Medicaid. The cuts are every bit as draconian as they were in the previous version — a devastating blow to rural hospitals, to Americans in nursing homes, to those struggling with opioid addiction and so many more."

Like the previous bill, it would end the requirement that most Americans have health coverage, and it would make deep cuts to Medicaid, capping payments to states and rolling back its expansion under the Affordable Care Act. Though some Republican senators expressed concern about how the previous bill would affect Medicaid, Senate leaders stuck with the same approach in the new version.

In a notable change, the bill would keep the two taxes imposed by the Affordable Care Act on people with high incomes: the 3.8 percent tax on investment income and the 0.9 percent payroll tax. The taxes apply to individuals with income over $200,000 and couples with income over $250,000.

Both of those taxes would have been repealed under the previous Senate bill, reducing federal revenue by about $231 billion over a decade, according to the congressional Joint Committee on Taxation.

Mr. McConnell is trying to avoid a repeat of his first attempt to push his bill through the chamber, when he was forced to delay a vote planned for late last month because of opposition from Republican senators.
Meanwhile, The Washington Post is reporting that two Republican Senators plan on offering their own alternative to the BCRA, a move that could even further complicate Senator McConnell's effort to pass a bill before the Senate's summer recess:
The Senate GOP's latest attempt to rewrite the Affordable Care Act showed few signs of gaining traction Thursday, further imperiling the party's quest to overhaul Barack Obama's 2010 health care law.

At least three Republican senators said Thursday they remained opposed to bringing up the revised bill, while two rank-and-file Republicans announced plans to offer their own health-care plan just as leaders released an updated bill of their own. Senate leaders need the support of 50 of their 52 members to pass the legislation.

Senate Majority Leader Mitch McConnell (R-Ky.) offered a new draft aimed at meeting specific requests of GOP senators reluctant to support the measure previously.

The new measure has won the backing of Sen. Ted Cruz (Tex.), whose proposal to allow insurers to sell austere plans that do not comply with ACA requirements was included in the latest draft. But Sen. Rand Paul (R-Ky.), who says the measure still does not do enough to unravel the law known as Obamacare, remains opposed to voting on the bill, as do two centrists, Susan Collins (Maine) and Rob Portman (Ohio.).

"My strong intention and currently inclination is to vote no on the motion to proceed," Collins told reporters

Portman, who came out against the original draft of the bill, also said he was opposed to taking a vote at this point. "I'm in the same position I've been in. Looking at the language and looking forward to the analysis."

The three senators' continued opposition, coupled with the move by Sens. Bill Cassidy (La.) and Lindsey O. Graham (S.C.) to debut their health-care proposal on CNN moments before McConnell was set to brief members demonstrated how divided the majority remains in its quest to overhaul former president Barack Obama's signature health-care law.

Graham said he would vote for a procedural motion to start debate on the bill but that he is still working on changes to make the legislation more palatable for states like Nevada, which accepted Medicaid expansion.

"I'm trying to get a bill that will lock down Republican governors," Graham told reporters after his caucus met behind closed doors.

In a joint interview with CNN on Thursday, Cassidy and Graham said that they would take the billions of dollars the federal government now receives in taxes under the ACA and direct that revenue to the states.

"We're going to see which one can get 50 votes," Graham said, referring to the number of GOP senators needed to approve any bill in the Senate, given that Vice President Pence is prepared to cast the tiebreaking vote. Referring to McConnell, he added, "We're not undercutting Mitch; he's not undercutting us."

The surprise announcement just before Senate GOP leaders released a revised health-care proposal Thursday under the Affordable Care Act. The updated measure also allows Americans to pay for premiums with money from tax-exempt health-savings accounts (HSAs), an idea that many conservatives pushed, along with more generous subsidies to offset consumers' out-of-pocket health costs and treat opioid addiction.
All of this places McConnell's bill in a rather precarious position to say the very least. As I've noted before, McConnell can only afford to lose two of the member of his caucus if the bill is going to pass. Anything more than that and he will end up with fewer than fifty votes and the bill will fail. As things stand, there still appear to be at least three Senators who are inclined to vote against even this revised version of the bill, namely Rand Paul, Susan Collins, and Lisa Murkowski. Additionally, it appears unlikely that Republicans will be able to count on the support of Nevada's Dean Heller due in no small part to the fact that he is a Republican running in Nevada, a state which Hillary Clinton won in 2016 and where Democrats were able to hold on to the seat vacated by Harry Reid in the same election. Heller is widely seen as the most vulnerable Republican running in 2018 and as a result is uniquely vulnerable on this issue. Even if only these four Senators are the only ones that end up opposing this revised bill, McConnell's plan is effectively dead on arrival. Added into all of this, of course, must now be the apparent intention of Senators Graham and Cassidy to introduce their own competing bill to the BCRA. While we don't know any of the details of that bill, the fact that Senator Graham is involved in it indicates that it's likely to include details that would be more likely to appeal to the more moderate Senators in the GOP rather than the conservatives like Ted Cruz and Mike Lee.
Much of the reception that this bill is going to get will depend, of course, on how the Congressional Budget Office score for this revised version of the bill turns out. Given the fact that most of the changes that the original version of the BCRA made to the Affordable Care Act are still contained in this revised version, such as coverage for pre-existing conditions and the funding of Medicaid expansion, it seems likely that the topline number of how many people are likely to lose coverage will not change significantly. This will make it hard for the Senators who were already opposed to the BCRA to change their position on this revised bill, although it's possible that some might do so depending on whether or not there are sufficient "sweeteners" in the bill to get them to vote for it. As things stand right now, though, it looks as though McConnell and his lieutenants will have a hard time getting this passed before the summer recess begins.
Here's the revised BCRA:
Revised Better Care Reconciliation Act by Doug Mataconis on Scribd
.