Senate Headed For 'Nuclear Option' Showdown Over Gorsuch Nomination
Next week's big news is likely to be the Senate's vote to confirm Neil Gorsuch to the Supreme Court, which could mean invocation of the so-called 'nuclear option' by Senate Republicans.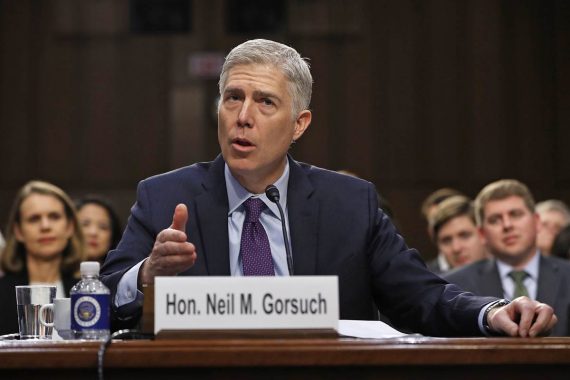 According to the original plans of Chairman Chuck Grassley, the Senate Judiciary Committee was to have voted on the nomination of Judge Neil Gorsuch this week with the plan that his nomination to the Supreme Court could be sent to the Senate floor for a final vote before the Easter recess. Yesterday, however, the Committee granted a request from Democratic members to delay the vote for one week, meaning that it will take place no earlier than April 3rd. This would still make it possible for a floor vote to take place before the Easter break begins on April 10th, but it would be cutting things very close and would require a quick defeat for any Democratic effort to block Gorsuch's confirmation with a filibuster attempt. As Politico notes today, that means that we're likely to see a Senate confrontation on the issue as early as next week:
Supreme Court nominee Neil Gorsuch's path to 60 votes is rapidly closing — setting the stage for a nuclear showdown in the Senate as soon as next week.

Senior Democratic sources are now increasingly confident that Gorsuch can't clear a filibuster, saying his ceiling is likely mid- to upper-50s on the key procedural vote. That would mark the first successful filibuster of a Supreme Court nominee since Abe Fortas for chief justice in the 1960s.

In the latest ominous sign for the federal judge from Colorado, Sen. Bill Nelson (D-Fla.) said Monday he'll oppose Gorsuch on the cloture vote, which is expected late next week. More than a decade ago, Nelson helped break a filibuster of now-Justice Samuel Alito.

If Democrats successfully filibuster Gorsuch, Majority Leader Mitch McConnell has heavily telegraphed that he will invoke the so-called nuclear option to unilaterally change Senate rules with a simple majority vote. And Republicans are confident they'll have the votes to do it, even as wary as many senators are about forever altering the deliberative nature of the chamber.

"We're not going to be treated by a double standard," Senate Majority Whip John Cornyn (R-Texas) said in an interview on Monday. "We'll give our Democratic colleagues a chance to see if they provide the 60 votes; if they do, it's a moot point. And if they don't, as I said before, we will confirm him one way or the other."

Gorsuch got through his marathon confirmation hearings before the Senate Judiciary Committee without any obvious gaffe or misstep. But Democrats said he stonewalled the committee when pressed repeatedly about his judicial philosophy, and many have since announced they'll vote to block his nomination.

So far, only one Senate Democrat has firmly said he's willing to help advance Gorsuch's nomination to a final confirmation vote: Sen. Joe Manchin of West Virginia, a moderate who is seeking another meeting with the judge this week to weigh his credentials.

"I've always been for cloture," Manchin told Politico when asked whether he would vote to advance Gorsuch's nomination, even if he ultimately opposes him. "I've always been, basically, 'I'm not going to filibuster.'"

But several other Democrats on Monday were much less definitive.

Sen. Jon Tester of Montana said he is "still undecided," as did Sen. Heidi Heitkamp of North Dakota. Sen. Tim Kaine of Virginia said he's continuing to study Gorsuch's record and that the threat of the nuclear option wouldn't influence his choice. Sen. Maria Cantwell (D-Wash.), who like Nelson voted to break the filibuster on Alito, said Gorsuch's stance on privacy rights would be a central factor in her still-unmade decision on confirmation.

"I'm reviewing the hearings," said Sen. Michael Bennet (D-Colo.), who is facing parochial pressure to back Gorsuch because the judge hails from Denver.

Even Sen. Patrick Leahy (D-Vt.), who told a local reporter in Vermont over the weekend that he is "not inclined to filibuster," quickly walked that back in a series of tweets Monday amid a flurry of constituent calls organized by liberal groups. The former Judiciary Committee chairman said Gorsuch will be blocked unless the judge "provides real answers" to written questions for the record. Those written responses from Gorsuch are expected back to the committee sometime midweek.

The nuclear battle could erupt as early as next Thursday. The Senate Judiciary Committee will vote to advance Gorsuch's nomination on April 3 after Democrats successfully secured a one-week delay in the committee. The earliest McConnell could file cloture is Tuesday, April 4, which would tee up a Thursday vote to end the filibuster on Gorsuch's nomination.

While Republicans are still publicly hopeful that eight Democrats will allow Gorsuch to proceed to a final up-or-down confirmation vote, they're already preparing for the last ditch, nuclear scenario if — or when — Democrats mount the first successful party-line filibuster in history.

GOP leaders remain publicly and privately confident that Gorsuch will be confirmed to replace the late Justice Antonin Scalia before senators leave for the two-week Easter recess in early April. And institutional Republicans long skittish about deploying the nuclear option are now much less nervous about using the provocative procedural maneuver.

"When they're in charge, they grab power," Sen. Lindsey Graham said of Democrats. The South Carolina Republican said he would support the nuclear option as a "last resort."

If Democrats successfully filibuster Gorsuch, Graham added, it would say "that qualifications will no longer matter. There's no way you can argue that this man's not qualified. He got the highest rating that the American Bar Association can give somebody. So it means that ideology matters."

Even Susan Collins (R-Maine), who like Graham is among three remaining senators from the "Gang of 14" that helped defuse a brewing nuclear battle over judicial nominations a dozen years ago, left the door open to backing the nuclear option.

"I would be very disheartened if we had to take that step because I'm a strong believer in the rules of the institution," Collins said in an interview Monday. "But clearly, it would be unfair if we cannot get a straight up-or-down vote on Judge Gorsuch."
Democrats will no doubt take the week that they've been granted to try to further organize a filibuster against Gorsuch, while Republicans will use the time to try to draw at least eight Democrats to vote in favor of cloture so that they can proceed to a final floor vote. As things stand, it would appear that West Virginia Senator Joe Manchin is the only Democrat to hint that he might be willing to vote in favor of cloture, but there could be others, such as the aforementioned Jon Tester of Montana and Heidi Heitkamp of South Dakota, both of whom already face challenging reelection bids in states that traditionally vote Republican in Presidential elections. Even with those three, however, Republicans would still need to find five other Democrats to join them to get the sixty votes needed to break a filibuster. At that point, Republicans would have the choice of either putting the nomination on the sidelines and returning to the issue after the recess ends on April 21st, which or would mean that Gorsuch will not take the bench in time to participate in the final round of oral argument of the current Supreme Court term, or invoke the nuclear option.
Based on earlier reporting, it appeared that Senate Majority Leader Mitch McConnell may not have had the votes to support eliminating the filibuster for Supreme Court nominees. Specifically, Senators Graham and McCain had said publicly that they would not be inclined to eliminate the filibuster for such nominees, and there were strong implications that Maine Senator Susan Collins would likely join them. If this were the case, then McConnell would lose his majority and be unable to follow in Harry Reid's footsteps and eliminate the sixty vote rule for all nominations. Based on comments such as those in the linked post above, though, it now appears that at least Graham and Collins would be inclined to go along with a decision to use the nuclear option, meaning that we could see a final vote on Gorsuch before the Senate leaves town at the end of next week. At that point, the path will be clear for Donald Trump, or any other future President, to appoint whomever they wish to the Supreme Court as long as their party controls the Senate and there isn't significant internal disagreement regarding the qualifications of the nominee. In the near term, that means that Trump could have a significant impact on the Court's direction for the next generation if a Justice such as Kennedy, Ginsburg, or Breyer steps down from the high Court or dies while in office. At that point, Democrats would be unable to stop even the most conservative nominee from being confirmed, and they'll have Harry Reid's precedent to thank for it.