Senate Republicans Moving To Block John Brennan's Nomination To Head C.I.A.
Here we go again.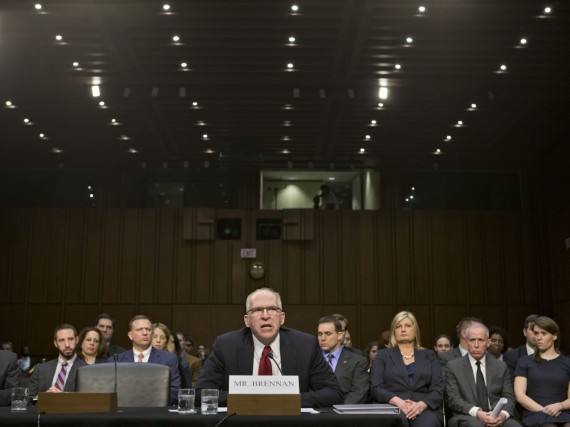 With Chuck Hagel's nomination to head the Defense Department tied up thanks to yesterday's unsuccessful attempt to invoke cloture, Republicans are now moving to block John Brennan's nomination to head the Central Intelligence Agency:
A trio of Republican senators will delay the nomination of John Brennan to be head of the CIA if they don't receive an answer from the White House about who changed talking points in the days after the attacks on the consulate in Benghazi.

Sen. Lindsey Graham said he, along with Sens. John McCain and Kelly Ayotte, are determined to receive an answer.

"When Brennan comes before the Congress, we're going to find out who changed those talking points or die trying," Graham, the South Carolina Republican, said.

But all three refused to use the word "filibuster," insisting that if they hold out, they'll get answers.

"We're going to get the information," said McCain (R-Ariz.)
Benghazi is also one of the purported reasons that McCain and Graham said they were blocking Hagel's nomination, of course, and the White House responded to that announcement by sending a letter to the Senate addressing the concerns that they had expressed. Apparently, that wasn't enough because these three Senators — the new Three Amigos, perhaps? —- seem intent on pushing the Benghazi issue again, and I'm sure other Republicans will join them.
Senator Rand Paul, on the other hand, announced that he would be placing a hold on the Brennan nomination for an entire different reason:
Washington (CNN) - Sen. Rand Paul, one of the most outspoken critics of President Barack Obama's use of drones to target terrorists overseas, vowed Wednesday to hold up the nomination of one of the program's chief architects.

John Brennan, Obama's top counterterrorism adviser, is under consideration by the Senate to become the next director of the Central Intelligence Agency. The president nominated him to the post last month.

In a statement, Paul – a Republican from Kentucky – wrote that he still has questions for Brennan surrounding the drone program.

"I have asked Mr. Brennan if he believed that the President has the power to authorize lethal force, such as a drone strike, against a U.S. citizen on U.S. soil, and my question remains unanswered," Paul wrote. "I will not allow a vote on this nomination until Mr. Brennan openly responds to the questions and concerns my colleagues and I share."

Paul, along with some fellow Republicans and Democrats, have called into question the legality of targeting Americans abroad who are suspected of being terrorists. Such a situation arose in 2011, when an American drone was used to kill New Mexico-born Anwar al-Awlaki – who officials said played an operational role in al Qaeda in the Arabian Peninsula.
Paul's hold at least has the merit of being based on a substantive, and important, issue directly related to the job that the President is seeking to put Brennan into. Indeed, Paul should be applauded for pushing for a more substantive discussion of the President's drone policy, something many in Congress don't seem willing to discuss. At the same time, though, it's worth recognizing that the policy will still exist regardless of who heads to the CIA. Rather than just trying to top Brennan's confirmation, I'd like to see Paul and others use this as an opportunity to push for more Congressional oversight of this controversial program.