Senate Republicans Vow No Hearings On Supreme Court Nominee From President Obama
Notwithstanding polling that indicates the American public disagrees with them, Senate Republicans emerged from a meeting today largely united on the idea of not giving any Supreme Court nominee named by President a hearing, or even the courtesy of a meeting.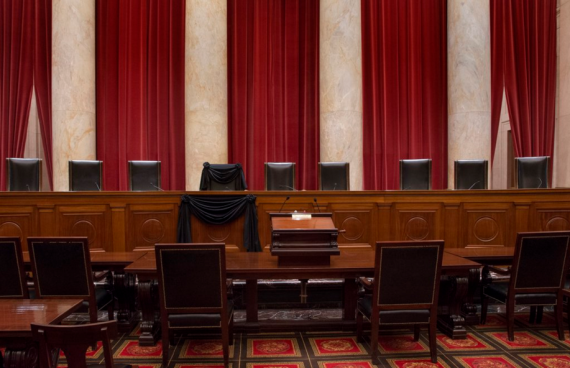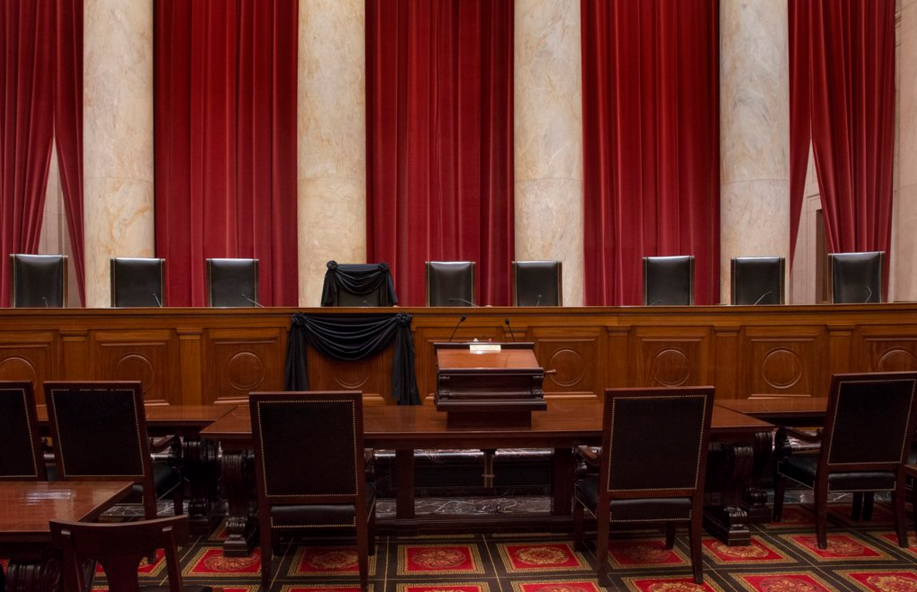 Despite a rash of recent polls that suggest that the American public as a whole opposes their position, Senate Republicans emerged from a meeting today largely united in the position that they will not give any consideration at all to a Supreme Court nominee submitted by President Obama:
WASHINGTON — Senate Republican leaders, trying to slam shut any prospects for an election-year Supreme Court confirmation, said on Tuesday they would not even meet with President Obama's nominee to replace Justice Antonin Scalia. Senator Mitch McConnell of Kentucky, the majority leader, urged the president to reconsider even submitting a name.

At the same time, Senate Judiciary Committee Republicans unanimously rejected any confirmation hearings.

The actions of Senate Republican leaders and the committee of jurisdiction sent a clear signal to President Obama and wavering Republicans that their ranks would not crack. It also thrust the Senate into unprecedented territory with partisan rancor giving way to deadlock on one of the institution's basic constitutional responsibilities.

Democrats lashed out but seemed powerless to force Republicans to alter course. "The Senate, the world's greatest deliberative body?" the Democratic leader, Harry Reid of Nevada, asked, railing against the Republicans. "They're not going to deliberate at all."

But Mr. McConnell showed no sign of relenting to the pressure Mr. Obama and Senate Democrats were trying to apply.

"This is his moment," Mr. McConnell said on the Senate floor, addressing the president. "He has every right to nominate someone. Even if doing so will inevitably plunge our nation into another bitter and avoidable struggle, that is his right. Even if he never expects that nominee to actually be confirmed but rather to wield as an electoral cudgel, that is his right."

Mr. McConnell added: "But he has also has the right to make a different choice. He can let the people decide and make this an actual legacy-building moment rather than just another campaign roadshow."

Mr. Obama has made clear that he will choose a nominee, and two Republican senators, Susan Collins of Maine and Mark S. Kirk of Illinois, have already broken ranks to say that they would be willing to vote on a candidate.

But Mr. McConnell and the vast majority of Republicans were holding firm.

"I don't think we should have a hearing. I think we should let the next president pick," said Senator Lindsey Graham, Republican of South Carolina, who a decade ago was one of 14 senators who brokered a deal to end the threat of filibusters against President George W. Bush's judicial nominees.

As G.O.P. senators emerged from a meeting in Mr. McConnell's office, Senator John Cornyn of Texas, the No. 2 Republican, said, "We believe that the American people need to decide who is going to make this appointment rather than a lame-duck president."

Aides to Mr. McConnell said the majority leader had spoken to Mr. Obama and told him directly that no nominee to the Supreme Court would be confirmed before the election, and they expressed confidence that the Republicans had chosen the best course of action — or inaction, as the case may be.

Mr. McConnell gathered Republican members of the Senate Judiciary Committee in his suite in the Capitol, just off the Senate floor, to confer before a weekly policy luncheon attended by all Republican senators.

While Mr. McConnell has already stated that no nominee will be confirmed, it is ultimately up to the committee chairman, Senator Charles E. Grassley of Iowa, to decide if any hearings will be held on Mr. Obama's pick.
As The Washington Post reports, Senate Republicans are also threatening to block the next President's Supreme Court nominee if they find it to be unacceptable:
McConnell declined to address whether the next president would definitely win confirmation of his or her selection for the court. Under a rules change orchestrated by Democrats in 2013 when they held the majority, Supreme Court selections are the only nominees still subject to a 60-vote threshold to end a filibuster and advance to the final confirmation vote.

After the news conference ended, Sen. Roger Wicker (R-Miss.), chairman of the National Republican Senatorial Committee, sought out The Washington Post to make clear that the filibuster possibility next year remained intact because then-Senate Majority Leader Harry M. Reid (D-Nev.) left it in place two-and-a-half years ago.

Reid, now the minority leader, accused the GOP of "changing the Senate" with its move to block Obama's nominee.

"We have to have a government that functions," he said. "We have to have a Senate that operates with collegiality and fairness."

Democrats have tried to pressure Republicans to at least consider a nominee by warning that a Supreme Court blockade would hurt GOP candidates in November.

[Harry Reid ties Senate's Supreme Court battle to Donald Trump]

Sen. Charles E. Schumer (D-N.Y.) called the GOP position "beyond the pale" and said that "it will not stand."
Schumer, of course, became the center of some controversy on this issue over the weekend when it was revealed that he had taken a substantially similar position to the one Republicans are taking today during the final months of the George W. Bush Administration. In addition to Schumer's remarks from 2007, yesterday we learned about similar comments made by Vice-President Joe Biden in 1992 when he was Chairman of the Senate Judiciary Committee regarding potential nominations by President Bush prior to that year's Presidential election. Additionally, The Washington Post's Glenn Kessler has uncovered a number of statements from politicians on both sides of the political aisle regarding appointments during election years that show how that the position that is taken depends entirely on which party is in power in the White House and/or the Senate at a given time in history, or in other words that this is yet another issue where people are apt to change position at the drop of a hat based on whose ox is being gored.
The Republican position isn't entirely unanimous, of course. Prior to today's Caucus meeting, Senators Mark Kirk of Illinois and Susan Collins of Maine both said that they believed that the Senate should at least hold hearings for the President's nominee even if that nominee is ultimately rejected in a cloture vote or by some others means. Previously, four other Senators, including Judiciary Committee Chairman Chuck Grassley, along with Thom Tillis, Dean Heller, and Ron Johnson, had made statements that suggested that they would at least consider holding hearings for a nominee. However, that was before the latest push by conservative activists to double down on the "No Hearings, No Votes" position that became something of a mantra in the hours after Justice Scalia's death more than a week ago and to essentially threaten to go to war against Senate Republicans if they go against the initial promises not to hold hearings or votes on an Obama nominee.
For the moment at least, Senate Republicans are choosing to side with their base on this issue and to ignore the risks that they are taking both with respect to the Presidential election and the battle for control of the Senate. The fact that the initial polling seems to be indicating that the American public as a whole is opposed to their position may lead some to question to logic of this position, but when those same polls show that the majority of Republicans overwhelmingly support the "No Hearings, No Votes" position the fact that they're taking this position isn't surprising at all. As things stand, it's arguably the case that Senate Republicans have more to fear in retribution from their party's base than they do in taking a position the public opposes, especially since the polling does not make clear just how important voters consider this issue to be and how much it would influence their decision on how they will vote in November. Typically, General Election voters are more influenced by issues such as the economy, their own personal financial condition, and foreign policy related concerns than they are by parliamentary goings on related to Supreme Court nominations. If that remains the case, then Republicans may end up being correct in taking this gamble.
This is why I've said from the beginning that this is, in the end, entirely a political decision rather than a Constitutional one and that one's position on whether it is "right" or "wrong" is, in the end, entirely subjective. If enough voters in enough states think this is an important enough issue to punish the GOP over, they will act accordingly and Republicans may lose control of the Senate. If they don't, and they're able to continue holding the line, then whomever is elected President will immediately have a Supreme Court appointment to make and this Republican Senate may find itself dealing with a Supreme Court pick from a newly-elected President Clinton. As Eugene Volokh notes, while there is a Constitutional duty here for the Senate to fulfill, how the Senate chooses to act, and how quickly it chooses to do so, is an entirely political decision:
The problem is that the Constitution leaves confirmation decisions to the political process, with no legal standard. President Obama certainly has the constitutional power to nominate someone, even in an election year (just as President Bush had the power to do so in 1992, if there had been a vacancy). The Senate certainly has the constitutional power to refuse its "consent" to the candidacy, even if this means waiting for a year until after the election. The President was elected by the people, who conferred on him the power to nominate. The Senators were elected by the people, who conferred on them the power to consent or to refuse consent.

The Constitution deliberately leaves these decisions to the political branches, and to the political process within the political branches — with the ultimate constraint being the voters, who can punish either party if they think the party behaves unreasonably or unwisely in this process (note again political criteria, not legal ones).

Now longstanding, broadly adhered to precedents matter even in the political process. Perhaps this respect for tradition and desire for consistency over time is a feature of human nature generally, but it certainly is a feature of American politics, at least some in measure. If there had been a constant practice, for instance, of Senators agreeing to vote for judicial nominees unless those nominees were obviously corrupt or intellectually or professionally unqualified, then there likely would be a strong political backlash to an attempt to depart from this practice. Likewise, if there had been a constant practice of Senators agreeing that every nominee should be considered without regard to there being a looming election, many senators today would be reluctant to buck that practice.

But there seems to be no such practice (see, e.g., Miguel Estrada & Benjamin Wittes' "There no longer are any rules in the Supreme Court nomination process column in Friday's post), as then-Senator Biden's remarks illustrate. And in the absence of such a practice, we come down to more results-oriented politics
In other words, Republicans are making a bet that by refusing to consent to President Obama's Supreme Court nomination they will have a more advantageous political ball field to play on with respect to this vacancy in January 2017. Whether their gamble proves to be a smart move or a dumb move will be up to the voters. As it stands, it appears from initial polling that they are making an unwise choice, but we won't know that for sure until November. Additionally, the position that the Senate GOP is taking here is likely to be tested several times over the course of the next several months, starting with the point at which President Obama makes his selection of a nominee known. If that nominee is seen positively by the American public as a whole, then the refusal to even hold hearings could cause voters to turn against Republicans even more than the initial polls seem to indicate. If that starts happening, then Republican leaders will have to decide if it's more important to appease their base or limit the damage to the party heading into November.