September Jobs Report Reveals A Resilient, But Not Strong, Economy
The September Jobs Report continues to show an economy that is growing to some degree, but hardly growing as fast as it should be.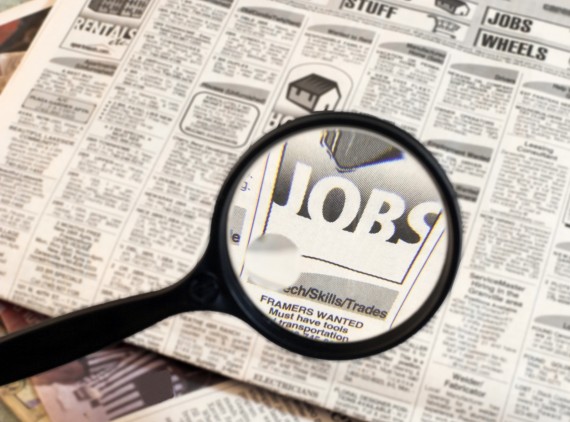 The penultimate jobs report before November's Presidential and Congressional elections seems to reveal an economy that is resilient but not exactly growing at the kind of strong pace that we'd like to see:
Total nonfarm payroll employment increased by 156,000 in September, and the unemployment rate was little changed at 5.0 percent, the U.S. Bureau of Labor Statistics reported today. Employment gains occurred in professional and business services and in health care.

The unemployment rate, at 5.0 percent, and the number of unemployed persons, at 7.9 million, changed little in September. Both measures have shown little movement, on net, since August of last year. (See table A-1.)

Among the major worker groups, the unemployment rate for Hispanics increased to 6.4 percent in September, while the rates for adult men (4.7 percent), adult women (4.4 percent), teenagers
(15.8 percent), Whites (4.4 percent), Blacks (8.3 percent), and Asians (3.9 percent) showed little or no change. (See tables A-1, A-2, and A-3.)

The number of persons unemployed less than 5 weeks increased by 284,000 to 2.6 million in September. The number of long-term unemployed (those jobless for 27 weeks or more) was essentially unchanged at 2.0 million and accounted for 24.9 percent of the unemployed. (See table A-12.)

In September, both the labor force participation rate, at 62.9 percent, and the employment-population ratio, at 59.8 percent, changed little. (See table A-1.)

(…)

Total nonfarm payroll employment rose by 156,000 in September. Thus far this year, job growth has averaged 178,000 per month, compared with an average of 229,000 per month in 2015. In September, employment gains occurred in professional and business services and in health care. (See table B-1.)

Professional and business services employment rose by 67,000 in September and has risen by 582,000 over the year. Over the month, job gains occurred in management and technical consulting services (+16,000), and employment continued to trend up in administrative and support services (+35,000).

Health care added 33,000 jobs in September. Ambulatory health care services added 24,000 jobs over the month, and employment rose by 7,000 in hospitals. Over the past 12 months, health care has added 445,000 jobs.

Employment in food services and drinking places continued to trend up in September (+30,000) and has increased by 300,000 over the year.

Retail trade employment continued to trend up over the month (+22,000). Within the industry, job gains occurred in clothing and clothing accessories stores (+14,000) and in gasoline stations (+8,000). Over the year, employment in retail trade has risen by 317,000.

Mining employment was unchanged in September after declining by 220,000 from a peak in September 2014.

Employment in other major industries, including construction, manufacturing, wholesale trade, transportation and warehousing, information, financial activities, and government, changed little over the month.
The Bureau of Labor Statistics also reported that job growth for July was revised downward from +275,000 to +252,000 while the figures for August were revised upward from +151,000 to +167,000 for a net downward revision over those two months of -7,000 jobs. With these revisions and including the reported figures from August, job growth over the past three months has averaged +192,000 jobs per month, which is lower than it has been over the past three months. Since the start of the year, the BLS has reported that the economy created a total of 1,452,000 jobs have been created since the start of the year, which averages out to 177,900 new jobs created per month since the start of the year, this is lower than the average monthly jobs creation numbers as of last month and suggests that we've entered a a period of even slower jobs growth than we've become used to. Digging deeper into the report, there were no significant changes in the long-term employment rate or the labor force participation rate. The top-line unemployment report did increase from 4.9% to 5 .0 %, which appears to be due to a combination of both the fact that more people are looking for work and more people became unemployed during the past month. Once again, there were small upticks in the average hourly wages and hours worked numbers, but they were not significant changes and these numbers remain mired where they've been seemingly since the start of the year.
The New York Times characterizes the report as a sign of a 'resilient' economy:
As an election season marked by fears about jobs and wages enters the final stretch, the American economy looks more resilient than some campaign rhetoric might suggest.

Employers added 156,000 jobs last month, the Labor Department said Friday, enough to accommodate new entrants into the labor force and draw back workers who dropped out after the Great Recession.

The unemployment rate, which has been stuck at 4.9 percent since the spring, ticked up slightly to 5 percent.

The unemployment rate, which has been stuck at 4.9 percent since the spring, ticked up slightly to 5 percent.

For all the anxiety at home as well as turmoil abroad, like the "Brexit" vote in Britain, the American job machine continues to hum along.

Average hourly earnings moved higher by 0.2 percentage point last month, bringing the wage gain over the last 12 months to 2.6 percent.

While Friday's figures aren't likely to change expectations that the Federal Reserve will raise interest rates late this year, there was little in the report to suggest job gains might trigger inflation.

"There are still plenty of unemployed people out there, enough for employers to continue to hire at a substantial pace," said Michael Gapen, chief United States economist at Barclays.

"The expansion will end before you run out of labor," added Mr. Gapen, who estimates the unemployment rate could drop to 4 percent by the end of 2017. Indeed, the participation rate inched up to 62.9 percent, which explains the rise in the overall jobless rate to 5 percent.

Moreover, the labor force itself jumped by nearly half a million, a bright spot in an otherwise steady-as-she-goes picture of the economy.

"It was solid, not spectacular," said Diane Swonk, a veteran independent economist in Chicago. "The good news is that participation went up, even though the unemployment rate did too. Regaining that ground is very important."

Those two contrasting realities — healthy hiring and falling unemployment on the one hand, millions of economically sidelined Americans on the other — sustain the narrative of the two main presidential candidates, Hillary Clinton and Donald J. Trump.

Both candidates' critiques of the economy contain kernels of truth. Friday's report, while generally strong, contained fodder for both.

The jump in participation, along with healthy gains in higher-paying professional services fields, bolsters Mrs. Clinton's case that the economy is growing steadily and creating decent-paying jobs. The drop in manufacturing jobs by 13,000 will underscore fears among blue-collar voters that their livelihoods are imperiled, a main factor in Mr. Trump's appeal.

Although Wall Street watches every jobs report, this one will garner less attention because the Federal Reserve isn't expected to raise rates until December at the earliest. The Fed will meet in November, but it is not expected to raise rates so close to the election.

Moreover, holding off until December to decide on whether to tighten monetary policy would also give policy makers both the October and November jobs report to consider before their December meeting.

Despite steadily rising payrolls over the last several years, month-to-month wage gains have been very uneven this year. A big jump in January was followed by almost no increase in February. Similarly, a healthy performance in July seemed to peter out in August.

Before Friday's report, wages were up 2.4 percent over the last year. That is slightly better than the 2.3 percent annual increase in 2015, but it is still less that many recession-ravaged workers would hope to see at this point in the recovery.

Still, there are plenty of signs the tighter labor market is finally paying off and producing raises, particularly at the bottom and the top of the pay scale. It may also indicate that minimum wage increases in many states are beginning to filter through the broader economy.
As the Times indicates, a report such as this does seem to indicate that it's unlikely that the Federal Reserve will raise interest rates before its December meeting, and even then the decision will depend largely on the state of the economy at that point, which could be impacted significantly by both the jobs reports for October and November and the preliminary Gross Domestic Policy numbers that will be reported in October and November. As I've noted before, though, the Fed has hinted quite strongly over its past several meetings that it was more likely than not to raise rates slightly as it did last December. Allegedly this is due to signs of increased inflationary pressures on the economy, although those pressures have not been all that evident in the economic data that has been released publicly. Additionally, the board is unlikely to raise rates in its November meeting, which will take place just six days prior to the Presidential election and only days before the release of the Jobs Report for October As we saw last year, it's likely that we'll see about the same marginal increase that we saw last December. What impact that increase will have on the economy is, of course, something that we'll have to wait to see as we head into 2017.
In addition to Federal Reserve policy, these numbers are likely to have an impact on the Presidential race, although it isn't clear what that impact will be given the fact that there things about this report that both candidates can point to that help their respective economic messages. For Hillary Clinton, continued job growth is likely to be seen as a sign of the strength of the her economy and evidence in favor of her argument that we need to continue the policies of the Obama Administration to keep the economy growing. For Donald Trump and the Republicans, the fact that these numbers are good but not great is likely to be cited as an argument in favor of the proposition that we have been experiencing one of the weakest economic recoveries since the end of World War II and that only a change in tax and fiscal policy will reignite the economic engine and bring us closer to the kind of numbers that we really need to fully put the Great Recession behind us. Which argument the voter buy will depend largely on how individual voters feel and how they feel the economy is impacting them personally. That interpretation by the voters will go a long way toward to deciding how this election turns out a month from now