Sharron Angle Is Running For Senate Again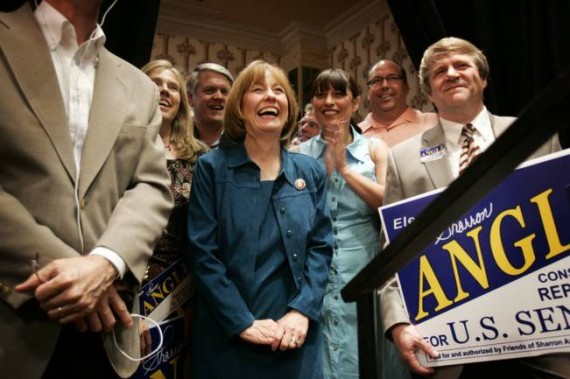 Sharron Angle, who by all accounts blew what could have been an historic Republican Senate pickup in 2010 when she lost to then Senate Majority Leader Harry Reid in what was otherwise a Republican wave year, is running for Reid's seat yet again:
Sharron Angle, a controversial Tea Party Republican who upset the 2010 Nevada GOP primary is reviving her bid for the Senate, the Las Vegas Review-Journal reports.

She will face off against Rep. Joe Heck in the primary, hoping to fill Democratic Leader Harry Reid's spot after his retirement.

Angle was part of the 2010 Tea Party surge and captured 40 percent of the vote in the 2010 primary. She lost to Reid by about 6 percentage points.

"What we did in 2014 was we didn't have more Christine O'Donnell's, Sharron Angles, Richard Mourdocks or Todd Akins. The people that were nominated [last year] were electable," McConnell said in December, referring to the last midterm cycle. "That will happen again in 2016. We will not nominate anybody for the United States Senate on the Republican side who's not appealing to a general-election audience."
Reid's seat is one that Republicans hope to win in November, and doing so would potentially offset any losses they may suffer among their own vulnerable Senate seats. Until now, only Congressman Heck was running for the GOP nomination, so this would seem to complicate things. However, as we saw in 2014 Republicans have learned how to deal with insurgent primary candidates like Angle far better than they did in either 2010 and 2012 and Heck is a far more formidable candidate from Angle's perspective than the field she faced in 2010, so winning the nomination seems far less likely for her than it was six years ago. Nonetheless, this should make the Republican primary in Nevada at least somewhat more entertaining.