Shepard Smith Out at Fox [UPDATED]
The longtime anchor is leaving the network, ostensibly at his request.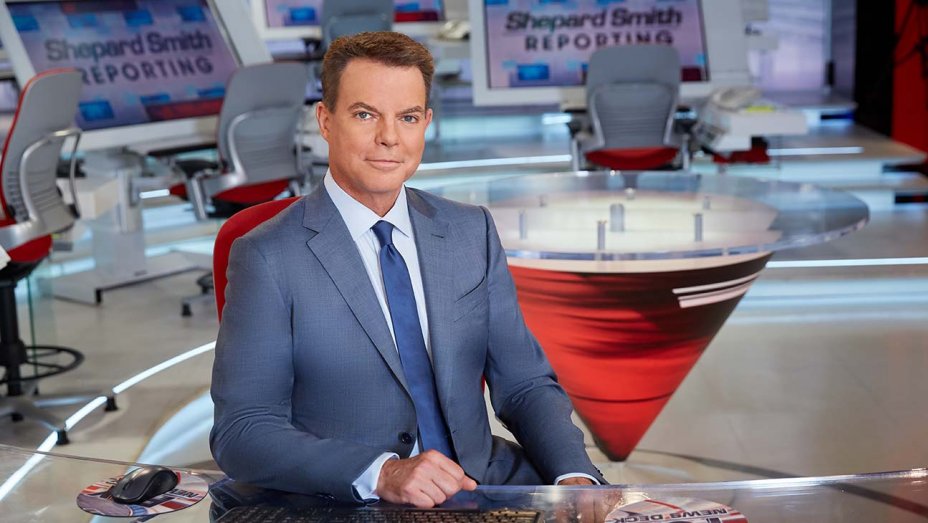 In a surprising move, the most visible face on the "news" side of the conservative network mostly known for its right-leaning commentary programming, has announced his departure.
In a shocking turn of events that stunned the media industry, Fox News anchor Shepard Smith announced his departure from the network after more than 23 years on Friday afternoon.

Smith is one of the faces of the network's news division and one of its most important journalistic assets. The decision was Smith's, Fox News said.

"Recently I asked the company to allow me to leave Fox News and begin a new chapter," Smith said. "After requesting that I stay, they graciously obliged. The opportunities afforded this guy from small town Mississippi have been many. It's been an honor and a privilege to report the news each day to our loyal audience in context and with perspective, without fear or favor. I've worked with the most talented, dedicated and focused professionals I know and I'm proud to have anchored their work each day — I will deeply miss them."

The 3 p.m. hour on Fox News will be hosted by "a series of rotating anchors … until a new dayside news program is announced," the network said.

Fox News president Jay Wallace, who was once Smith's producer, said in a statement: "Shep is one of the premier newscasters of his generation and his extraordinary body of work is among the finest journalism in the industry. His integrity and outstanding reporting from the field helped put Fox News on the map and there is simply no better breaking news anchor who has the ability to transport a viewer to a place of conflict, tragedy, despair or elation through his masterful delivery."

Wallace continued: "We are proud of the signature reporting and anchoring style he honed at Fox News, along with everything he accomplished here during his monumental 23-year tenure. While this day is especially difficult as his former producer, we respect his decision and are deeply grateful for his immense contributions to the entire network."

The network had announced in March 2018 that Smith had inked a new multi-year contract. "Shepard Smith is an exemplary journalist whose skill in anchoring breaking news is unrivaled," owner Rupert Murdoch said at the time. "His powerful storytelling on both television and digital platforms has elevated our entire news gathering process."

[…]

Smith's announcement on Friday seemed to come as a surprise to even his colleagues, as anchor Neil Cavuto told viewers that he's "a little stunned and a little heartbroken."

Smith, along with anchors Chris Wallace, Bret Baier and Martha MacCallum, is one of the key symbols of the network's commitment to journalism, balancing out the network's opinion wing, which includes hosts like Sean Hannity, Laura Ingraham and Tucker Carlson. (He has, in the past, sparred gently with the opinion side at the network, telling Time magazine in an interview that they don't have rules. Hannity pushed back.)

On Sept. 25, Smith called out Carlson for not pushing back when a guest, the lawyer Joe diGenova, called Fox News senior judicial analyst Andrew Napolitano "a fool" on his show. "Attacking our colleague who's here to offer legal assessments on our air is repugnant," Smith said.

Smith has also frequently drawn the ire of President Trump, who has lambasted him in several tweets, even as he expresses strong support for the network's opinion hosts.
The New York Times confirms the report, using most of the same quotes.
I suppose this shouldn't be that surprising considering how uncomfortable Smith seemingly has to be at the network. Not only is he a voice of reason on an outlet mostly known for partisan hysterics, but he's an openly gay man on a network that frequently gives air time to homophobes.
Still, he'd been there for nearly a quarter-century and has been, since Britt Hume stepped down to a lesser role in 2006, the face of the news side of the network. Until recent flare-ups, it certainly seemed like he got along well enough with his colleagues.
UPDATE (0811, 12 October): CNN's Brian Stelter, who is working on a book about Fox in the Trump era, adds considerably more insight into "Why Shep Smith finally walked out of Fox News for good."
Last month Shep Smith decided that he had simply had enough.

With President Trump actively distorting the truth and many of his own colleagues helping him do it, the Fox News star prided himself on anchoring a newscast that countered the network's pro-Trump opinion shows.

The way Smith saw it, he was making sure that accurate information was getting on Fox's air.

"I wonder," he told a Time magazine reporter last year, "if I stopped delivering the facts, what would go in its place in this place that is most watched, most listened, most viewed, most trusted? I don't know."

But he had had enough. In September, according to a well-placed source, he went to Fox News management and asked to be let out of his long-term contract. Tensions with the opinion shows were the breaking point.

[…]

"Some of the top names among the news side at Fox" have been "leaving voluntarily one by one," a former staffer pointed out, as big chunks of the network have basically been co-opted by Trump.

Carl Cameron, who used to be Fox's chief political correspondent, said earlier this year, "Shep and I were among the first hires" at Fox "and I give that man huge credit for continuing to do it. I reached my limit." He left soon after Trump took office.

[…]

Smith's show was the ultimate manifestation of the tensions between news and opinion at Fox.

His 3 p.m. hour, "Shepard Smith Reporting," was one of Fox's most celebrated shows outside the building — especially among critics of the right-wing prime time lineup.

But his ratings were low by Fox standards.

So on the one hand, Smith's fans were glad he was on Fox, trying to counteract the propagandistic shows elsewhere on the network's schedule. But they weren't part of Fox's core audience.

To the contrary, many of the network's loyal viewers detested Smith for the very same reasons that others cheered for his solid reporting. Trump was one of those loyal viewers who hated Smith.

[…]

Smith used to have a much-sought-after evening time slot, at 7 p.m., leading in to "The O'Reilly Factor." In 2013, he was moved to 3 p.m. and given a new title, managing editor of Fox's breaking news division.

[…]

In theory Smith would be in charge of anchoring big breaking news stories throughout the day, but this rarely happened in practice. Other hosts didn't want their time slots to be taken over by Smith. So he became relatively isolated in the afternoon.

And once Trump took over, Smith seemed to be marginalized. He was the target of occasional attacks from Trump, which was frustrating for Smith and his producing team, a source said.

In an interview with Time magazine when he renewed his contract in March 2018, he said the job has been "more challenging" during the Trump presidency, "and more challenging is more fun."

Time reporter Daniel D'Addario said that Smith "decided to stay" at the network "in some part because the times are so precarious. In his telling, before he signed his new contract, he was nervous about what would come on Fox's air after he left."
So, essentially, he put up with a lot because 1) he was getting paid $15 million a year and 2) he could be a lone source of actual news for an audience getting fed pro-Trump propaganda all day, in some order. Increasingly, though, his ability to do the latter was marginalized and the money wasn't enough.