Shirley Temple Black Dies At 85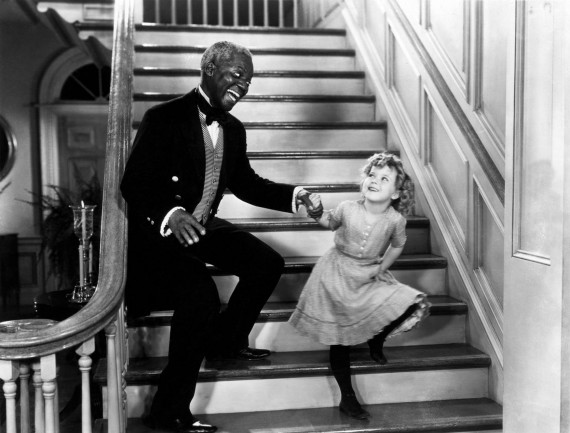 Shirley Temple Black, who became one 0f the biggest stars in Hollywood history at a very young age, has passed away at the age of 85:
Shirley Temple Black, who as a dimpled, precocious and determined little girl in the 1930s sang and tap-danced her way to a height of Hollywood stardom and worldwide fame that no other child has reached, died on Monday night at her home in Woodside, Calif. She was 85.

Her publicist, Cheryl Kagan, confirmed her death.

Ms. Black returned to the spotlight in the 1960s in the surprising new role of diplomat, but in the popular imagination she would always be America's darling of the Depression years, when in 23 motion pictures her sparkling personality and sunny optimism lifted spirits and made her famous. From 1935 to 1939 she was the most popular movie star in America, with Clark Gable a distant second. She received more mail than Greta Garbo and was photographed more often than President Franklin D. Roosevelt.

The little girl with 56 perfect blonde ringlets and an air of relentless determination was so precocious that the usually unflappable Adolphe Menjou, her co-star in her first big hit, "Little Miss Marker," described her as "an Ethel Barrymore at 6" and said she was "making a stooge out of me."

When she turned from a magical child into a teenager, audience interest slackened, and she retired from the screen at 22. But instead of retreating into nostalgia, she created a successful second career for herself.

After marrying Charles Alden Black in 1950, she became a prominent Republican fund-raiser. She was appointed a delegate to the United Nations General Assembly by President Richard M. Nixon in 1969. She went on to win wide respect as the United States ambassador to Ghana from 1974 to 1976, was President Gerald R. Ford's chief of protocol in 1976 and 1977, and became President George H. W. Bush's ambassador to Czechoslovakia in 1989, serving there during the fall of Communism in Eastern Europe.

After winning an honorary Academy Award at the age of 6 and earning $3 million before puberty, Shirley Temple grew up to be a level-headed adult. When her cancerous left breast was removed in 1972, at a time when operations for cancer were shrouded in secrecy, she held a news conference in her hospital room to speak out about her mastectomy and to urge women discovering breast lumps not to "sit home and be afraid." She is widely credited with helping to make it acceptable to talk about breast cancer.

A statement released by her family said, "We salute her for a life of remarkable achievements as an actor, as a diplomat, and most importantly as our beloved mother, grandmother, great-grandmother and adored wife for fifty-five years of the late and much missed Charles Alden Black."

Shirley Jane Temple was born in Santa Monica, Calif., on April 23, 1928. From the beginning, she and her mother, Gertrude, were a team ("I was absolutely bathed in love," she remembered); her movie career was their joint invention. Her success was due to both her own charm and her mother's persistence.

In "Child Star," her 1988 autobiography, Mrs. Black said her mother had made a "calculated decision" to turn her only daughter into a professional dancer. At a fee of 50 cents a week, Mrs. Temple enrolled 3-year-old Shirley in Mrs. Meglin's Dance Studio.

In 1932, Shirley was spotted by an agent from Educational Pictures and chosen to appear in "Baby Burlesks," a series of sexually suggestive one-reel shorts in which children played all the roles. The 4- and 5-year-old children wore fancy adult costumes that ended at the waist. Below the waist, they wore diapers with oversize safety pins. In these heavy-handed parodies of well-known films like "The Front Page" ("The Runt Page") and "What Price Glory" ("War Babies"), Shirley imitated Marlene Dietrich, Mae West and — wearing an off-the-shoulder blouse and satin garter as a hard-boiled French bar girl in "War Babies" — Dolores Del Rio.

(…)

Her career began in earnest in 1934, when she was picked to play James Dunn's daughter in the Fox fantasy "Stand Up and Cheer," one of many films made during the Depression in which music chases away unhappy reality. She was signed to a two-week contract at $150 a week and told to provide her own tap shoes.

Within an hour of completing her song-and-dance number "Baby, Take a Bow," she was formally placed under contract to Fox for a year at $150 a week. The studio had an option for seven more years and would pay Gertrude Temple an additional $25 each week to take care of her daughter.

In its review of "Stand Up and Cheer" (1934), Variety called Shirley Temple a "sure-fire potential kidlet star." She made eight movies in 1934 and moved from potential to full star in February, when Fox lent her to Paramount for "Little Miss Marker," based on a Damon Runyon story.

Playing a child left with a bookie (Adolphe Menjou) as a marker for her father's gambling debts, Shirley reforms a gang of gamblers, bookies and horse dopers. She would play a similarly wise and maternal miniature adult, dominating the adults around her and solving their problems with unbounded optimism and common sense, in most of her films.

She brought peace to a British regiment fighting rebels in India in "Wee Willie Winkie" (1937) and to white men and Indians in "Susannah of the Mounties" (1939). She was frequently cast as an orphan, the better to show adults how to cope with adversity: her father committed suicide in "Little Miss Marker"; her aviator father crashed and her mother was killed by a car in "Bright Eyes" (1934); she was the sole survivor of a shipwreck in "Captain January" (1936).

"People in the Depression wanted something to cheer them up, and they fell in love with a dog, Rin Tin Tin, and a little girl," Mrs. Black often said in appraising her success.

It is no surprise that Shirley Temple dolls were the best-selling dolls of the decade (and are valuable collectibles now). In many of her films she was a living doll, adored by entire groups of men: aviators in "Bright Eyes," a Yankee regiment in "The Little Colonel" (1935).

No Shirley Temple movie was complete without a song — most famously "On the Good Ship Lollipop" and "Animal Crackers in My Soup" — and a tap dance, with partners including George Murphy, Jack Haley and Buddy Ebsen. But her most successful partnership was with the legendary African-American entertainer Bill (Bojangles) Robinson. She may have been the first white actress allowed to hold hands affectionately with a black man on screen, and her staircase dance with Mr. Robinson in "The Little Colonel," the first of four movies they made together, retains its magic almost 80 years later.
From Variety:
A string of non-stop hits starting with "Little Miss Marker" in 1934 and continuing with such films as "Captain January," "Poor Little Rich Girl" and "Wee Willie Winkie" captured Depression-era America's heart, keeping the troubled 20th Century Fox solvent.

The dimpled, blonde, curly-headed Temple was the nation's top box office attraction from 1935-38 and one of the nation's top wage earners. Reflecting the extent of her popularity, she received 135,000 birthday cards on her 11th birthday. By 1938, 20th Century Fox, the studio for which she earned some $30 million, had upped her salary to $10,000 a week.

Temple did not survive the transition to adult performer as other stars such as Elizabeth Taylor, Mickey Rooney and Natalie Wood did. Though she continued appearing in films until the late 1940s, she was never able to live up to her years as a child star — or live them down, for that matter.

After surviving a serious illness due to complications from childbirth and, later, a mastectomy, Temple evolved into a diplomat. She ran unsuccessfully for Congress from San Mateo County, Calif. She was U.S. representative at the United Nations, ambassador to Ghana, U.S. chief of protocol under President Gerald Ford and President George H.W. Bush's ambassador to Czechoslovakia.

But in her heyday, Temple was a national treasure and an American icon, as big a star around the world as Greta Garbo or Charlie Chaplin. And though, except for a brief TV stint in the late '50s, Temple was never onscreen after the 1940s, subsequent generations grew up with her films on television and video.

She was born in Santa Monica, the third child and only girl of George and Gertrude Temple. Her mother enrolled her at age 3 in Meglin Dancing School, where in 1932, she was spotted by movie talent scout Charles Lamont. She was soon appearing in a series of shorts called "Baby Burlesks," in which child actors spoofed current adult stars such as Marlene Dietrich.

In 1933, she was chosen by songwriter Jay Gorney to do the musical number "Baby Take a Bow" in the musical "Stand Up and Cheer." She stopped the show cold in her one appearance and became an instant star by stealing "Little Miss Marker" from an openly resentful Adolphe Menjou. Under contract at Fox, she was earning $150 a week (as well as a separate salary for her mother) when she made her studio debut in "Baby Take a Bow" in 1934, a year in which she made eight films including "Now and Forever" and "Bright Eyes." She ended up in eighth place in the box office polls.

The next year she skyrocketed to the top, ahead of Clark Gable, Mae West and Joan Crawford, with such films as "Curly Top," "The Little Colonel" (in which she danced with Bill "Bojangles" Robinson) and "The Littlest Rebel." Her rendition of "Good Ship Lollipop" was a national sensation, and the tune essentially became her theme song.

She received a special Academy Award in 1935 and remained America's sweetheart over the next four years in more than 20 films including "Heidi," "Rebecca of Sunnybrook Farm," "The Little Princess," "Dimples," "Little Miss Broadway" and "Stowaway."

Temple was earning $1,500 a week (and her mother an additional $500) by the end of 1935 and more than twice that a year later. Fox had her insured with Lloyd's of London. In 1938, her last year on top, she is reported to have earned more than $300,000, a staggering sum for those times, particularly for a worker only 10 years old.

Licensing of Temple's likeness also brought in substantial sums during the peak of her popularity in the late 1930s. Temple paraphernalia was packaged in boxes of Wheaties, and Shirley Temple dolls generated sales of $45 million before 1941, according to Temple's autobiography.

(…)

In 1941, MGM's Louis B. Mayer, who had wanted to use her as Dorothy in "The Wizard of Oz" but couldn't get her, signed Temple with the goal of adding her to the Judy Garland-Mickey Rooney film team but ended up paying her $2,500 per week to be in "Kathleen," which didn't succeed; 1942's "Miss Annie Rooney," at United Artists, also performed poorly.

Temple continued her studies for the next two years until David O. Selznick signed her for "Since You Went Away," a big-budget war romance with Claudette Colbert and Jennifer Jones. It was followed by "I'll Be Seeing You," which starred Ginger Rogers.

In 1945, at age 17, Temple married 22-year-old John Agar, the son of a wealthy Chicago Meat packer who had acting aspirations of his own. They starred with John Wayne in John Ford's 1948 Western "Fort Apache" (the couple also starred together in "RKO's "Adventure in Baltimore" in 1949.) The marriage produced a daughter, Linda Susan.

By then, Temple's career had come to a grinding halt. Despite the occasional success such as "The Bachelor and the Bobby-Soxer" and "That Hagen Girl" (which was Temple's favorite),  she sputtered out with such films as "The Story of Seabiscuit" and her last pic, "A Kiss for Corliss."

She auditioned for but did not secure the role of Peter Pan on Broadway in August 1950 and announced her official retirement from films in December.
The $300,000 Temple earned in 1938 translates, according to rough calculation I've done with the help of the Internets, to about $5,000,000 in 2013 dollars. This is a paltry sum compared to what Hollywood stars earn today, of course, but Temple was working in an era when the studios had near total control over their stars in a way that simply doesn't exist anymore. Given the restrictions of the system at the time, $300,000 a year was a tremendous amount of money and Temple was arguably the first big mega-star to come out of Hollywood.
I suppose that, like myself, most readers are far too young to have seen Temple at the height of her career, but I do recall seeing clips of her performances at various times on television. One can easily see how they became instantly popular at a time that the nati0n was going through the depths of the Great Depression and clouds of war were just starting to appear on the horizon.