Should Government Get Out Of Marriage Business?
Should we abandon the notion of civil marriage? Would doing so end the clash over homosexual unions?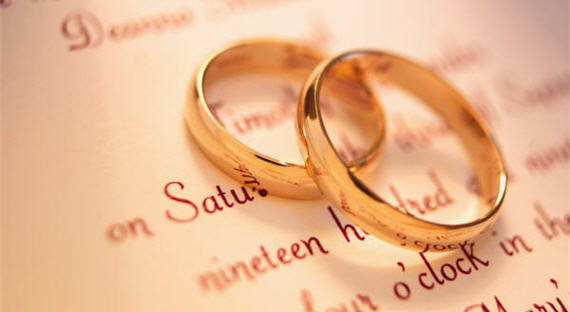 Denver Post columnist David Harsanyi touts an idea that's been gaining some steam as the argument over gay marriage heats up:  "isn't it about time we freed marriage from the state?"
Imagine if government had no interest in the definition of marriage. Individuals could commit to each other, head to the local priest or rabbi or shaman — or no one at all — and enter into contractual agreements, call their blissful union whatever they felt it should be called and go about the business of their lives.
While we're at it, imagine there's no Heaven, no countries, no possessions, and all the people sharing all the world!
I certainly don't believe that gay marriage will trigger societal instability or undermine traditional marriage — we already have that covered — but mostly I believe your private relationships are none of my business. And without any government role in the institution, it wouldn't be the business of the 9th Circuit Court, either.

As the debate stands now, we have two activist groups trying to force their own ethical construction of marriage on the rest of us. And to enforce it, they have been using the power of the state — one via majority rule and the other using the judiciary (subject to change with the vagaries of public opinion).
GayPatriot's B. Daniel Blatt likes the idea:
Harsanyi noted that even Associate Supreme Court Justice Elena Kagan, who bent over backwards to appease gay groups at Harvard Law School, "recently wrote that 'There is no federal constitutional right to same-sex marriage.'"  She's right on that one.

Nothing in the constitution mandates that the states recognize same-sex marriage.  By the same token, nothing in the constitution requires that courts overturn state actions recognizing same-sex marriage.  Indeed, it's pretty clear that the constitution protects such actions.

All that said, Harsanyi is on to something.  We could avoid all these battles if the state simply removed itself from the business of marriage.
Jeff Goldstein demurs:
Well, there's that and the thousands of years of precedent about what marriage is and what it isn't — but to certain libertarians, that's to be casually tossed aside as "none of their business."

I disagree. The state has certain reasons to promote certain behaviors — and marriage traditionally understood, though it doesn't always culminate in new citizens, taxpayers, etc., does at least form the basis for a family structure that historically (and biologically) best serves children.

The point being that the state's involvement in marriage is only a problem when the courts begin making pronouncements that marriage, as it has long been defined, is itself a kind of arbitrary and illegitimate exercise — that "gender" shouldn't matter in the makeup of the coupling that comes to count as "marriage".
We opened Thursday's OTB Radio with a longish discussion of Walker's ruling and touched on this idea a bit.   Dave Schuler argued that, if the definition of "marriage" is expanded beyond traditional definitions, we should drop it as a civil institution altogether and make it the province of churches.   Doug Mataconis thinks it a good idea, generally.
When the idea was first being batted around several years ago, I favored it.  Now, I'm not so sure.
In a classic case of Where you stand is where you sit, I've married and had a child in the interim.   And it's clear to me that we need the convenience of an institution like marriage and its various legal protections for partners and their children.
Now, I suppose we could replace it with a set of complicated contracts:  wills, powers of attorney, adoptions, and so forth.  But that would be much more burdensome than a single legal act that solves the issues.  And there's always the chance of sudden death that puts things into legal limbo before the parties would have an opportunity to execute a particular contract.  Say, one parent dies during childbirth or just before.  Now, custody is a non-issue if the couple is married.   If the parents were in a mere business relationship consecrated by a series of contracts, it would be murkier and require legal wrangling at a particularly emotional time.
Presumably, all of that's solvable.   But, essentially, you'd be re-creating civil marriage under another name.   Which seems rather pointless, since we already have it.
Unless, of course, the sacramental nature of the word "marriage" is truly what the gay marriage debate is about.  Would the objections melt away if we simply started having civil unions — or whatever you want to name the institution — rather than "marriage" for all couples, regardless of gender combination.    I seriously doubt it. The subset of Americans who enthusiastically support same-sex relationships but merely object to the word "marriage" on religious grounds is small, indeed.