Should Obama Schmooze Republicans More?
Conor Friedersdorf turns the oft-asked question on its head.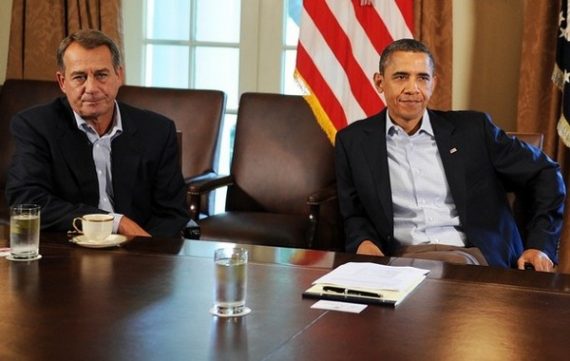 Conor Friedersdorf turns the often-heard lament that President Obama would be more successful if he spent more time building personal relationships with Congressional Republicans on its head:
What I think about, whenever I read these stories, is what they say about Congress. Who are these shallow, frivolous legislators who'd change their votes on matters of great substance if only the president would butter them up with playdates?

After all, the premise behind the criticism is always that Obama is doing his agenda a significant disservice by failing to schmooze, not that it might help a bit in close cases. Washington, D.C., is awash in people who've publicly alleged as much. If these people know of legislators who behave this way, why not complain about them instead? Or at least call out their behavior in addition to Obama's refusal to adapt to it. "This is the knowing talk on Wall Street, on K Street, on Capitol Hill, in green rooms—the 'Morning Joe' consensus," Remnick writes.

Morning Joe has its share of reasonable, early-morning Washington commentary. And if they're so sure this is a thing, they must know names. So how about it, folks? Why not do a segment on the legislators most notorious for changing their votes depending on the degree to which they've been buttered up? I'll bet there are some great anecdotes floating around town on that subject. Let's hear 'em! Rather than just dinging people for failing to adapt to Washington pathologies, how about attacking the pathologies themselves this once?
While interesting in a Slate-pitch sort of way, I think Conor is arguing against a straw man here. The argument isn't that Members would change their vote on key issues because they'd be star struck over dinner with the Big Dog or that they're voting the way they are out of some sort of pique, but that relationships matter. It's simply easier to build consensus when you see your opponents as real, decent human beings who want most of the same things you do and just differ on the best way to get there.
Obama has a reputation for being something of a cold fish but he's also pretty clearly a decent fellow. And it's conceivable that spending more time socializing with key Congressional leaders on both sides of the aisle would make some of the over-the-top demagoguery that's become more common in Washington.
Then again, the rise of the political warfare mindset, where ideological opponents even within the conservative wing of the Republican Party are treated as enemies rather than mere political rivals, may render this argument moot. The pressure from the Tea Party faction, both institutionally and at the grass roots level, may be so strong that the personal relationships between politicians in the Capitol just don't matter. It's hard to imagine something like the working relationship between Ronald Reagan and Tip O'Neill being lauded today; instead, Reagan would be instantly labeled a RINO, if not a traitor, for daring to make compromises.