Should We Be More Like Germany?
What do the critics mean when they say that the United States should be more like Germany?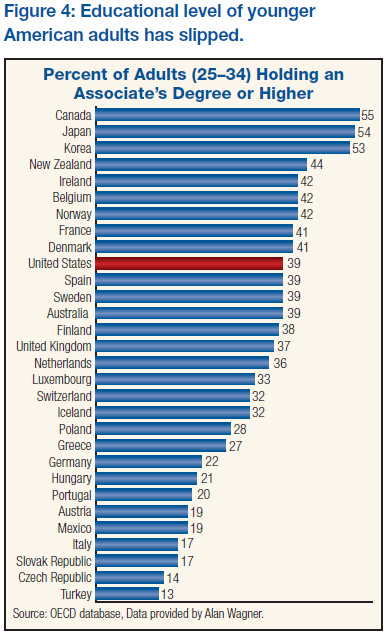 Recently, in the aftermath of reports of Germany's astonishing 2nd quarter 2010 economic growth, there have been calls that we should be more like Germany. So, for example, Tom Friedman remarks in his column today:
Thanks to Internet diffusion, the rise of cloud computing, social networking and the shift from laptops and desktops to hand-held iPads and iPhones, technology is destroying older, less skilled jobs that paid a decent wage at a faster pace than ever while spinning off more new skilled jobs that pay a decent wage but require more education than ever.

There is only one way to deal with this challenge: more innovation to stimulate new industries and jobs that can pay workers $40 an hour, coupled with a huge initiative to train more Americans to win these jobs over their global competitors. There is no other way.

But the global economy needs a healthy Europe as well, and the third structural challenge we face is that the European Union, a huge market, is facing what the former U.S. ambassador to Germany, John Kornblum, calls its first "existential crisis." For the first time, he noted, the E.U. "saw the possibility of collapse." Germany has made clear that if the eurozone is to continue, it will be on the German work ethic not the Greek one. Will its euro-partners be able to raise their games? Uncertain.

Keeping up with Germany won't be easy. A decade ago Germany was the "sick man of Europe." No more. The Germans pulled together. Labor gave up wage hikes and allowed businesses to improve competitiveness and worker flexibility, while the government subsidized firms to keep skilled workers on the job in the downturn. Germany is now on the rise, but also not free of structural challenges. Its growth depends on exports to China and it is the biggest financier of Greece. Still, "Germany is no longer the country with the oldest students and youngest retirees," said Kornblum.
It's not entirely clear to me what Mr. Friedman or others making similar claims mean. Consider the graph above. It illustrates the percentage of associate or college graduates among OECD countries in the 25 to 34 age cohort. Note that the United States has considerably more graduates as a percentage of the cohort than Germany does. When you further break down the graduates between university graduates (which corresponds to a 4 year college program in the United States) and others, the U. S. lead is even more striking (indeed, this may be part of our problem). But it's clear that education as such cannot be the primary feature the critics want us to emulate.
It can't be a difference between Germany and the United States in corporate taxation. According to the OECD the effective rates in the tax countries are much the same.
It's not a difference in energy intensity between the two countries viz: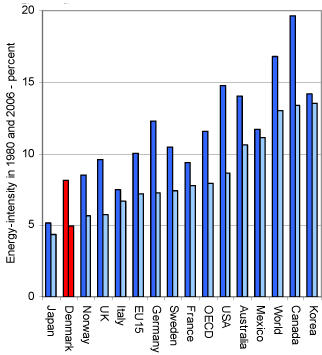 To my eye the two biggest differences between Germany and the United States is that the Germans export significantly more as a percentage of their economy and we consume a lot more.
Germany is one of the relatively few countries who have a merchandise trade surplus with China. They should gather rosebuds while they may. What they export to China isn't wiener schnitzel. Germany manufactures the machine tools that China uses to build its factories which the Chinese, in turn, use to manufacture consumer goods that they export to the United States. It won't be that way forever. China wants to manufacture its own machine tools and I strongly believe that in the near future Germany will find itself with the same adverse trade situation with respect to China that faces much of the rest of the world.
Our advance publicity notwithstanding we are already a major exporting county and the only way that our exports can rise to German heights as a proportion of our economy is for us to consume less. Despite the president's goal for doubling our exports the numbers do not support that objective. Our current exports are already high enough that the rest of the world would need to increase its imports from us to degree that I strongly suspect local leaders would find frightening for it to happen.
There are two primary culprits in our consumption patterns in which we differ markedly from Germany: oil and healthcare. We consume more than twice as much oil per capita as the Germans do and we spend twice as much per capita as they do on healthcare.
I see very little in our current policies that would affect either of these two expenses. For us to consume considerably less oil we'd need to change where we live and work and how we move ourselves and the things we buy and sell around. And for us to spend at German levels on healthcare providers would need to take a substantial pay cut. Neither of these things appear to be on the table.
In the end I'm left in a quandary. What in the world do people mean when they say we should be more like Germany?