Should We Even Call Them Phones Anymore?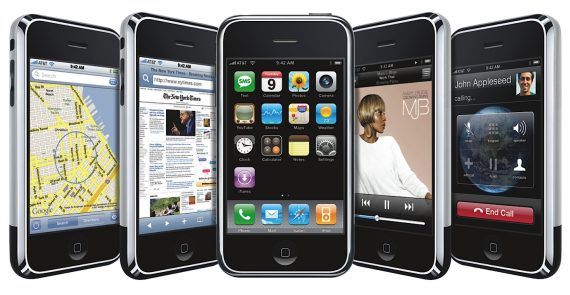 Andrew Sullivan makes note of this chart showing that making phone calls was the fifth most popular use of a smart phone according to a recent study: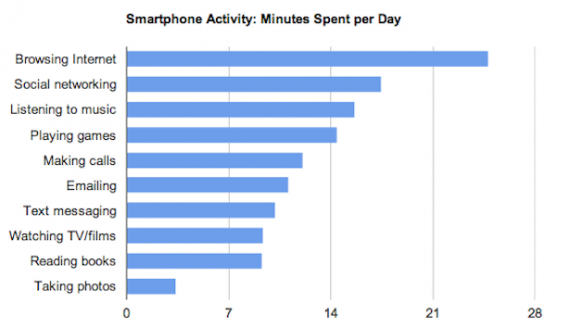 Megan Garber comments:
This is all per a report released by the UK mobile network O2 (more on the numbers here). And the findings translate: voice minutes per user have been falling here in the States since 2008, according to CTIA, the wireless industry association; customers, as such, have been cutting back on their voice plans. That's due in part, perhaps, to the fact that the iPhone, the ur-smartphone, relies on notoriously inconsistent networks for its voice services … but it's due as well to the cultural shifts away from the phone conversation itself. A text message is more efficient than a voice call; an email — which lets the recipient respond in his or her own time — can be the most considerate way, these days, to reach out and touch someone.

The smartphone itself is both a cause and an effect of that shift. In offering efficient alternatives to the phone call, it helps assure not the obsolescence of the call itself, but the evolution of the call into a kind of luxury good — reserved for the most valuable people in our lives. The smartphone introduces friction into the concept of a "phone" itself. As a portable calling device, the smartphone is bulky and call-droppy and shattery (who makes a mobile device out of glass?) and, it must be said, noticeably unfriendly to the cheek. As a portable computer, however, the smartphone is elegant and efficient and – Mr. Jobs was not exaggerating – revolutionary. It's a computer with phone functionality, rather than the other way around.
Though this study was from a British carrier, there's no reason to believe that the same trend isn't being repeated here in the U.S. As I noted back in May, in 2009 the amount of data transmitted by smart phones surpassed the amount of voice data, three years later it's likely that the differences between the two have become even more apparent.  With the advent of 4G networks nationwide, most carriers have moved away from unlimited data plans but have kept unlimited phone minutes, suggesting that these devices are fast becoming portable computers that you can make a phone call with rather than phones that you can use to access the Internet.