Signs Of A Temporary Deal In Washington?
There seems to be at least some hope for a temporary deal in Washington to end the shutdown and raise the debt ceiling, but don't count your chickens just yet.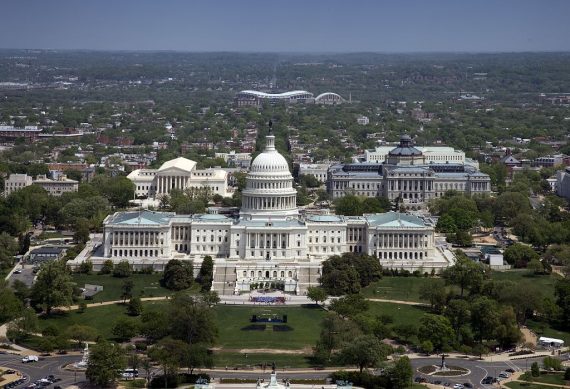 The initial reports out of the House Republicans meeting with President Obama yesterday afternoon didn't seem good at all. When it ended shortly after 6pm, neither Speaker Boehner nor any of the other leaders or committee chairs stopped in front of the microphones outside the White House to speak to reporters, which some took as a bad sign. Indeed, Business Insider's Josh Barro characterized the news as "Obama To GOP: Drop Dead," and The New York Times initially reported the story as being the President rejecting the GOP's plan for a short term increase in the debt ceiling and negotiations over reopening the Federal Government. As the evening wore on, though, things didn't seem quite so dire. Statements from Republicans like Eric Cantor and Hal Rogers expressed optimism that a deal could be worked out and, most surprisingly, one GOP Congressman who was in the room at the White House told CNBC's Larry Kudlow that the GOP hoped to be able to have a plan to re-open the government in the coming days. This morning, while it's clear that there's no deal yet, it also seems like there might be something coming together:
WASHINGTON — President Obama and House Republicans failed to reach agreement on a six-week extension of the nation's borrowing authority during a meeting Thursday at the White House, but the two sides kept talking, and the offer from politically besieged Republicans was seen as an initial step toward ending the budget standoff.

In statements afterward that struck the most positive tone in weeks of acrimony, House Republicans described their hour-and-a-half-long meeting with Mr. Obama as "a useful and productive conversation," while the White House described "a good meeting," though "no specific determination was made" about the Republicans' offer. Both agreed to continue talks through the night.

People familiar with the meeting said that Mr. Obama pressed Republicans to reopen the government, and that Republicans raised the possibility that financing could be restored by early next week if terms for broad budget negotiations could be reached.

Twenty Republicans, led by Speaker John A. Boehner, went to the White House at Mr. Obama's invitation after a day of fine-tuning their proposal to increase the Treasury Department's authority to borrow money to pay existing obligations through Nov. 22. The government is expected to reach its borrowing limit next week. In exchange, they sought a commitment by the president to negotiate a deal for long-term deficit reduction and a tax overhaul.

The president "didn't say yes, didn't say no," said Representative Paul D. Ryan, Republican of Wisconsin and chairman of the House Budget Committee. He added, "We agreed to continue talking and continue negotiating."

Still, the House Republican offer represented a potentially significant breakthrough. Even if Democrats found fault with the Republicans' immediate proposal — for example, it would prevent the Treasury secretary from engaging in accounting maneuvers to stave off potential default — it was seen as an opening gambit in the legislative dance toward some resolution before the government is expected to breach its debt limit on Thursday.

Even before the meeting, the White House and its Democratic allies in Congress were all but declaring victory at the evidence that Republicans — suffering the most in polls, and pressured by business allies and donors not to provoke a government default — were seeking a way out of the impasse.

After some fretful weeks, the Democrats believe, Mr. Obama was seeing some payoff for his big gamble this year. Burned by his experience with House Republicans in mid-2011, when brinkmanship over the debt limit hobbled the already weak economy, Mr. Obama began his second term vowing never again to negotiate over raising the ceiling or to give any concessions to Republicans for performing an act that is their constitutional responsibility.

"The good news is that Republicans have accepted the principle that they're not going to attach conditions to the debt ceiling," said Representative Chris Van Hollen of Maryland, the senior Democrat on the House Budget Committee. "The bad news is they've only extended the debt ceiling for six weeks."

For House Republicans, the maneuvers represented a near-reversal of their original strategy in September of going to the mat over the debt limit but not shutting down the government. Now, under pressure from falling poll numbers and angry business supporters, they are seeking a compromise on the debt ceiling. Yet for now, they are still refusing to finance and reopen the government without some concessions.

Mr. Boehner and his colleagues left the White House without speaking to waiting reporters, and quickly gathered in his Capitol suite for further discussion. Their debt limit proposal could come to a vote as soon as Friday.
One thing that may be motivating the House Republicans to come up with something is the fact that their colleagues in the Senate are growing restless:
In the Senate, top Republicans began crafting a proposal that would reopen the government and raise the federal debt limit for as long as three months — an approach closer to the terms Obama has set to end the standoff.

The developments meant that bipartisan negotiations were suddenly underway on two separate tracks Thursday after weeks of stalemate. Major questions remain, however, about the path ahead.

Both sides described Obama's evening session with House Republicans as a "good meeting" and said talks will continue.

"The president's goal remains to ensure we pay the bills we've incurred, reopen the government and get back to the business of growing the economy," the White House said in a statement.

House Speaker John A. Boehner (R-Ohio) left the session and returned to the Capitol without speaking to reporters. Majority Leader Eric Cantor (R-Va.) said the meeting was "clarifying," even though it did not produce a resolution.

"He didn't say yes. He didn't say no," said House Budget Committee Chairman Paul Ryan (R-Wis.). "We're continuing to negotiate this evening."

White House officials were careful not to characterize the meeting as a negotiation, after the president spent weeks publicly and privately declaring that he would not negotiate over lifting the debt ceiling. According to a Democrat familiar with the meeting, Obama agreed to review GOP proposals for reopening the government but reiterated that he would not make policy concessions.

Republicans, however, did describe the process as a negotiation. The 20 House Republicans — Boehner declined the offer to bring all 232 GOP lawmakers to the White House — gathered in the Roosevelt Room with Obama, Vice President Biden, Treasury Secretary Jack Lew and other senior officials.
Reporting from the press this morning has been fairly optimistic about the idea that a deal not only on a temporary debt ceiling increase, but also a temporary Continuing Resolution may be at hand, but it seems clear that there many hurdles that such a deal would face before it would be anything close to a realistic possibility. For one thing, any deal on a Continuing Resolution would have to be run past the full House GOP Caucus by Leadership, and there are still members of that caucus who are pushing the idea of using the CR as leverage to force some kind of concessions on Obamacare.  For another, it seems pretty clear that Republicans are going to require some kind of real guarantee of substantive talks over the next six weeks, otherwise it's likely to be hard to persuade Republicans already skeptical of the Administration and their own leadership to sign onto a plan that requires a tremendous among of trust up front.
Even if we do reach a deal resembling what's being discussed, of course, there's no guarantee of success. Six weeks hardly seems like a sufficient amount of time within which to resolve the differences between the parties on many of the issues that will be discussed, especially if the subject matter of discussions turns to the kind of mini "Grand Bargain" that Paul Ryan suggested earlier this week. Additionally, if the Tea Party wing of the GOP insists on pushing for a long term deal that chips away at Obamacare somehow, then it's obvious that negotiations are going to stalemate at some point. Ideally, these "short term" extensions should be longer, ideally until some time in mid-December at the very least and possibly into some time in January. As it stands, don't be surprised to see the conversation in Washington shifting back toward shutdown once again as we head into Thanksgiving and the Christmas Holidays.
But, let's be optimistic I suppose and hope that Congress is at least going to find a temporary solution to this latest manufactured crisis.