Single-Sex Dorms Are No Sex Dorms?
Catholic University president John Garvey explains "Why We're Going Back to Single-Sex Dorms."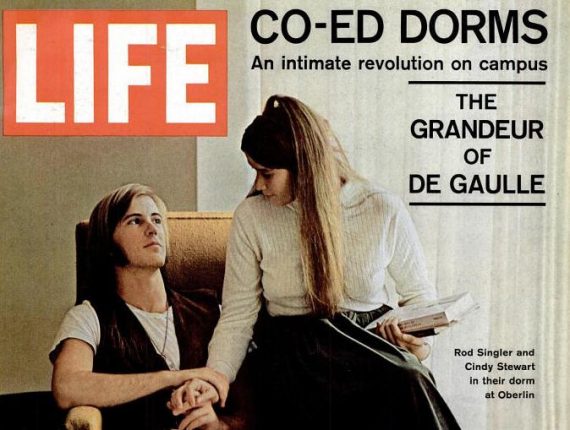 Catholic University president John Garvey explains "Why We're Going Back to Single-Sex Dorms."
The two most serious ethical challenges college students face are binge drinking and the culture of hooking up.

Alcohol-related accidents are the leading cause of death for young adults aged 17-24. Students who engage in binge drinking (about two in five) are 25 times more likely to do things like miss class, fall behind in school work, engage in unplanned sexual activity, and get in trouble with the law. They also cause trouble for other students, who are subjected to physical and sexual assault, suffer property damage and interrupted sleep, and end up babysitting problem drinkers.

Hooking up is getting to be as common as drinking. Sociologist W. Bradford Wilcox, who heads the National Marriage Project at the University of Virginia, says that in various studies, 40%-64% of college students report doing it.

The effects are not all fun. Rates of depression reach 20% for young women who have had two or more sexual partners in the last year, almost double the rate for women who have had none. Sexually active young men do more poorly than abstainers in their academic work. And as we have always admonished our own children, sex on these terms is destructive of love and marriage.

Here is one simple step colleges can take to reduce both binge drinking and hooking up: Go back to single-sex residences.

I know it's countercultural. More than 90% of college housing is now co-ed. But Christopher Kaczor at Loyola Marymount points to a surprising number of studies showing that students in co-ed dorms (41.5%) report weekly binge drinking more than twice as often as students in single-sex housing (17.6%). Similarly, students in co-ed housing are more likely (55.7%) than students in single-sex dorms (36.8%) to have had a sexual partner in the last year—and more than twice as likely to have had three or more.

The point about sex is no surprise. The point about drinking is. I would have thought that young women would have a civilizing influence on young men. Yet the causal arrow seems to run the other way. Young women are trying to keep up—and young men are encouraging them (maybe because it facilitates hooking up).
Like Garvey, I'd have guessed the opposite result of single-sex dorms on drinking. But the explanation of peer pressure creating a race to the bottom is plausible.
Similarly, I'm not at all surprised that co-ed dorms makes hooking up easier and thus leads to more of it. And I'm actually quite sympathetic to arguments for same-sex dorms on the grounds of making spontaneous sex–especially of the drunken and otherwise less-than-fully-consensual varieties–less likely. Indeed, I actually find it hard to come up with good rationales for co-ed dormitories from a parental and academic standpoint. They've been around for 40-odd years, though, without the collapse of the Republic.
But Garvey's actual argument is a strange one: We want to make it as difficult as possible for college students to have sex.  After all, he's not making arguments about coercion, privacy, or any of the obvious rationales for single-sex dormitories. He's instead citing statistics about the impact of sexual partners, period, on young adults.
Aside from the implications that, if being sexually active to the tune of two partners in a year is that dangerous, colleges probably ought do more than shuffle the living arrangements, I'm skeptical of the findings. The sources are Catholic schools and the National Marriage Project, for one thing, so there's a bit of selection bias.
But is a 20-something away from home for the first time having sex twice in a year necessarily a promiscuous individual rather than one looking for love? Maybe they're falling in love and getting heartbroken, thus explaining the academic lapses. Now, that explanation would be hard to apply to some with, say, a dozen partners. Then again, the causality of problem behavior might be spurious in those cases.
And are we separating the problem drinkers from the serial sexual partner cases? If not, it's rather hard to pinpoint the behavior to sex if they're passed out and hung over.